Recognizing Mental Health "Action Signs" in Children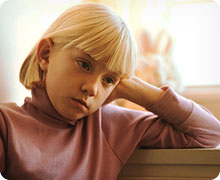 Childhood and adolescence are times of big changes, and it's normal for all kids to go through emotional ups and downs. But 1 in 10 kids will have a mental health problem that requires treatment. About half of mental health disorders are apparent by the time a child turns 14, and about 75% are apparent by age 24.
Parents, teachers and other caregivers are most apt to notice if a child has mental health issues. Early identification, diagnosis and professional help are crucial, and specialized help is available. If left untreated, or if treatment is delayed, these issues can disrupt a child's life at home and at school, and lead to more serious problems.
To help parents and others recognize when a child needs professional help, a national team of experts - including specialists at the Mayo Clinic - developed a list of 11 "action signs." If your child or teen has any of these signs, they should see an expert as soon as possible.
Feeling very sad or withdrawn for two or more weeks
Seriously trying to harm or kill themselves, or making plans to do so
Sudden overwhelming fear for no reason, sometimes with a racing heart or fast breathing
Involved in multiple fights, using a weapon, or wanting badly to hurt others
Severe out-of-control behavior that can hurt the teenager or others
Not eating, throwing up, or using laxatives to lose weight
Intense worries or fears that get in the way of daily activities
Extreme difficulty in concentrating or staying still that puts a teenager in physical danger or causes school failure
Repeated use of drugs or alcohol
Severe mood swings that cause problems in relationships
Drastic changes in behavior or personality
If your child has one or more of these signs, talk with their doctor right away, and be specific about which behaviors you've noticed. Do not use an emergency room for mental health advice unless your child is injured or in physical danger. Just as you would seek immediate help for a child's broken bone, professional treatment is needed to help your child start feeling better as soon as possible.
To learn more, visit Psychiatry and Behavioral Medicine.
Do You Have a "Bail-Out" Phrase?

When your child reaches an age when they are sometimes away from home without you, it's smart to have a "bail-out" phrase. Here's how it works: If your child is somewhere feeling unsafe or uncomfortable and they want to come home, they call you and give your agreed-upon secret phrase. It might be "I forgot to feed the fish," or "I forgot to tell you Aunt Barbara called," or "my earache is back." This way, they are not embarrassed in front of their friends overhearing the conversation, and you know you need to pick up your child right away, no questions asked. You can give a quick excuse when you arrive, such as a forgotten appointment or a last-minute visit by relatives.
Visit our Growth and Development section to learn more.
More New Guidelines for Infant Sleep Safety

The American Academy of Pediatrics (AAP) has announced new safe-sleep guidelines for babies. In addition to placing babies on their backs to sleep, two more factors - breastfeeding and immunizations - have been shown to reduce the risk of Sudden Infant Death Syndrome (SIDS). The AAP now recommends breastfeeding, and says that immunizing infants reduces the risk of SIDS by as much as 50%. Infant deaths from SIDS have decreased dramatically since 1992, when the AAP began recommending that babies be placed on their backs to sleep. But infant deaths from other sleep-related causes have increased. Babies should sleep on a firm mattress in a completely bare crib - no blankets, pillows or toys. Bumper pads should not be used; they increase the chances that a baby will suffocate, strangle or become trapped. Until they are 6 months old, a baby's crib should be in the parents' room - but babies should not sleep in the same bed.
Visit FirstCandle.org to learn more about safe sleep.
Stay Active This Winter at Little or No Cost

Kids need at least 60 minutes of physical activity every day, even in the winter months. Staying active at this time of year is easier if you can find fun things to do indoors. It doesn't have to be pricey - there are lots of low-cost and no-cost options. Tired of your couch being used as a trampoline? Check out some indoor recreation in your community.
Public indoor swimming pools offer open swim times and lessons for all ages and skill levels. Stop by your local pool to get an activities schedule and ask about low-cost options or scholarships. Many communities, parks departments and YMCAs also offer "indoor playgrounds" for young children, held in gymnasiums and other public buildings. Roller-skating and ice-skating rinks may offer free skate nights, including lessons and free or reduced-rate skate rentals. Call your local rink to see what they offer.
To find more indoor recreation options in your area, search online. Or ask the librarian at your local public library - they are experts on what your community offers.
Remember even when the weather is gloomy and wet, it's still a great idea to get outdoors in the fresh air. Dress in layers then add a waterproof jacket and boots, plus a snug hat. Take the dog for a walk, create a scavenger hunt, check out a new public park or explore a local beach.
Visit our Indoor Activity Tool Kit or our other exercise resources for more ideas on how to keep your child active this winter.
What Is a Fever?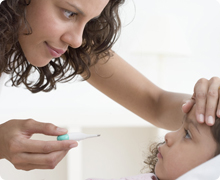 Fever is the body's natural way of fighting an illness, and fevers are usually not harmful. If your child is eating, drinking, sleeping and seems comfortable, you probably don't need to give them any medicine. Offer extra fluids and rest, and dress your child in lightweight clothing. If they are not comfortable, you can give babies older than 3 months acetaminophen (like Tylenol). Ibuprofen (like Advil) should only be given to babies older than 6 months. Be certain to give the correct dose by weight. For babies younger than 3 months, don't give medicine; call your doctor. Also call a doctor if a child is getting sicker, is dehydrated, has a fever for more than three days, or has a fever over 105° F.
Learn more about fever, including how to take your child's temperature.
Prevent Accidental Poisonings

Accidental poisonings are on the increase among children ages 5 and under, who often mistake prescription drugs for candy. Kids can become extremely sick quickly when they take medicines commonly used to treat pain, heart problems and high blood pressure.
Emergency room doctors who treat poisoned children often hear parents and caregivers say, "I only looked away for a second." Many young children can open prescription bottles - even those with "child-resistant" caps. Don't count on these caps: Keep all medicines locked up and out of reach of children. Be sure grandparents and caregivers know the risks of accidental poisonings, and that they keep all medicines where children can't get to them.
Visit UpAndAway.org to learn more.
Autism: Support for Families

Seattle Children's provides support for parents and others caring for children with autism. The Autism Blog is written by experts in our Autism Center. It provides information on many autism-related topics, and also offers a forum for comments and questions. At the monthly Autism 200 classes, a speaker presents and then leads a question-and-answer session. Classes are held at Children's Seattle campus, and are teleconferenced to sites in Washington state and Alaska. Autism, Living Life and You (ALLY), a support group for parents of children affected by autism, meets monthly at the Autism Center. Childcare is available.
Learn more about our autism resources.