Help Your Child Avoid Summer Weight Gain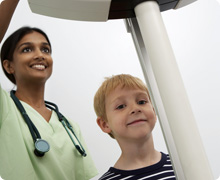 There's a reason they're called the lazy days of summer! Without the structure of school, summertime is full of free time and relaxation. The result is often weight gain that outpaces growth in height. In fact, children gain weight two to three times faster during summer vacation than during the entire school year.
So during summer break, it's important to stick with healthy habits and routines relating to nutrition, exercise and sleep.
Keep consistent mealtimes and eat together as a family whenever possible. It's wise to avoid keeping treat foods in the house, like sugary beverages, sweets or chips, especially if your child will spend time home alone. Designate sections of the refrigerator and pantry as snack zones. Keep them stocked with healthy choices including fruits, vegetables and lean proteins. Make water your family's go-to drink. Keep a pitcher of enticing water that contains slices of fresh citrus or cucumber in the fridge.
Plan some family adventures that include biking, hiking, rollerblading or swimming. See what's happening at your local Y or community center. Swim lessons are a great way for kids to stay active and socialize; more importantly, they help your child develop the water-survival skills they need. And if your child will attend camp, choose one that's action-oriented.
Later bedtimes are natural in the summer months. Stay vigilant to ensure your child is getting to bed at a reasonable hour. (Tweens and teens tend to become nocturnal if no limits are in place!) Keep media screens out of bedrooms during sleep hours. Set summer reading goals and encourage your child to read before sleep. (If your local library is nearby, walk or bike there each week for fresh batches of books.)
Many kids seem to grow faster during the summer months, so make an activity out of tracking growth, along with minutes spent exercising and reading. Devise a fun rewards system when they meet their goals.
The summer will fly by, and your child will be back to school before you know it. Help them maintain healthy habits so that when that day comes, they'll feel their best and be ready to learn!
Visit our Obesity Program for more tips on healthy habits.
Never Leave Young Children Alone in the Car

About 38 children in the U.S. die each year from heat stroke after being trapped in a car. It might seem that a parent could never forget about their child. But this tragedy happens to busy parents from all backgrounds. It doesn't have to be as hot as you might think: deaths have occurred when the temperature is just above 70° F.
How can parents prevent this from happening? Set up a system to check the backseat of your car every time you get out. Put your phone, purse, briefcase or work shoes in the backseat so you're forced to see your child before you get out.
Remember: never leave a young child alone in a car – not even for a minute – regardless of the temperature.
Read The Dangers of Leaving Your Child Alone in a Car to learn more.
Choosing the Right Childcare

Looking for childcare? A solid plan will make your search less stressful and more fruitful. Start by making a list with your parenting partner to decide what you want. Do you prefer a small, home-based childcare, or a larger center with more kids and lots of providers? Should the location be closer to your home or your workplace?
Visit several providers to observe. Look for supervision, positive interactions, cleanliness, safety, engaging activities, and the ratio of kids to providers. A quality childcare will welcome your questions about qualifications, training, communication, immunization rates and holidays. Be sure to ask for references, too.
It's never too early to begin your search. If you are pregnant (or hope to be soon) and you will work outside the home, ask trusted friends for recommendations and start looking. Childcare can be difficult to find in some cities, including Seattle. Waitlists are common, and some providers require a nonrefundable fee just to get on the list. The time and energy you invest now will be worth it!
Visit Childcareaware.org to learn more.
Make Water-Safety Skills a Top Priority

For children ages 1 to 14, drowning is the second-leading cause of unintentional injury deaths. Swim lessons are a must. But learning to swim is much more than learning strokes. It's about learning water survival skills and water safety too. When looking for lessons, be sure that water competency skills are taught.
If your child can already swim, do they have the five essential skills to avoid drowning? Most children and teens don't. The Red Cross calls these critical water-safety skills "water competency." Here are the five skills:
Step or jump into water that's over your head.
Return to the surface and float or tread water for one minute.
Turn around in a full circle and find an exit.
Swim 25 yards to the exit.
Exit the water without help. (If in a pool, this means without using a swim ladder.)
Swimming in a pool is very different from swimming in open water such as lakes, rivers and the ocean. Even the most confident pool swimmers may panic when the water is very cold, they can't see the bottom, and there's no nearby edge or shallow area. And in open water, swimmers must be aware of extra dangers including sudden weather changes, currents or undertows, objects below the surface, sudden drop offs, or plants such as lily pads that can entangle them.
Of course, kids must always be closely supervised whenever they swim. Young kids should wear life jackets when in or near water. Older kids and adults should wear life jackets when in a boat or swimming in open water, even if they know how to swim.
Learn more about drowning prevention and water safety.
Ask About Safe Firearm Storage

About a third of U.S. homes with children have one or more firearms. These firearms may be loaded, or not safely locked away. About every 8 days, a child or teen dies by firearm in Washington state. Most of these incidents happen in or around the home.
Before a playdate in the home of a friend or classmate, be sure to add this question to the list of things you normally ask about. Be direct and respectful. Remember, this quick question could save a life! You might start with, "Knowing how curious my child is, I need to ask if you have a firearm, and if it's safely stored…." If you're not certain about firearm safety in someone's home, don't leave your child there.
Learn about safe firearm storage.
HPV Vaccine Protects Girls and Boys

Human papillomavirus (HPV) is a very common infection that spreads by skin-to-skin contact. You can protect your child from certain cancers and other diseases caused by HPV. Both girls and boys should be vaccinated when they are 11 or 12 – or as soon as possible if they're already older than that. Waiting to get the vaccine until a child is older than 11 or 12 isn't safer in any way, and it leaves your child open to exposure for a longer period of time.
The current vaccine is given as two shots, 6 to 12 months apart (if given between the ages of 9 and 14). All doses are needed for full protection.
If you have questions about the HPV vaccine, talk with your child's doctor.
Chores Are Good for Kids

Doing chores teaches kids to be responsible and reliable, and to manage their own time. Chores also let them see the family working together, and let them feel that they are an important team member.
Parents must be realistic about what they expect, based on the child's age and the amount of free time they have. Don't expect tasks to be done exactly the way you would do them or at the precise moment you'd like them done.
Agree on a system kids can use to remember chores. For teens, this might be a reminder on their phone. Younger kids respond well to a posted chore chart. Keep it positive! Chores aren't a punishment; they are your child's chance to pitch in and make a difference.