Water Rescues: Stay Safe While Preventing a Drowning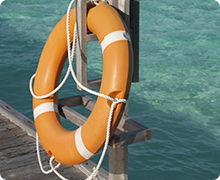 Drowning is a leading cause of death among children and teens in Washington state. Adding to these tragedies is when well-meaning witnesses try to save a victim and instead drown themselves. Untrained people – even strong swimmers – should never swim out into open water or wade into a swift river to try to save someone. These rescues should be attempted only by certified lifeguards or emergency workers with special training and equipment.
So how can you take action to prevent a drowning without risking your own life? First, yell loudly for help and have someone call 9-1-1. Then you can reach, throw and row. If the victim is close by, reach out to them while you hold on to something or someone stable. Extend your reach with an oar or paddle, a water ski, a fishing pole, a branch, or even a long beach towel. If you can't reach the person, throw them something that floats such as a life jacket, life ring, inner tube or inflatable toy. Empty, closed containers can also work for flotation: a cooler with a tight lid, a capped water jug or even a fishing tackle box. If a boat or any type of small craft is nearby, row or paddle to the victim – and bring along potential rescue items. If motor boats or jet skis are available, cut the engine as you approach, being careful not to swamp the victim with your wake or hit them with the propeller.
When children drown, they are often within 10 feet of safety: this may be the beach's shore or a dock, or a pool's shallow end or its edge. In these cases alert adults can make a quick rescue without putting themselves in any danger. Always keep sharp eyes on kids in and near the water. Swim where a lifeguard is on duty, but remain vigilant yourself; a lifeguard can't always keep track of every child in the swim area.
Drowning prevention starts at home. Adults themselves should know how to swim, and how to do CPR. Enroll your child in swim lessons at an early age. Model safe water habits: whenever you're in a boat, be sure everyone wears a properly fitting life jacket, and have kids also wear them when in or near water. And of course, supervise your child closely at all times.
Visit our drowning prevention pages to get more water safety tips and information about low-cost life jacket sales.
Tummy Time Is Important for Infants

Infants should always be put on their backs to sleep, both at night and for naps. But when they are awake, it's important they spend some supervised time on their tummies. Tummy time helps develop neck strength and overall strength, and it helps babies prepare to crawl. It also prevents positional plagiocephaly, or "flat head syndrome," which is when a flat spot develops on one side or the back of the head. Tummy time can start from birth, when you put your baby on your chest. Soon you can get down on the floor with them and encourage them to lift their head and upper body, and reach for toys.
Your Teen's Transition to Managing Their Own Healthcare

Our job as parents is to help our kids become capable, confident and independent – so they can someday make their own way in the world. One big step toward adulthood comes in their teens, when they begin to take more responsibility for their own healthcare. At age 18, teens gain legal control over these decisions, so it's important that everyone begins preparing for this transition ahead of time.
Your child's doctor can be a great help. Many have formal plans to help their patients learn to manage their healthcare. For example, starting when your child is 12 or so, you may be asked to step out of the room during the exam and medical interview, and then step back in for the end of the appointment. This builds your child's confidence and sense of responsibility. Parents can help by ensuring their teen carries a health insurance card, knows the names and doses of the medicines they take, and understands their own health history – including immunizations, allergies and chronic conditions.
Once teens start driving and have their own busy schedules, they can make their own medical appointments. How can parents stay informed of important medical information while respecting their teen's privacy? It can be tricky. Again, your child's doctor will have some ideas. If your teen has any chronic health conditions or disabilities, the transition will require more planning and teamwork; at 18 they may wish to sign an agreement giving you legal authority over their medical decisions.
Eventually, your child's doctor will help your teen transfer to adult care, typically around the end of high school.
Visit the Got Transition website to learn more.
Traveling? Don't Forget the…

Traveling this summer? Be sure to take the gear and supplies you'll need to keep everyone safe. Plan ahead, and start a list well before your travel date. If you'll be flying and renting a car or driving with others, bring your child's car seat. Mentally walk through the activities you may do and the gear they'll require, like life jackets and bike helmets. Bring a sunhat, sunglasses and sunscreen for everyone. In addition to a first-aid kit, pack the medicines you might need – both prescription and over-the-counter. If you're visiting grandparents, you might want to bring along doorknob covers and safety latches. Planning ahead saves time and money, and helps keep your family happy and safe.
Lactose Intolerance

We hear so much about lactose intolerance. What is it? Some kids and adults have problems digesting lactose, a natural sugar in milk and milk products. Eating or drinking these products can cause stomach cramps, gas and diarrhea – usually within 30 minutes to 2 hours. Sometimes the symptoms are so severe a person can't tolerate any lactose at all. For others, symptoms are mild enough that they can limit the amount of dairy they consume. For most people it's a lifelong problem that can be managed with diet changes. But sometimes it's a temporary problem, caused by antibiotics or infections. If you suspect your child may be lactose intolerant, see your doctor.
Read more about lactose intolerance and see a diagram of the digestive system.
Model Safe Habits When Walking

More than ever before, kids who are walking while using their smart phones and other devices are being injured by vehicles. Starting when your child is very young, talk about walking safety. Model safe habits yourself, especially when crossing the street or walking through a parking lot. Let your child see you remove your music ear buds, put your phone away and look both ways before stepping into the crosswalk. Calls, texts and emails can wait for later. Tell older children this is how you expect them to cross safely. And of course, don't handle your phone when driving. Our kids watch us closely, and they do as we do!
Learn more about distracted walking.