Tips for Traveling with Kids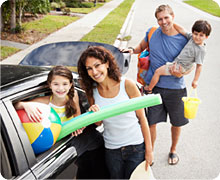 Every parent knows that traveling with little ones can be tough. You can make it easier for everyone if you plan ahead - and expect that things will not be perfect.
Your child's health, safety and comfort are top concerns. Pack a first-aid kit and medicines, and bring along any safety gear you'll need, such as life jackets. To keep kids content, pack plenty of healthy snacks and water, plus some books and games they haven't seen before.
For car travel, make regular stops to use the restroom and stretch your legs. Use the right safety seat for your child's age, weight and height - until they reach 4'9" or age 8. If you'll be riding in others' cars, be sure everyone knows the safety seat must be used at all times. Remember that children 12 and under should ride in the back seat.
For air travel, avoid rushing and the stress it causes. Allow plenty of time to get through the lines at check-in and security. Be sure you don't have more liquids than what's allowed. (Before your trip, check online for the current rules on liquids, including baby formula and breast milk.) After you clear security, you can buy more water near your gate. Let your kids walk as much as possible before boarding. Insist that everyone use the restroom, and give babies a fresh diaper. Take advantage of early boarding for families with children. If your child weighs less than 40 pounds, they should be in an FAA-approved safety seat that's right for their age, weight and height.
Children thrive on a routine - with regular meals, snacks, and sleeping. Stick to a schedule as much as you can. But expect that eating may be at odd hours, naps may be in a car or a stroller and bedtime may be later than usual. And don't worry if your child sleeps through the big parade or the fireworks.
Do take photos and video when you travel, even when not everyone is "picture perfect." These will be important memories for your whole family.
After traveling, it takes kids a few days to settle back into a routine. They may even be a bit cranky. Be patient, stick to your schedule, and things will soon be back to normal. There's no place like home!
Keep Guns Locked Away and Unloaded

You can help prevent injuries and deaths from guns. Lock away your firearms, and ask your friends and family members to do the same. Guns should be kept unloaded - with a trigger lock or chamber lock engaged - inside a lockbox or gun locker. Store bullets separately. Lock them up, too. Hide all keys and lock combinations. Be aware that teens and preteens may search a home for guns - either for a thrill or even to harm themselves. Suicide is the second leading cause of death for teens in Washington, and of the teens and preteens who kill themselves, most use a gun. Firearms should be removed from any household where someone is depressed or suicidal, or is abusing drugs or alcohol.
Visit LokItUp.org, or read Guns in the Home or Teens, Depression and Guns to get more information on gun safety.
Boys and Girls Need HPV Vaccine for Long-Term Health

Teens and adults can get the human papilloma virus (HPV) from sexual activity. Infection is common: 50% of sexually active people will get the virus. In some cases, HPV can come into our bodies and do no harm. But HPV infection can cause serious problems in both men and women. Some types of HPV cause anal and genital cancers, including cervical cancer. Other forms of HPV cause anal or genital warts, and warts in the mouth and throat. Condoms do not provide 100% protection against the virus. Getting the HPV vaccine at a young age is the surest way for both males and females to avoid getting the virus. The HPV vaccine is given in three doses. The first shot is recommended at age 11, the second is given two months later, and the third is given six months after the first shot. Be sure your child completes the series of three shots. If you have questions or concerns about the HPV vaccine, talk with your child's doctor.
Your Doctor, Urgent Care or the Emergency Department?

When your child needs medical care, how do you decide where to go for treatment? For most issues, see your child's doctor. Visit them for common illnesses and minor injuries, and when you need advice, a checkup, prescription refills and vaccinations. Think of them as your child's medical "home." They know your child's history, and can manage their overall healthcare.
When the doctor's office is closed and you can't wait for treatment, urgent care is the best option. Urgent care clinics (sometimes called walk-in clinics) are open evenings, weekends and holidays. Urgent care clinics don't take appointments, so you may wait to be treated. Seattle Children's Hospital has three urgent care locations for children up to age 21. They are in Bellevue and Mill Creek and at Children's hospital campus in Seattle.
When your child has a very serious illness or injury, take them to an emergency department. If the situation is life-threatening, call 911 right away. Emergency departments (EDs) are open 24 hours, and are usually attached to hospitals. Be sure you know which ED is closest to your home, and the fastest route there. EDs have staff and equipment to treat all types of medical emergencies. They often treat badly broken bones, severe asthma attacks, bad burns, bleeding that won't stop, poisonings and other serious or life-threatening conditions.
Many families choose Seattle Children's for emergency care, because they are experts with kids, from newborns up to age 21. Seattle Children's brand-new, larger ED provides faster treatment for more patients, and larger exam rooms with more space for families.
View more examples of which care to seek when or learn more about our urgent care clinics and ED.
Ease Your Child's Pain and Fear of Shots

"Am I going to get a shot?"
Many kids are anxious about shots at the doctor's office. You can make a difference by making a plan. A plan can help you relax, which will help your child relax. Support your child by helping them cope. Don't say it won't hurt, and let them cry if they need to. Some kids do best by turning away and focusing on a story or toy, others like to talk through it step-by-step, and some like a job such as getting the Band-Aid ready. Plan their position, such as cradling a baby or nestling a toddler on your lap. Allow older kids to choose their position. Ask ahead about numbing cream for the skin. For babies, ask about giving a sweet-tasting solution before the shot.
Learn more about why immunizations are needed and how to prepare your child.
Teaching Kids to Be Self-Sufficient

"OK, get ready for baseball practice" sounds like a pretty basic request. But school-age children often seem unsure what to do - even if they've watched you a hundred times. Try breaking tasks into steps, help them practice, and let them become responsible. Here's how: Help your child make a list of what's needed and where it is. Baseball pants, belt, sweatshirt: bedroom. Cap, glove, cleats, batting helmet, bag: closet. Water bottle and snack: kitchen. Lead your child through each step once or twice, then have them lead you. Keep directions clear and simple. Remain calm and positive while coaching your child. The time you spend now will pay off later!
Offer Regular Meals Plus Smart Snacks

In addition to regular daily meals, a healthy snack schedule helps give kids the energy they need to grow, learn and play. Think of snacks as mini meals. Build smarter snacks by choosing items from two or three different food groups. For example, a mini whole-wheat bagel with blueberries and milk provides grains, fruit/vegetable and dairy - and so does a snack of whole-wheat crackers, carrots and string cheese. Offering regular meals plus small healthy snacks also helps kids discover how much food their body really needs. They learn to eat when they are hungry, and stop eating before they feel too full. Offer a wide variety of foods so your child learns to try new tastes.