How Much Screen Time Is OK for Kids Under Age 2?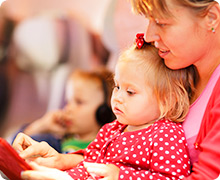 Today, our media screens travel with us everywhere: in laptops, tablets, smart phones and other devices. Technology has changed how we watch TV and videos, play games and stay connected – so much so that we sometimes feel "glued" to our screens.
But what hasn't changed is how babies learn and develop. Brain research confirms that children under age 2 learn the most from in-person communication: talking, singing, reading aloud and playing. For this reason, the American Academy of Pediatrics (AAP) recommends as little screen time as possible for this age group.
Kids under 2 should never be plopped down alone in front of a screen. Habits form very early, and studies show that too much media use can lead to problems with attention, school, sleep and obesity. Screen time before age 2 can have lasting negative effects on learning to speak and read, and even on short-term memory. For these reasons, one of the AAP's strongest warnings is against having a television or other media screen in a child's bedroom – at any age.
What about "good" television, videos and games that are designed to teach? Science tells us that even high-quality educational media doesn't have a positive effect until after age 2. Babies may stare at the bright colors and motion, but their brains can't make sense of it.
While zero screen time is ideal, the AAP advises that if infants and toddlers do watch media, co-viewing with a parent or caregiver is a must. Every once in a while, it can be cozy and fun to watch a high-quality program together – as long as you communicate with your young one as you watch. And many families relax their screen-time rules during long flights and car trips, where kids must sit secured in place and ideally not disrupt fellow travelers.
As parents, we're the ultimate role models for our kids. We must be aware that our own media use can set a bad example, and it may have a negative effect on them. Who hasn't been pulled away by a text or a tempting social media message? Keep this in mind: the first two years of a child's life fly by fast, and our kids want to interact with us more than anything. They need us to help them learn and grow. No screen will ever replace us!
Learn more about screen time (PDF).
First Dental Check by First Birthday

It's important to have your baby's mouth checked by their doctor or dentist by age 1. Baby teeth start to come in early – usually between 6 and 12 months. Baby teeth are just as important as adult teeth, and must be cared for as carefully as adult teeth. They help your child speak and chew, and they hold space for the adult teeth. Baby teeth are at risk of decay, which can lead to infection and pain – and have a long-lasting impact on overall health and development. Before teeth appear, wipe your baby's gums each day with a clean, damp cloth. Once teeth appear, brush twice a day with a soft toothbrush and fluoride toothpaste. Use an amount equal to a grain of rice for children under 3.
Learn more about dental health at birth and beyond.
Help Prevent Youth Suicides: Remove Guns and Medicines

Suicide is the second leading cause of death among youth ages 10 to 24. In Washington State, we lose an average of two young people every week to suicide. What adds to these tragedies is that these kids often find two common means of suicide at home: firearms and prescription pain medicines. Guns are the number-one method. Always store guns unloaded and locked in a gun safe or lock box. Store and lock ammunition in a separate place. Combination locks are generally better at keeping kids out than key locks; fingerprint locks are even better. (But experts advise that if a young person is known to be depressed, it's best to remove guns entirely from the home.)
Prescription pain medicines are on the rise for suicides and suicide attempts, so keep current medicines locked away, and properly dispose of old or unused medicines.
The free phone number for the National Suicide Prevention lifeline is 1-800-273-TALK (8255). Anyone may call anonymously, 24 hours a day, seven days a week for a listening ear, resources and support. Information is kept confidential.
Visit Teens, Depression and Guns, Forefront, Youth Suicide Prevention Program, Lock Your Meds to learn more.
How Do I Know If My Child Is Ready for Potty Training?

Is your child ready for pull-ups and a potty seat? Don't let well-meaning friends, relatives or childcare providers decide for you. Instead, let your child be the guide. In most cases, somewhere between 18 and 24 months (sometimes sooner, sometimes later), your child will give signals that they are ready. Do they go poop at about the same time every day, and does their diaper stay dry for two hours or more? Can they pull down training pants on their own, and get on and off the potty themselves? Do they understand words about going to the bathroom? Do they tell you when they need to go, or when they've just gone? Do they show interest in using the toilet or wearing underwear?
If the answers are all yes, then your child is probably ready. If your child isn't quite there yet, you can help them become aware of when they are peeing and pooping, and what that feels like. You can probably tell when your child is going poop in their diaper, so simply ask in an interested, positive voice: "Are you going poop?" Ask them to tell you when their diaper is wet or dirty. When diapering, don't make faces or use any negative words. Instead, talk about how good it feels to be dry and clean.
The source below has training tips for a positive experience from start to finish. You'll need to have lots of patience, and give plenty of praise. Before you begin, be sure you and your child's other caregivers are ready to fully commit to your potty-training plan.
Visit Potty Training Your Child (PDF) to learn more.
Marijuana: Start Talking Early

Teenagers who use marijuana often start by the time they are 14. Those who start before age 14 are four times more likely than others to become addicted by the time they are adults. So parents must start an honest, ongoing conversation about drugs by the time kids are in fourth or fifth grade.
First, find out what they know. Do they know marijuana can hurt their health, and that it's illegal for anyone under 21 to smoke it or eat it? Be sure they understand that, above all else, you want them to be happy and healthy, now and in the future.
Help your child practice strong skills in saying "no" to marijuana, to help ensure their life will be full of positive choices and opportunities.
Read A Parent's Guide to Preventing Underage Marijuana Use (PDF) to learn more.
All-in-One Spot for Product Recalls

Looking for the latest car-seat recall, a safety brief on hoverboards, or details on a foodborne illness affecting grocery stores or a restaurant chain? Six major federal agencies responsible for different product safety issues have joined together to create a 'one stop shop' for recall information.
Find out about car seats, children's toys and apparel, pesticides, food safety issues, medicine recalls and warnings, car and boat safety issues, and much more. Visit Recalls.gov to see recent recalls, get product safety information or sign up to receive recall notices by email. You can even report dangerous products to warn others. Bookmark this handy all-in-one website today!
Infant Crying is Normal
It's normal for babies to cry a lot during the first five months of life – and sometimes cry for long periods of time. This is frustrating and tiring for everyone. But parents and other caregivers must remain calm as they try to soothe the infant. If the baby is not hungry or cold and does not need a diaper change, you might try swaddling, gently rocking or pacing, giving a soothing bath, or taking the baby outside for some fresh air.
Sometimes none of these soothing methods seem to work. Everyone needs a plan to handle the stress of caring for an infant. It also helps to understand "PURPLE" crying, explained in the link below. If you suspect a physical problem is causing your baby to cry, see your doctor.
Learn about the Period of PURPLE crying (PDF).