Depression in Children and Teens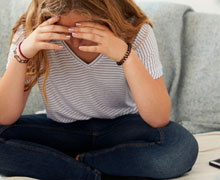 Depression among kids is more common than ever before. As parents and caregivers, we must be able to recognize the signs, take action and seek treatment if needed.
Depression can affect children as young as preschool age, but it's most typical during adolescence (roughly ages 11 to 17). One study found that between 2005 and 2014, the number of adolescents who had major depressive episodes increased by nearly a third. The American Academy of Pediatrics recommends an annual screening for depression for all children, starting at age 11.
How is depression different from regular emotional ups and downs? It's normal for kids to sometimes feel sad or less motivated to do the things they usually enjoy. But when these feelings aren't just temporary – and when they interfere with a child's ability to do well in school, socialize with friends and take part in family activities – these are signs of depression. Anxiety is often part of a depressed mood, and is marked by feeling fearful, threatened or panicky with no clear cause.
Kids who are depressed will rarely start a conversation about how they are feeling. They may instead act withdrawn or irritable. If you suspect your child is depressed, talk openly with them and brainstorm ways to reduce their stress. Sticking to healthy habits can ease feelings of depression. Work with your child to ensure they get some daily exercise and enough quality sleep, and not too much screen time. A healthy diet is crucial, which also means avoiding caffeine and too much sugar. Stay tuned in to your child's mood, and keep the conversation going.
Keep in mind that these tactics may not be enough. You'll need to take further action if you notice your child 'dropping out' of their life: not enjoying time with friends, quitting a team or doing poorly in school. In this case, talk with your pediatrician or primary care provider and ask for a referral for a mental health evaluation. If your child ever threatens self-harm, take them to the emergency department for an evaluation.
Depression has nothing to do with a child's strength or character. And it's not a reflection of our parenting. It is a common condition that may require professional treatment.
Learn more about how depression is diagnosed and treated at Seattle Children's.
Breast-Fed Babies and Vitamin D

Breast-feeding is strongly recommended for babies. Breast milk provides excellent nutrition plus other health benefits. But even breast-fed babies need a vitamin D supplement to ensure strong, healthy bones. A lack of this essential vitamin can cause health problems, including rickets.
The American Academy of Pediatrics recommends that, beginning in the first few days of life, all breast-fed babies receive 400 IU (international units) of vitamin D daily. Vitamin D for infants comes in a liquid-drop form, and is available without a prescription.
Nursing moms themselves should also get at least 400 IU of vitamin D every day. Ask your baby's doctor if you have any questions about vitamins and supplements.
Learn (PDF) about sources of vitamin D and how much is needed for kids of all ages.
Returning to Schoolwork After a Concussion

If your child or teen has been diagnosed with a concussion, a healthcare provider should manage how soon they return to both playing and learning. A concussion may affect the ability to learn at school.
Research shows it can be safe to resume learning fairly quickly – as long as the child follows some specific steps while under the care of someone who is specially trained to manage concussions. The steps start with reading, texting and screen time in small amounts, while remaining symptom-free. (If any activity makes your child feel worse, stop and rest until the symptoms get better.)
The steps continue with doing schoolwork at home, returning to school part-time, and then returning full-time. Adjustments may be needed at school such as being given more time on homework and tests, and taking more frequent breaks. For this reason, everyone involved – you, your child, their healthcare provider and their teachers – must communicate so that everyone understands and supports the plan for getting back to full participation in school.
Visit our Seattle Sports Concussion Program to learn more.
Together, We Can End Weight Bias


UCONN Rudd Center for Food
Policy and Obesity
Weight bias is a tricky and dangerous form of discrimination. It's so common, we may not even realize we are doing it. Weight bias (also known as weight stigma) happens when a person's own negative beliefs and attitudes about body weight cause them to stereotype, pre-judge and reject others simply because they are overweight or obese.
Imagine what overweight kids experience every day. They face weight bias from strangers, peers, teachers, the media – and often even their own family members and doctors. Being the target of weight bias harms a child's well-being on all fronts: psychological, social, physical and academic. Among children, weight bias often triggers bullying in the form of teasing and excluding. It's no surprise that some kids who are overweight learn to dislike school and socializing.
Putting an end to weight bias requires keen self-awareness and strong intentions. The first step (as with any bias) is to take an honest look at our own deep-seated beliefs and attitudes, and how they 'bubble up' in what we say and do. Starting within our own families, we can begin by not making negative comments about any person's body size or weight, including ourselves. We can also stop using words like 'fat' when we talk. We can teach our kids that we're all the same inside, and we all deserve to be accepted and respected.
We can make our homes a safe and welcoming place for people of all shapes and sizes. Then we can work to educate and influence our friends, our child's school and our communities to put an end to weight bias.
Visit The Rudd Center for Food Policy and Obesity to learn more about weight bias.
Three Types of Forward-Facing Car Seats

When your child reaches the upper weight or height limit for their rear-facing car seat (around 2 years old or older), the next step is a forward-facing seat. All forward-facing car seats feature a built-in harness system and a top tether to limit your child's forward motion during a crash.
A convertible seat simply changes from rear-facing to forward-facing. A combination seat transitions from a forward-facing seat to a booster seat – which raises the child high enough to use the car's regular seat belt. An all-in-one seat changes from rear-facing to forward-facing, and finally to a booster seat when a child is big enough for one.
Always read the instructions that come with your car seat as well as your vehicle's owner's manual.
Learn how to find the right car seat or mark your calendar for an upcoming car seat check.
Carbon Monoxide Safety

Carbon monoxide (CO) is a poisonous gas that's created when fuel burns incompletely. It is invisible and has no odor. CO poisoning can cause people and pets to become suddenly ill and even die. Common causes of CO poisoning at home are heating equipment, cooking equipment, generators, and cars left running in attached garages.
Install a CO alarm outside each sleeping area on each level of your home. Follow the maker's instructions for placement and maintenance. Never use generators or grills (gas or charcoal) indoors; use them outside in a well-ventilated area away from windows, doors and vents. Finally, have your furnace inspected by a heating professional every year.
Tips for Safe Walking to School

Walking to school is a great way to be active and avoid putting more cars on our busy roads. Teach your child to be a safe pedestrian by modeling smart safety habits. Narrate your actions aloud, so your child understands the reasons behind the habits. Put away phones and other distracting devices, and remove your earbuds. Cross only at crosswalks and corners, and always stop, look and listen.
Help your child understand that many drivers are speeding or distracted – so wait until a car is fully stopped and then make sure the driver is watching before crossing.
Remember that kids under age 10 should always cross with an adult, because they are not yet able to judge how fast traffic is approaching.
Watch our pedestrian safety video or visit Safe Kids for more tips.