What Does It Mean to Be a Good Digital Citizen?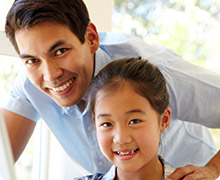 Today, social media is used by almost everyone, and is a big part of most tweens' and teens' lives. So parenting now involves not only teaching our kids to be good citizens in the real world, but online, too. This means going beyond the basics of setting limits, enforcing rules and monitoring our kids' use.
Common Sense Media (commonsensemedia.org) is a nonprofit that offers ratings, reviews and other tools to help families navigate the online world. According to this organization, good digital citizens make safe, smart and ethical choices. They strive to respect themselves and others, protect the privacy of themselves and others, stand up to cyber-bullying, report any suspicious or dangerous activity, and balance their screen time with other non-digital activities.
Dr. Wendy Sue Swanson is a Seattle Children's pediatrician, a family health advocate, a mom and a social media whiz. She's known as "Seattle Mama Doc" in her blog and on Facebook, Twitter and YouTube. She reminds us that "Social media is not all bad for kids and families, but it's not all good either. It's a powerful way to connect to others and stay informed about our world. But it can also cause kids to feel excluded – and may even challenge their self-esteem at times."
Swanson says parents must understand the social media tools their kids are using, talk with them about what they like and don't like about it, set clear rules, and "unplug" as a family whenever possible. Since kids of all ages have a hard time setting limits for themselves, many families ban phones at the table and set a daily digital curfew – a time after which there are no smart phones or screen time allowed.
Today's kids are often much more tech-savvy than their parents. But they are naïve about the world, and they still need our guidance! So revisit the golden rule with your kids: treat others the way you want to be treated. On social media and when texting, never say anything hurtful, or that you wouldn't say in person, or that you don't want repeated. Don't post comments, photos or videos you might want to take back someday – because they'll be out there forever. In the real world and online, treat yourself and others with respect, kindness and compassion.
Visit Common Sense Media for ideas for talking with your child about digital citizenship.
Walking and Biking to School
Kids who walk or bike to school are more alert and ready to learn. Parents who join their kids improve their own health, too. Your location or work schedule can make this a challenge, but give it a try if you can. Doing so even once a week is a good start.
Some neighborhoods have "walking school buses" and "bike trains," where kids and parents follow a set route to school. Walkers and riders join the group along the way; after school the route is reversed and kids leave the group when it reaches their home.
If you must drive your child to school, park a few blocks away and walk together from there. Bonus: you'll avoid the hassle of the school's drop-off line, and you can talk while you walk.
Visit www.walkbiketoschool.org to learn more about walking and biking to school.
What Are Clinical Trials and Who Volunteers for Them?

A clinical trial is a type of research study that tests how well a medical treatment works on people. Seattle Children's conducts clinical trials to better understand children's health and to learn about new medicines and treatments that may help kids today and in the future.
In some studies, the goal is to learn if a new treatment works, and if it's safe. In others, a new treatment is directly compared to an existing one, to see if the new treatment works better. Clinical trials are used to test treatments for life-threatening diseases like cancer and cystic fibrosis, and they're also used to help children with many other conditions ranging from anxiety to food allergies.
Who participates in these studies at Seattle Children's? Often, healthy children and their families simply want to help others by contributing to medical knowledge. Sometimes, study participants have an illness for which there's no effective treatment, and they are hopeful the new treatment will help them. This is the case with young leukemia patients whose lives have been saved by groundbreaking T-cell therapies at Seattle Children's.
Learn more about research studies and clinical trials.
Help Your Little One Learn to Talk

Before babies can talk, they communicate by crying, looking and gesturing. They can even learn to use sign language several months before they can say words.
It's easy to help your child build their language skills as you go about your daily routine. Avoid screen time and instead enjoy time reading, talking and singing with your baby.
Your toddler will quickly learn the magic of words: when they try to use the right words, they get what they want faster! So if they point or babble, delay your response for several seconds, then give them what they want and clearly say the name of the item. However, when your child says the word – for example "baah" to mean "ball" – give them what they want right away, then say the word with great enthusiasm: "Ball!" (Helpful older siblings may need to be reminded not to speak for their little brother or sister, as doing so can delay the toddler's speech.)
The more words babies hear, the more words they understand and say as toddlers. Narrate what you see, hear, or are doing. Speak clearly, using short, simple phrases with lots of repetition. When preparing a snack, you might say, "Banana. Peel the banana. Yum yum. Would you like some banana?" Also echo and expand on what your child says, adding one or two words when you respond. If your child says "milk," respond with "more milk please." If they say "no want," respond with "I don't want it."
Your little one will be talking in full sentences before you know it. For now, enjoy being their guide for this amazing discovery!
Learn more about speech and language development in infants (PDF), strategies to promote language development (PDF) and using books to enhance your child's communication (PDF).
Cold and Flu Season

This cold and flu season, protect your family with simple actions and smart habits. Everyone 6 months and older should get the flu vaccine every year. Eat healthy foods, drink lots of water and get enough sleep and regular exercise so your body is ready to fight off germs. Wash hands often with soap and warm water, rubbing for at least 20 seconds. Since germs often enter our bodies through our eyes, nose and mouth, teach your child not to touch their face unless they've just washed their hands. Avoid people who are sick – and if you do get sick, stay home from work or school. Cough and sneeze into a tissue or the inside of your bent elbow.
Learn more about colds and the flu.
Smart On-the-Go Snacks

Healthy snacks are good sources of nutrition for growing kids. They can provide energy and help kids feel their best, especially when eaten on a schedule – like right after school or sports practice. The best choices are low in sugar, fat and salt. Apples, bananas, oranges, grapes and cheese travel well and are always great choices. Store a stash of snacks that don't require refrigeration in your car or bag: unsweetened dried fruit, whole-grain dry cereal or crackers, veggie chips and raw almonds. Keep your refrigerator stocked with cleaned, cut-up fruits and vegetables in grab-and-go containers. Kids love the fresh crunch of cucumbers, carrots, celery, bell peppers and sugar snap peas.
Learn more about snacks for kids.
Hear the Beep Where You Sleep

Smoke alarms can help keep you safe if a fire starts in your home. About half of home fire deaths happen between 11 p.m. and 7 a.m., when most people are asleep. Be sure you have smoke alarms on every level of your home and in each bedroom – so that even heavy sleepers will be sure to hear it. Test them once a month, and replace the batteries at least once a year. (The change to or from daylight saving time is a good day to do this task.) Replace smoke alarms that are older than 10 years. Make a fire escape plan with two ways out of every room, and then practice it with your family at least twice a year.
Learn more about home safety and fire prevention.