Parents Can Help Kids Find the Right Balance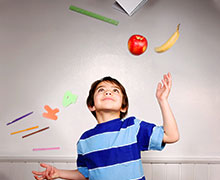 We all strive for balance in our lives. It's an ongoing, sometimes tricky challenge to balance work with play, and being busy with downtime. Kids must learn to balance school, homework, sports, lessons, time with friends, family activities and free time – plus, of course, enough sleep each night! Parents can help kids discover and maintain the right mix to keep their minds and bodies healthy and happy.
Some kids are by nature happiest when they are busy. They seek out new activities, and may even push their parents to let them take on more. This is usually okay as long as the child is happy and well-rested – and not anxious or struggling with homework or grades. If a child seems over-scheduled, then parents can step in and help them decide if they need to drop an activity, or simply get better organized to make it all work.
Other kids seem to crave lots of downtime, or would rather make their own fun rather than having it provided for them. For example, some love nothing better than to read all the time, and others will happily build with Lego for hours on end. These kids may need a little push or structure to get enough physical exercise; parents can help them find a sport or activity they really enjoy. And keep in mind that no child should have more than two hours of recreational screen time a day.
Leading a balanced life means making thoughtful choices each day. We can model this decision-making to our kids from a young age. For example: "I need to pay some bills and organize this paperwork, and I know you have homework. Let's set a timer for 60 minutes for our work, then we can take the dog for a walk." Or: "You had a long day at school and a tough soccer practice. Would you like to take a shower and then we can snuggle on the couch and I'll read to you?"
Show your kids that family time is a priority. If you are often going in opposite directions, make a point to come together for regular dinners, game nights or movie nights. At any age, family is one of the biggest keys for a balanced life!
To learn more, read Is Your Child Too Busy?
High Chair Injuries Are on the Rise

Every hour in the U.S., a child visits an emergency room for a high chair–related injury. A new study shows that in two out of three cases, children are climbing on the chair or standing on its seat before the injury. Don't allow climbing on a high chair for any reason, and always fasten the straps snugly. (The tray alone will not keep a child in place.) Be sure your high chair has a 3-point or 5-point harness that includes a crotch strap or a post. And check for product recalls: millions of unsafe high chairs have been recalled in recent years. Be sure the chair is placed completely out of reach of any items that might cause harm.
Check out our Safety Checklist for Home.
Hop Aboard Walking School Buses and Bike Trains

Have you heard about two fun ways kids are "commuting" to and from school, on foot or by bicycle? Walking school buses and bike trains are catching on. Kids follow a set route to school, and "pick up" walkers or riders along the way. They reverse the route after school, "dropping" kids back at home. Parents or other responsible adults lead the groups to ensure safety. Last year, Seattle Children's researchers studied these programs in six Seattle schools that enroll large numbers of low-income students, in an effort to extend these programs to underserved communities and help all students be physically active. These programs also allow kids to socialize while parents get to know each other – thus building strong neighborhoods. As a "zero–carbon footprint" commute, they benefit the environment, too. Elementary students in West Seattle recently had a special guest join their walking school bus: Governor Jay Inslee, who is a fan of the program. Ready to hop on board? There are helpful resources for parents interested in starting a program in their neighborhood.
Learn more about walking school buses (PDF), bike trains and the Seattle Children's Research Institute study about them.
Speak Up About Immunizations: Ask, Share and Encourage

So far this year in Washington state there have already been 27 reported measles cases – more cases than in the past five years combined. Recent disease outbreaks here and across the nation are raising questions and spurring discussions. What's happening with immunization rates, and how does this affect the safety of our children? Here in Washington, only 65% of children are fully vaccinated by age 3; the goal for our state and the entire nation is 80%. For some diseases – including potentially deadly ones like pertussis (whooping cough) and measles – at least nine out of ten of us must have immunity to keep the disease from spreading. This is known as community immunity. Although measles was eliminated in the U.S. 14 years ago, the increase in world travel has brought the disease back here, where it spreads when it reaches populations without community immunity.
So what can parents do? First, immunize your child on time. If you have any questions or concerns, talk with your child's doctor. Second, make sure your child's caregivers are immunized. Ask your child care, preschool or school about their immunization rates. Doing so raises this as an important community issue, and adds to a conversation that can promote health and wellness for all. (Find immunization rates for kindergartners in Washington state at SchoolDigger.) Finally, speak up. Let others know that your child is fully immunized. Make sure your family, friends and neighbors understand the risks of not immunizing, and the crucial importance of community immunity for everyone's health and safety.
Learn more by visiting WithinReach.
Sudden School Phobia

Sometimes, a child may suddenly want to avoid school. It can happen at the start of a new school year or mid-year. Their phobia may be caused by being away from you, a fear of failure, test anxiety, playground anxiety, a "mean" teacher or worries about using the school bathroom. Or a child may feel there's a threat from bullies, whether emotional or physical. A school phobia can trigger symptoms such as headaches or stomachaches – which disappear after school and on weekends. Be caring but very firm about attending school. Problem-solve together with your child or teen, and talk with their teacher. You may also want to have your child's doctor rule outany physical causes.
Learn more about school avoidance in kids.
Health Insurance: What to Look For

Are you due to sign up for health insurance, or to re-enroll? While insurance is now more available, it can be pretty tricky to understand the choices. Be sure to compare the plans offered, and check the following:
What is our monthly premium?
What is our deductible?
What services are covered?
What will we pay out of pocket for?
Here's another big question: Which providers can my family see with this plan?
Be sure you know what's offered for your child's care: Does this plan cover specialized pediatric medical care?
Talk with a plan representative if you have questions. Ask about providers by name, to be sure you can get expert care you trust.
Aim for 0 Sugar-Sweetened Drinks

Improve your family's health with this easy formula: 7-5-2-1-0. Eat breakfast 7 days a week. Have 5 servings of fruits and vegetables every day. Limit screen time to 2 hours maximum every day. Be physically active at least 1 hour a day. And aim for 0 sugar-sweetened drinks. If you're on drink duty for soccer practice, skip the sports drinks and bring water instead – it's theoriginal and best thirst-quencher. You can add slices of lemon or orange for a fresh flavor. Go easy on juice. A little is OK when it's 100% juice, but it still contains natural sugar and extra calories. Preschoolers should have only 4 to 6 ounces of juice a day. Water and low-fat milk are best!
Learn more about 7-5-2-1-0 and obesity prevention.