Why We Say Yes
Tara Nadella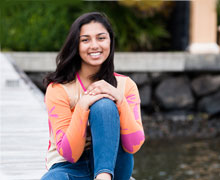 My brother Zain has cerebral palsy, communicates nonverbally and uses a wheelchair, yet he works to overcome these obstacles by including us, his family, in his daily life. Whether he's vocalizing music requests, smiling when our grandparents call or happily receiving licks from our pups, his efforts make him the greatest advocate of inclusivism – and are supported by Seattle Children's.
The hospital has always felt like a second home for us. That's because of the doctors, nurses and volunteer musicians who have cared for Zain during multiple surgeries and long stints of recovery, including the intensive care unit on Thanksgiving and on his birthday.
When my family and I have had end-of-life discussions with Zain's care team, the doctors and nurses have welcomed my participation, recognizing me as an equal partner and advocate for Zain's best interests. Their empathy and identification with Zain and our whole family represent the essence of Seattle Children's mission: a commitment to inclusiveness where every patient and family receives the same respect and compassion.
The care teams here truly understand patients' rights, particularly for those who are most vulnerable. They teach me by example, and show me how taking a leadership role in inclusiveness is fundamental for change. The values modeled by the team at Seattle Children's reinforce Zain's own self-advocacy efforts and those of his advocates like me. It's a formidable triad for helping to improve child and disability rights – and why Seattle Children's will have a special place in my heart forever.
More Reasons We Say Yes

Dr. Rebecca Gardner
About It Starts With Yes
It Starts With Yes: The Campaign for Seattle Children's is a bold initiative to partner with our community and deliver on our shared vision to transform children's health for generations to come. With your generous support, we can envision a day when we can say yes to hope, care and cure for every child. See what your yes can do and donate today.