Why We Say Yes
Roarke Hufford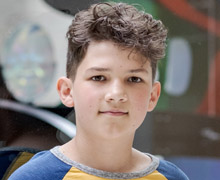 I was diagnosed with a tumor about the size of a quarter in the middle of my brain when I was 12. My family wondered if I'd live to see the eighth grade.
Going through cancer treatment is the hardest thing I've ever done. Everything hurt, mentally and physically. It was hard to stay strong.
Walking down Seattle Children's halls, I'd see other kids who were also trying to be brave. Some days I felt inspired and other days sad. But no matter if I was having a good day or a bad day, my doctors and nurses always let me be me. They made me feel like I was their hero.
The people at Seattle Children's are the best humans I know. They want to see all of their patients grow up and do great things — and that inspired me to think about having a career where I can help heal sick kids, too.
Today, I'm cancer-free and back on my feet doing the things I love with my family and friends. My family jokes: "He may be scratched and dented, but he still runs good!"
Supporting Seattle Children's is a mission in my life, and I ask you to make it yours, too. So many kids like me have a second chance at life because of the experts at this hospital. What could be more important than giving sick kids hope to live full and healthy lives and accomplish their dreams?
More Reasons We Say Yes

Tara Nadella
Mindy Seay
About It Starts With Yes
It Starts With Yes: The Campaign for Seattle Children's is a bold initiative to partner with our community and deliver on our shared vision to transform children's health for generations to come. With your generous support, we can envision a day when we can say yes to hope, care and cure for every child. See what your yes can do and donate today.