Why We Say Yes
Dr. Nino Ramirez
No Such Thing as a Bad Idea – Brainstorming in Uncharted Territory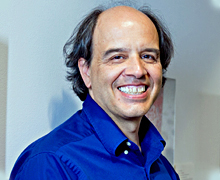 "90% of my ideas are wrong," says Dr. Nino Ramirez. The admission seems shocking, coming from the director of the Center for Integrative Brain Research at Seattle Children's Research Institute. But as a torrent of ideas pours from him like water from a firehose, it becomes clear: there is no such thing as a bad idea.
Ramirez also – especially – values "bad" ideas: surprising, disruptive findings that can spark treatment breakthroughs – maybe cures – for autism, epilepsy, eating disorders, breathing disorders.
"A bad idea provokes inquiry and the search for different solutions," he explains. "Mistakes drive science. A wrong idea reveals new things to explore, things you've never thought of before, things that are not obvious. The obvious is never good enough to unravel the complexity of the brain and its disorders. It happens all the time. For instance, we were looking for a drug to treat a breathing disorder. Instead, we found a cure for children with epilepsy. Research time is never wasted. What you find might not meet your immediate goal, but it might lead to something totally new and incredibly important."
Ten years ago, he held an academic dream job: chairman of the Anatomy Department at the University of Chicago. Prominent, tenured, secure. Too secure; too limited. Ramirez, who has devoted his life to unraveling the brain's complex neural networks, jumped ship for Seattle, where he had the chance to apply his knowledge to childhood diseases. Here he began creating a brain research program from scratch, incorporating neurology, genetics, biology, even engineering. No existing structure; no preconceived notions; no limits, except imagination and funding.
Besides researchers, he collaborates with clinicians who have challenging cases. "Every patient is a puzzle," he says. "When you go looking in the brain for one answer, you often find other answers – and more questions."Ramirez pronounces himself "in awe of what we do here." Still, he's restless, drawn to uncharted regions: terra incognita. To explore those requires curiosity and courage – and money. "Philanthropy is the driver," he says. "I would love to hire a heart research specialist and a metabolic disease specialist. If I had another $2 million…"
More Reasons We Say Yes

Constance Thompson
About It Starts With Yes
It Starts With Yes: The Campaign for Seattle Children's is a bold initiative to partner with our community and deliver on our shared vision to transform children's health for generations to come. With your generous support, we can envision a day when we can say yes to hope, care and cure for every child. See what your yes can do and donate today.