Why We Say Yes
Dr. Nick Vitanza
Determined to Solve Decades-Old Puzzle, Doctor Brings Hope to Families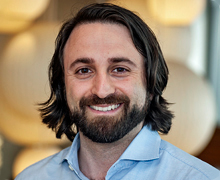 Dr. Nick Vitanza has never been one to take the path of least resistance. So it's no surprise that he chose one of the most vexing of childhood cancers to vanquish: diffuse intrinsic pontine glioma (DIPG). The disease comprises 10% of all brain tumors, and has thwarted researchers for decades.
"For 60 years, scientists have not been able to improve survival outcomes by even weeks," says Vitanza, a physician and researcher in Hematology–Oncology. "Compared to lung cancer it's a rare disease, but in pediatric oncology we're caring for 400 kids with DIPG each year just in the U.S."
Vitanza remembers vividly his first encounter with DIPG. On day one of his oncology fellowship at New York University, he was invited to a family consult where a doctor informed the parents that their child had just 10 months to live. He was stunned. Was there truly no treatment option? This pivotal meeting eventually led him to work with a DIPG specialist at Stanford and then to join the team at Seattle Children's, where he is sought out as an expert on the disease.
Though he values the insights he gains in the lab, Vitanza's biggest motivators are the children he cares for and their families – the people he longs to write a different story for. His quest ultimately led him to develop BrainChild, a series of pioneering immunotherapy trials that use CAR T cells to find and destroy tumors in the central nervous system – the most common form of childhood cancer and the leading cause of cancer-related deaths in children under 19. The trials offer new hope for children with recurrent brain and spinal cord tumors, including DIPG.
Vitanza has high hopes for the innovative approach, which delivers tumor-fighting CAR T cells directly to the brain and will likely have far fewer side effects than traditional cancer treatments. And thanks to his passion for the perplexing, many more children with "untreatable" diseases are likely to benefit in the future.
More Reasons We Say Yes

Constance Thompson
About It Starts With Yes
It Starts With Yes: The Campaign for Seattle Children's is a bold initiative to partner with our community and deliver on our shared vision to transform children's health for generations to come. With your generous support, we can envision a day when we can say yes to hope, care and cure for every child. See what your yes can do and donate today.