Why We Say Yes
Mindy Seay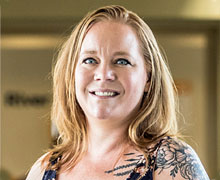 Our son Lincoln was born with a rare condition that involved severe heart defects. At just 12 hours old he had his first open-heart surgery. At 4 months it was clear his survival hinged on a heart transplant. We needed to leave the hospital where Lincoln was being treated and head to Seattle Children's.
I didn't want to go. I felt safe there and I trusted the medical team. I cried all the way to Seattle.
But I knew I was in the right place as soon as we arrived. Lincoln's new medical team immediately pulled me into their circle and involved me in the decision-making. Being included was hugely comforting to me.
Being heard was even more important – and the team never failed to take my ideas into consideration.
I remember when the stress took its toll on my ability to produce breast milk for Lincoln. I questioned why the hospital didn't allow donor milk, and the team found a way to change the policy for my son!
This same consideration also extended to Lincoln's siblings. Once our social worker realized they had energy to burn, she secured a scholarship for them to do parkour several afternoons a week.
After three months in Seattle of anxious waiting, Lincoln received a new heart. Nearly three years later, he's a busy, strong-willed toddler embracing his "tantrum threes." On those days when his nap time can't come soon enough, I'm more grateful than ever that Seattle Children's gave a new heart to Lincoln – and new hope to our whole family.
More Reasons We Say Yes

Dr. Colleen Annesley

Anu Nadella

Dr. Nino Ramirez
About It Starts With Yes
It Starts With Yes: The Campaign for Seattle Children's is a bold initiative to partner with our community and deliver on our shared vision to transform children's health for generations to come. With your generous support, we can envision a day when we can say yes to hope, care and cure for every child. See what your yes can do and donate today.