Why We Say Yes
Mark Fadool, MA
Out of Family Chaos, Creating Order – and Finding a Calling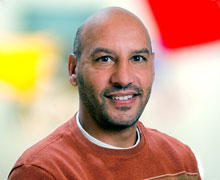 As director of Mental Health Services at the Odessa Brown Children's Clinic, Mark Fadool, MA, often sees poor kids in crisis. Fadool can relate.
"My mother was a teenage mom," he says. "Three kids by three different men. We never had much." When Fadool was young he went to live with an uncle – "relative foster care" – but a judge vetoed the arrangement, so he returned home.
At the age of 6, his mother died – "shot to death by a drunk in a bar," he says. "It threw my family into chaos." His sisters went to an orphanage. Fadool was adopted, "by a wonderful social worker."
The chaos subsided. His life rebooted. Eventually he earned a master's degree in counseling, so he could help other families overcome chaos and challenges.
During his 20 years at Odessa Brown, Fadool has seen – and led – major changes. "We used to get a lot of mental heath referrals for teenagers from our clinicians," he says. "We started asking, 'Why aren't these families getting services earlier? How can we build mental health into primary care, to reduce the stigma and increase effectiveness?'"
One innovative way is through Parent-Child Interaction Therapy, which harnesses observation, videotaping and coaching to teach parents to handle difficult behavior in positive ways.
Another is Promoting First Relationships, which helps parents build positive emotional foundations during their child's crucial early years.
Fadool yearns to do more – to "work upstream," preventing problems, not just solving them. "School programs are very successful, but they lose money. Community programs aren't funded by insurance. Neither is training."
Upstream success requires philanthropy, he says. "We have the capacity to do so much more. We just need the resources."
More Reasons We Say Yes

Dr. Colleen Annesley

Dr. Courtney Crane

Dr. Jeffrey Ojemann
About It Starts With Yes
It Starts With Yes: The Campaign for Seattle Children's is a bold initiative – $1 billion bold – to partner with our community and deliver on our shared vision to transform children's health for generations to come. With your generous support, we can envision a day when we can say yes to hope, care and cure for every child. See what your yes can do donate today.