Why We Say Yes
Dr. Juliane Gust
Determined to Find an Answer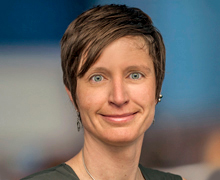 Early in her career, Dr. Juliane Gust faced a medical problem with no answer. It centered around T-cell immunotherapy, the relatively new experimental cancer treatment where doctors reprogram a patient's fighter cells to attack cancer cells. With these therapies, many children are beating cancers untreatable just a few years ago.
Along with this good news, about 30% to 40% of immunotherapy patients experience unexplained neurological side effects that range from temporary confusion and headaches to severe debilitating brain injuries that affect 1% to 2% of those undergoing immunotherapy.
Gust, a neurologist with a special focus on brain injury, was asked to treat the patients who had these side effects. But immunotherapy is a pioneering treatment, and there was no tried-and-true road to follow – not even a faint footpath. Gust found herself in uncharted territory.
"I was faced with a problem that nobody knew anything about, and I realized, 'it's on me to start figuring this out,'" she says. "That was a life-changing moment."
This knowledge void shaped the trajectory of Gust's career. Each week, in addition to treating patients and families, she enters the lab to examine data and scrutinize brain scans to develop ways to avert and treat immunotherapy's unwelcome impacts on the brain. These efforts ultimately resulted in her leading an immunotherapy trial of her own, which put her in the ironic position of overseeing treatments that may cause secondary brain problems – the very side effects she has been working so hard to understand and conquer.
Gust is heading up BrainChild-02, the second in a series of groundbreaking trials that use CAR T cells to find and destroy tumors in the central nervous system (the deadliest form of childhood cancer). She is optimistic because the trial offers new hope for patients with the bleakest prognoses – children with brain and spine tumors that have recurred or do not respond to standard treatment.
"My patients and their families are the reason I keep going day to day," Gust says. "I want to do everything I can to bring them comfort on this seemingly impossible journey, and this ultimately includes brain-safe immunotherapy treatment."
More Reasons We Say Yes

Constance Thompson
About It Starts With Yes
It Starts With Yes: The Campaign for Seattle Children's is a bold initiative to partner with our community and deliver on our shared vision to transform children's health for generations to come. With your generous support, we can envision a day when we can say yes to hope, care and cure for every child. See what your yes can do and donate today.