Why We Say Yes
Dr. Jeffrey Ojemann
Pulses of Light. Bursts of Heat. Glimpses of the Future.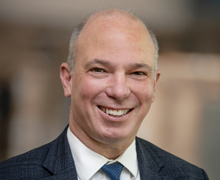 Dr. Jeffrey Ojemann stares at a high-resolution monitor, studying 3D MRI images that guide him as he threads a fiber-optic probe deep into Dana Lockwood's brain. The young man has a tumor on his hypothalamus, and for years it's been causing seizures.
Once the probe's tip is in the tumor, Ojemann taps a computer mouse to fire a laser, each tap unleashing an intense pulse of light. Click. Click. Click. The MRI images change color, the tumor glowing red as the laser heats and burns it. He moves the tip to another spot. Click. Click. He's done in 60 seconds. A single stitch closes the incision; Lockwood goes home soon afterward, the source of his seizures gone.
Ojemann views the minimally invasive laser surgery as a huge advance, but he chafes at the pace of progress. "My father was a brain surgeon," he says, "and most of the surgeries I do are a lot like the surgeries he did."
That's about to change, he hopes. An expert in bioengineering – specifically, producing new devices to unleash brain power – Ojemann sees a bright future for personalized medicine.
It offers the prospect of replacing brain surgeries with noninvasive treatments and cures: customized drugs and immunotherapies that harness a child's own immune system to destroy tumors.
The key to progress is philanthropy. "If you're developing a new therapy, philanthropy is the only way to bring it along," he says. "We have serious people here, with serious track records. But we've gotta get the data. We've gotta do clinical trials to prove that personalized medicine really does work."
To prove that the ideas click. And click. And cure.
More Reasons We Say Yes

Dr. Colleen Annesley

Anu Nadella
About It Starts With Yes
It Starts With Yes: The Campaign for Seattle Children's is a bold initiative to partner with our community and deliver on our shared vision to transform children's health for generations to come. With your generous support, we can envision a day when we can say yes to hope, care and cure for every child. See what your yes can do and donate today.