Why We Say Yes
Happy Salinas-Santos, ARNP
Honing In on Wellness, Within the Clinic – and Beyond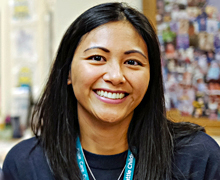 "The first time I walked through the doors at Odessa Brown," recalls OBCC Lead Nurse Happy Salinas-Santos, ARNP, "it felt like home."
The year was 2006, and Salinas-Santos, a second-year nurse practitioner student, was starting a pediatrics rotation at the Odessa Brown Children's Clinic (OBCC) – Seattle Children's only primary care clinic.
A dozen years later – after stints in other clinics, including her own solo practice – OBCC feels more like home than ever. "There's such a sense of family and community here," she says. "The staff knows the kids, knows the families. Knows how they're getting to the clinic. Knows if there's food on the family's table," she says.
Family and community matter deeply to her. The daughter of Filipino immigrants – her father was in the U.S. Navy, her mother was a hospital nurse – she grew up amid an extended family that was "hospitable, kind and amenable."
In college she deepened her Filipino roots, discovering "how uplifting and stabilizing culture and community could be."
As lead nurse, Salinas-Santos sees patients and also supervises the nursing staff. "Supervising has bolstered my love for the clinic," she says. "Our nurse practitioners are incredible clinicians and amazing women. Many volunteer outside the clinic to promote kids' health further."
That's not surprising, given OBCC's holistic philosophy. "We work to create wellness outside our walls," says Salinas-Santos. "Much of what we do – outreach clinics, school counseling, social work – isn't reimbursed by insurance. That's one reason we need philanthropy."
Another is the creation of OBCC Othello, a second, larger clinic planned in a South Seattle area where many patient families have moved to find more affordable housing. "Currently they're driving an hour one way or taking the bus even longer to get to us in the Central District. We're excited to expand our location and services because OBCC is where they get high-quality care. Where they're treated with dignity. Where they feel comfortable."
Where they – like Salinas-Santos – feel at home.
More Reasons We Say Yes

Dr. Colleen Annesley

Anu Nadella

Dr. Nino Ramirez
About It Starts With Yes
It Starts With Yes: The Campaign for Seattle Children's is a bold initiative – $1 billion bold – to partner with our community and deliver on our shared vision to transform children's health for generations to come. With your generous support, we can envision a day when we can say yes to hope, care and cure for every child. See what your yes can do donate today.