Why We Say Yes
Dr. Colleen Annesley
Finding Hope, Where There Was None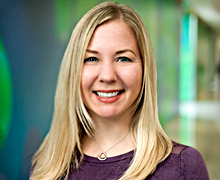 Like most pediatric oncologists, Dr. Colleen Annesley recognizes the need for research funding. Unlike most, Annesley came to medicine by way of fundraising.
As an undergraduate at Penn State, Annesley volunteered with a nonprofit that raises money for children's cancer research and care. She knocked on doors, "canned" on street corners, and raised pledges for a 48-hour dance marathon. She met cancer patients, families, doctors and nurses – and resolved to become a pediatric oncologist.
Annesley's commitment was cemented with her first cancer patient at Johns Hopkins Hospital, where she completed a postgraduate fellowship and entered practice.
The patient, a 2-year-old girl, had advanced, refractory leukemia.
"Her bone-marrow transplant failed, and there was no hope," Annesley says, "but the mother wasn't ready to give up."
Despite single-digit survival odds, she enrolled the girl in a clinical trial of an experimental drug combination. The leukemia went into remission, and a second marrow transplant worked. "That was six years ago," Annesley says, "and she's still doing great."
Annesley was recruited by Seattle Children's to run clinical trials of revolutionary new T-cell therapies, which equip a patient's immune system to target and destroy cancer cells – in the same way they seek and destroy infections.
"We can't cure everybody," she concedes, adding, "not yet. But we're learning how to outsmart cancer, and now there's hope, where there was none. That's what's so exciting. That's why I love coming to work here every day."
More Reasons We Say Yes

Constance Thompson

Dr. Jeffrey Ojemann

Tara Nadella
About It Starts With Yes
It Starts With Yes: The Campaign for Seattle Children's is a bold initiative to partner with our community and deliver on our shared vision to transform children's health for generations to come. With your generous support, we can envision a day when we can say yes to hope, care and cure for every child. See what your yes can do and donate today.