Why We Say Yes
Anu Nadella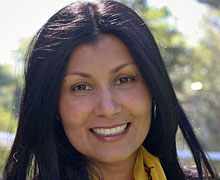 Parenting was a learned art for me. Yet I knew instinctively that the more I put into the well-being of my children, the better their long-term health would be. It's the same for Seattle Children's. Every time a child receives care or a research study concludes, the institution learns more and children everywhere benefit from the improvements.
That's why I said yes when asked to co-chair the It Starts With Yes campaign. It's a great opportunity to help more people in our community understand the impact the hospital has on child health and the practice of pediatric medicine. And it's a way I can say "thank you" to everyone at Seattle Children's who lives the promise of hope, care and cure every day. These three words also resonate deeply with me.
Our son Zain was born with cerebral palsy 20 years ago, and Seattle Children's has been there for us every step of the way. We've used the hospital's services and expertise extensively – and our journey has been nothing less than inspiring.
I think of the doctors who include me as part of the team. The nurses who jump in to help even after their shifts end. And the strength, resilience and trust that children like my son show even at their most vulnerable. If they can come to the table with their maximum effort, then I can say yes to the fundraising campaign.
Raising awareness and money for Seattle Children's is an honor – and a critical investment in the health of our children today and into the future.
More Reasons We Say Yes

Dr. Rebecca Gardner
About It Starts With Yes
It Starts With Yes: The Campaign for Seattle Children's is a bold initiative to partner with our community and deliver on our shared vision to transform children's health for generations to come. With your generous support, we can envision a day when we can say yes to hope, care and cure for every child. See what your yes can do and donate today.