Patient Ambassadors
Meet Luke

Living Life to the Fullest: A Heartwarming Story
By Jesse Smith, Luke's mom
If you ask my 11-year-old son Luke what he loves most, he'll tell you Legos, Xbox and spending time with his friends and family. I wish you could meet him to see how he thrives in social settings and makes us laugh with his one-liners. As his mom, I'm particularly proud that he's one of the top readers in his class. And though he hasn't ever been able to run as fast or as far as his friends, he still gets in on most of the action. For a number of years now, he's played youth baseball; last year, he tried flag football.
What Luke probably won't mention is that he's a patient at Seattle Children's Heart Center. He was born with a single ventricle heart defect – a condition where one of his ventricles has to work twice as hard to pump blood out of his heart because the other one doesn't work at all.
Because of the severity of Luke's condition, he's had cardiac care since birth. We started with a heart center in Tacoma, near where we lived. At that time, his cardiologist recommended that all surgeries Luke needed be performed at Seattle Children's. Luke has had three open heart surgeries: two in 2007 and another one in 2016. When Luke's cardiologist in Tacoma moved out of state in 2016 we knew it was time to permanently switch to Seattle Children's, where a care team of specialists from the Heart Center and several other disciplines would work together to keep him healthy and active.
A place with heart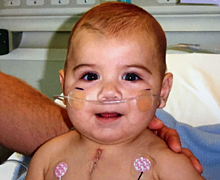 Over the years, we've had an exceptional experience at Seattle Children's. From the doctors and nurses to the medical assistants and receptionists, we always feel welcomed and valued. Each time we leave an appointment or prepare for a procedure, we feel armed with knowledge and the assurance that the brightest minds are helping us make the best decisions about Luke's care. The hospital's commitment to delivering the most appropriate care to kids at every age and developmental stage has empowered our son. And their focus on extending this support to the whole family has been invaluable for us. We've laughed – and cried – with our care team, and they'll be our second family until Luke comes of age!
In the last couple of years, the Heart Center team has begun including Luke in conversations about his care. Dr. Agustin Rubio, Luke's cardiologist, is incredible and patiently answers our son's questions with honesty and humor. Though I can't bear the thought of us leaving Seattle Children's, I know Luke will have to take more responsibility with things like medication management, appointment scheduling and advocating for himself. I know when it's finally time, his care team will have prepared him well for the transition.
Surgical success – and a special friendship
In 2017, Luke had his fourth open-heart surgery. The recovery was particularly difficult – both physically and emotionally. He spent 17 days in the hospital and battled fluid buildup between his lungs and chest for months after. Even with those bumps on the road to recovery, the days of Luke being winded from climbing to the top of our stairs ended with the surgery. I thought my own heart would burst with joy when he said, "I actually like walking now!"
While recovering, Luke had the opportunity to partner with Seattle Seahawks player Austin Davis to design a pair of cleats for Davis to wear in a game. Admittedly, I was a bit nervous about the project. It can be hard for someone to step into a patient's room not knowing how sick the child is, but Austin was up to the challenge. Right away, he connected with Luke and made their design a true collaboration.
By the time the cleats were made, Luke was out of the hospital and we were able to attend the Sunday night game where Austin wore the cleats. After the game, he gave Luke a pair of cleats to keep – a very sweet gesture on top of a sweet win for the Seahawks! In addition, Austin gave Luke a handwritten letter that now hangs on his bedroom wall.
"Every day we're grateful for the sharp minds, compassionate personalities and healing hands of Luke's care team. They are the secret sauce that's given Luke his best shot at a full and true childhood."
The gift of childhood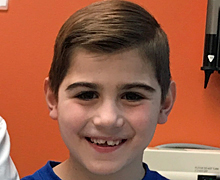 When the reality of raising a child with a severe heart condition first hit us, we were shocked to learn that 1 in 110 babies are born with a heart defect. Because their scars are beneath their shirts, most people have no idea what these kids go through or that a congenital heart condition often requires lifelong treatment.
Seattle Children's Heart Center exists to give kids like Luke a rewarding and purposeful life. Without the research, technology and high level of care that defines this amazing clinic, our son would not be thriving. Because of the Heart Center's resources, families like ours can live with a lot less worry and a lot more laughs.
After Luke's last surgery in 2017, I asked him what the hardest part of being in the hospital for 17 days was. He told me it was having to eat low-fat food. It wasn't the Intensive Care Unit, or the IVs, or the chest tubes and not even the middle-of-the-night checks of his vital signs. The hardest part was not getting to eat chips!
Luke's response says so much about the resiliency of children, but also the level of care kids in our community receive at Seattle Children's. The Heart Center team manages to make even the hardest experiences positive. While Luke will never have a four-chambered heart, we're hopeful the amazing care he's received so far will push the need for another surgery long into the future.
When we try to express the gratitude we have for our cardiac care team, thank you doesn't feel nearly enough. Every day we're grateful for their sharp minds, compassionate personalities and healing hands – the secret sauce that's given Luke his best shot at a full and true childhood. You'll never know how much it warms our hearts to see him live his life to the fullest!
Meet More It Starts With Yes Patient Ambassadors
About It Starts With Yes
It Starts With Yes: The Campaign for Seattle Children's is a bold initiative to partner with our community and deliver on our shared vision to transform children's health for generations to come. With your generous support, we can envision a day when we can say yes to hope, care and cure for every child. See what your yes can do and donate today.