Guild Association Spotlight
You Give Us Hope!

Director's Note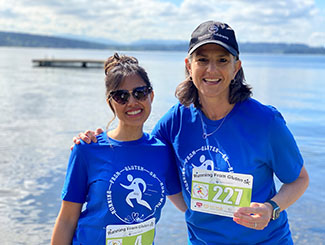 It was so heartwarming to meet in person again at our annual meeting and luncheon celebration! What a joyful gathering after so long apart.
I heard variations on this sentiment echoed repeatedly as attendees reconnected after months at Zoom distance. I feel such gratitude for your resilience and commitment. I am also energized by our forward momentum — with three new guilds already having launched this year! This gives me hope — hope for how these new advocates will help our association learn and grow, hope for the children who will have a better chance to lead healthier lives, and hope for a future where families continue to feel the support of our loving community. More kids are thriving today because all of you devote your time, talent and funds — thank you!
Aileen Kelly, executive director, Seattle Children's
Guild Association
Forward Momentum: Welcome to Our Newest Guilds!
Celiac Guild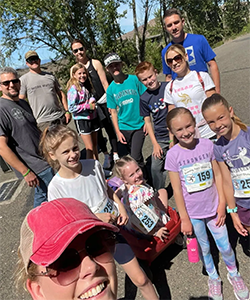 Last year, hospital employees and patient families hosted the first Running From Gluten 5K to support Seattle Children's Celiac Disease Program. The virtual event raised $10,000! Motivated by their success, the group formed the Celiac Guild and held an in-person/virtual run in May. Helene Law, guild president, co-founder of the Celiac Disease Program and a nurse practitioner, is excited to use guild activities to raise awareness of the challenges faced by families living with this illness, which can only be treated through a strict gluten-free diet. The guild will fund community building and education, celiac research and advocacy. To learn more, visit the guild's website or the Eat Live Celiac website.
CRMO Warriors Guild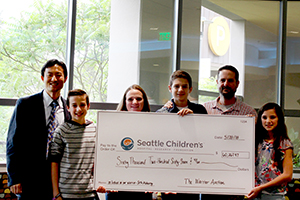 In 2018, the Maharry family hosted an auction to benefit chronic recurrent multifocal osteomyelitis (CRMO) research, raising more than $60,000! Seth Maharry, 18, who will attend the University of Washington this fall, lives with this disorder of unknown causes that results in pain due to bone inflammation. Inspired by support from their Gig Harbor community, the Maharrys joined forces with Seattle Children's CRMO research team to form a guild and will hold their first event, a golf tournament, in September. Dr. Dan (Yongdong) Zhao, the guild's president and director of Seattle Children's CRMO clinical program, is excited to raise awareness among providers about this rare disease (which can linger into adulthood); provide peer support for families living with the disorder; and provide essential funding for research to better understand CRMO, which affects several thousand people across the country. There is currently no FDA-approved treatment for CRMO. To learn more, visit the guild's Facebook page.
Colin's Fight for Change Guild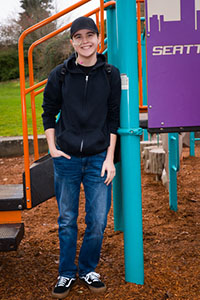 Last August, Colin Pritchard tragically died two months before his 18th birthday. Eight months prior, he had been diagnosed with Ewing sarcoma, a rare aggressive bone and soft tissue tumor for which new cures are needed. The Pritchard family and their community formed Colin's Fight for Change Guild to honor Colin's memory and to help find answers for families facing this diagnosis in the future. Colin was a caring young man who loved basketball, making people laugh and being with his family. His namesake guild's first fundraiser will be a basketball tournament planned for October.
The guild will raise funds for research conducted through the Lawlor Lab at Seattle Children's Research Institute. Dr. Elizabeth Lawlor is dedicated to unraveling the mysteries of Ewing sarcoma. She supports a diverse group of physicians and scientists who will lead the path to a better tomorrow for children diagnosed with cancer.
Guild Annual Meeting: United in Care
More than 330 guild members United in Care on May 13! Here are a few highlights from the joyous gathering: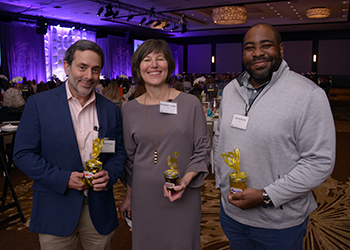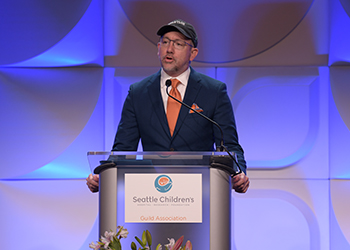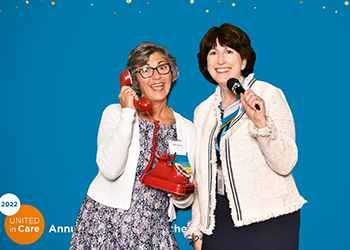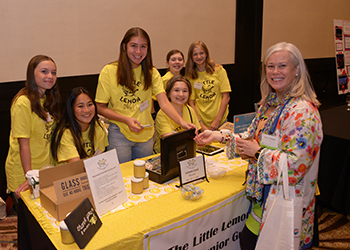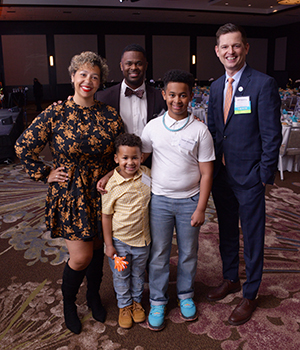 Standouts Applauded at Annual Meeting
Anna Clise Award for Individual Achievement
Margaret Downey: Leading With Laughter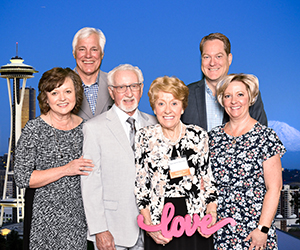 Margaret Downey leads by example as a stalwart volunteer who is usually the first to ask, "How can I help?" One look at a recap of her long and varied years of involvement and it's easy to see why she was chosen for the Guild Association's highest individual honor. It's impossible to chat with her and not feel a lift from her upbeat outlook and keen sense of humor. Downey, who turns 85 in November, has a charming Irish lilt (her family emigrated from Belfast to Auburn in the mid−1960s) and a storyteller's knack for yarns that keep her audience rapt. When serving as auxiliary president, she opened every meeting with a joke to "get everyone into the right frame of mind," and is still known as the group's official jokester.
In addition to holding almost every leadership position in her nearly 45 years with the auxiliary, Downey is a talented vocalist who performed with the Seattle Symphony Chorale for 25 years. She sang "Danny Boy" at more than one auxiliary event, where she also served as auctioneer. She cherishes memories of signature fashion shows featuring clothing from local Benson's Fashion Apparel with auxiliary members as models. Downey also fondly recalls waterfront car shows, where members sold boxed picnic lunches with fried chicken and potato salad.
She has been fighting cancer for the past two years and was pleased to feel well enough to return to the auxiliary earlier this spring — fittingly at a lunch meeting on St. Patrick's Day.
Chairman's Award for Guild Excellence
Sequim Guild: Heart of the Community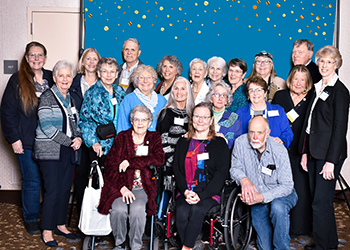 The Sequim Guild is the deserving recipient of the Guild Association's Chairman's Award. The group's 78 members, ranging in age from 15 to 90, host most events in their hometown at the top of the Olympic Peninsula, but their community-minded efforts reverberate throughout Clallam County and beyond. Since 1976, the guild has raised more than $628,000 for uncompensated care and research at Seattle Children's!
"Dedication to the children is foremost in all of us — we don't let them down," says Kathy Bare, the guild's president and longtime member. During the pandemic, the group made it a priority to keep members connected, held a successful "party-no-party" fundraiser, and persisted with masks and distancing to host its annual holiday bazaar. They even arranged for members in an assisted-living facility to hold a small auction during COVID restrictions.
A household name in its community, the guild is known for holiday bazaars, bunco parties, garage sales, Koins for Kids and delicious pies sold at annual bake sales. They greatly missed hands-on interactions with the Guild Association team and hospital. Earlier this spring, members were excited to finally deliver in person toys, handmade blankets and other items they had collected for patients over the past two years.
"Our guild is passionate about finding cutting-edge answers to help children," says Bare, noting the guild has been a Research Champion since 2014. "I'm proud to be part of a group where we all want to make a difference."
Guilds In Action!
In December, the SMooCH Guild (Seattle Musicians for Children's Hospital) held its 10th anniversary benefit concert at the Showbox at the Market. An enthusiastic crowd of music lovers enjoyed tunes by Josiah Johnson, Shaina Shepherd (pictured) and Modest Mouse. The VIP hour featured chefs from Jerk Shack, Musang, Local Tide, Taku, Ethan Stowell Restaurants, and Kitchen and Market. The guild raised $2.8 million for uncompensated care!

The Friends Helping Friends Guild held its annual Play for Children's event in February at the Landing at Tyee on Lake Union. Nearly 90 guests dressed for the theme, "Jeans and Jerseys," and enjoyed a delicious appetizer buffet, games, a raffle, a live auction and dancing. The guild raised more than $90,000 for uncompensated care!

The Hansje Brinker Guild hosted a beer and bitterballen (breaded, fried meatballs) tasting at the Queen Anne Beer Hall in March. Friends, family and supporters enjoyed the delicious Dutch hors d'oeuvre accompanied by a drink of their choice. The guild supports Seattle Children's Child Life Program, which uses play to help children relieve tension, express concerns and adjust to the hospital experience.

In April, the Friends of Odessa Brown Children's Clinic (OBCC) Guild hosted its Help One Child, Help One Family fundraiser at OBCC Othello. The event included silent and live auctions, rousing songs from the Northwest African American Museum Cultural Ensemble, a flavorful lunch by Kristi Brown from That Brown Girl Cooks!, and guided tours of the facility. Attendees enjoyed hearing from longtime OBCC supporter Lenny Wilkens; a panel of OBCC providers featuring Dr. Tumaini Coker, Dr. Kari Sims and Dr. Christen Manangan; and the mom of a sickle cell patient. The guild raised more than $300,000 to support OBCC patients and families!

The Pat Harris Trilogy Guild hosted a bingo night in February at the Trilogy Clubhouse, where 70 supporters raised more than $2,700 for uncompensated care and research! The guild also made valentines and wrote appreciation cards to Seattle Children's Psychiatry and Behavioral Medicine Unit staff and delivered handmade fleece blankets for patients.

In May, the Desert Sun Guild of Richland held a spring gala featuring music, dinner, silent and live auctions and a dessert dash. Attendees were moved by an inspiring cancer journey shared by the parents of a Seattle Children's patient with anaplastic large cell lymphoma, a rare type of non-Hodgkin lymphoma. More than 150 guests helped the guild raise $100,000 for uncompensated care and research!

Kick Childhood Cancer Guild members met with Seattle Sounders soccer players recently to say thank you for their help in raising more than $48,000 for Seattle Children's immunotherapy research! The visit marked a culmination of the guild's September fundraising projects, including the Scarves Fighting Cancer sale, a beer collaboration between Will Bruin and Georgetown Brewing, a design partnership with Stefan Frei and glassybaby, and the wildly successful "Kick Childhood Cancer with Zach Scott" online auction. It was the guild's most successful year to date! Founder and Guild President Christine O'Connell noted, "It really helps to have some Sounders on your side!"

In March, the guild raised $14,700 through an online fundraising campaign, The O'Connells Take Back St. Patrick's Day. The event marked five years since the cancer diagnosis of Christine's daughter, Jane, who is happily now doing very well.

In April, 150 Kent Guild members and friends enjoyed a fashion show and luncheon fundraiser at the Meridian Valley Country Club in Kent. The guild raised $45,000 for uncompensated care through sponsorships, a raise the paddle and a raffle! The Kent Guild has been a Seattle Children's supporter since 1929!

In March, the Hannah Hummingbird Junior Guild of Bainbridge Island collected items for the Guild Association's Heartwarming Drive. Guild members collected donations at the local Safeway to stock resource rooms at Odessa Brown Children's Clinic's two locations. The guild's generous community gave more than $1,500 in direct donations and gift cards in addition to a truckload of household goods and toiletries!
Pat Harris Trilogy Guild Clean Sweep
By Rene Mortenson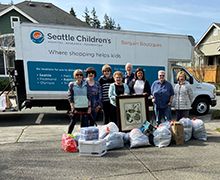 When COVID took over our lives, we were unable to hold planned guild fundraisers, so we started to "think outside the box." Our guild stayed connected via Zoom, sharing virtual cups of coffee and kicking around ideas. Being confined to home, I started going through closets, drawers and the garage for items to donate to Seattle Children's Bargain Boutique in Redmond. I realized the severity of the virus when I went to drop off my boxes and learned they were closed for donations due to COVID. I followed up with the store manager who said she could take items by appointment. At our next Zoom guild meeting, I suggested that our guild offer Bargain Boutique donation pick-up services to the residents of the 1,520 homes in our Trilogy community. From the onset, the project was successful beyond our wildest dreams, and I enlisted other guild members who graciously offered their help. Thanks to the generosity and love our residents and guild members have for Seattle Children's, our Bargain Boutiques in-kind donations totaled more than $68,000! I now chair a guild committee that plans to make this a yearly event — the Spring Clean Sweep.
The Bargain Boutiques are open for business! If you are interested in doing a similar collection drive, contact your local Bargain Boutique, or call 206-448-1233. Rene Mortenson is also happy to share advice with guilds interested in this type of fundraiser. Contact her through the guild office, 206-884-2071.