Membership Resources
Energize Your Guild and Fuel Momentum
The new year is a good time to infuse some fun and gratitude into your guild. Our guilds run on the goodwill, dedication and talent of our amazing members. Here are a few ways to recognize their efforts, keep members engaged and grow your membership to ensure your guild's continued success well into the future.
Grow your guild
Encourage members to bring a friend to your next meeting; have the guild president follow up personally and ask them to join the guild.
Host a membership recruitment event.
Commemorate member milestones
Celebrate member anniversaries at guild meetings ("join dates" are listed on your guild roster). Ask honorees to share what has inspired them to stay involved. Thank them with flowers or a card from guild leadership.
Engage your members
Encourage members to attend events hosted by the Guild Association or hospital (virtual gatherings, best practices, research events) to stay connected to our mission.
Assign a veteran guild member to mentor a new member.
Engage with other guilds by volunteering at another guild's event or post in the Guild Association Facebook Group: facebook.com/SCGuilds.
Tap into the power of the hospital's mission: Talk to a Guild Association staff member about inviting a patient family to speak at your meeting or ask them for ideas of a patient video to share.
Invite a staff member to speak about your guild's impact at your next meeting.
Celebrate successes
Take time to honor the wins of your event or fundraising campaign by hosting an event wrap-up meeting party where you toast one another's accomplishments (Zoom works well!) or give a shout out to members who planned and executed the event.
Need help getting started? Email us.
Online Recruitment Event Gets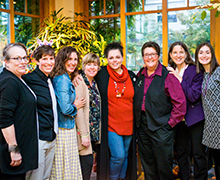 "We had a dry spell due to the pandemic and were looking for new members and people to fill leadership positions," says Rebecca Vest, vice president and membership chair of the Unicorn Family Guild. "We hosted a membership recruitment event over Zoom and it was very successful — several new people are interested in joining the guild."
The guild invited Dr. Juanita Hodax, co-director of Seattle Children's Gender Clinic, to share clinic news followed by a Q&A. The program also highlighted open guild positions and ways community members could participate with the guild. When you're planning a recruitment event, Vest advises you to be brief, have a moderator to keep the program moving, share your mission and make it easy for people to get involved. A QR code was also posted on-screen during the event where people could sign up to volunteer.
Member Appreciation Capitalizes on Kindness
Gitte Coleman, president of the Pat Harris Trilogy Guild, and her leadership team started a new member appreciation program last year, mainly to keep people feeling connected during the pandemic. At each guild meeting (members can choose to attend in person or via Zoom), they announce each member celebrating a guild anniversary. Coleman follows up by mailing a personal note of thanks to each honoree. For members celebrating 5, 10 or 15 years, Coleman delivers a handwritten card with a small gift (such as a plant or jar of jam).
"Members feel appreciated by the personal touch and love finding a surprise at their doorstep," she says. The guild also added recognition ribbons to member nametags — a new color for each five-year increment of service. Members who have been with the guild for 15 years now sport three ribbons of different colors. Coleman says these low-cost ideas have been well received and met the guild's intent of letting members know how much they are appreciated.