Feature Story
Funding Hope: Support for Patients and Families Living with Sickle Cell Disease
Each year, the Guild Association Board of Trustees directs a portion of its funds toward priority research and hospital needs. This Funding Hope program enables guild members to offer support where it's needed most. This year, the Guild Association is dedicating $1.5 million to developing a Center of Excellence for Sickle Cell Disease.
Amna Sabir was thrilled when she learned that she was pregnant with her first child. She and her husband viewed the baby as a "gift from God" and were overjoyed when Jude was born in 2019. Sadly, they only had a few days to rejoice in their beautiful daughter before worry set in: Newborn screening tests revealed that Jude had sickle cell disease. Amna knew nothing about the disease, and what she learned was terrifying. Sickle cell is a group of progressive, devastating genetic blood conditions that greatly impact a child's quality of life and life span.
Heartwarming Drive Extends Odessa Brown's Legacy
We invite our guild members to participate in the 2022 Heartwarming Drive that helps Odessa Brown Children's Clinic (OBCC) sustain its mission of delivering quality care with dignity. This year's drive supports the family resource rooms at both OBCC locations. Essential items for patient families include diapers, toothpaste, school supplies, cleaning products and more. To participate:
Visit our Amazon wish list (please select "this is a gift" so we can recognize your contribution).
Donate online here.
Host a collection drive with your guild. To arrange a delivery date, call the Guild Association at 206-987-6928 or email us.
To date, we are a third of the way to our goal. Thank you for helping us surpass it by contributing today!
Welcome Dondi Cupp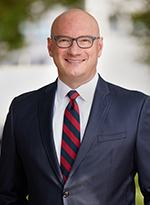 The Guild Association is excited to welcome Dondi Cupp as Seattle Children's new senior vice president and chief development officer (CDO). Cupp was chosen after an extensive nationwide search. He most recently served as senior vice president and CDO at the Oregon Health & Science University Foundation.
With an impressive background in fundraising and substantial experience developing and implementing strategic philanthropic initiatives, Cupp brings with him a mission-driven approach. He shared, "As a fundraiser, I've learned there's really nothing more rewarding, or frankly fun, than raising money for programs that benefit children and their families. We're very lucky to have the opportunity to connect our work with our hearts."
New & Next
Leaders at OBCC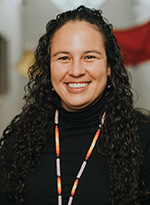 Seattle Children's is thrilled to welcome Dr. Shaquita Bell as senior medical director of Odessa Brown Children's Clinic (OBCC), where she has been serving families for the past 16 years. Bell will lead OBCC in both the Central location and the clinic's new Othello location, which opened in March. She most recently held the interim senior director position at OBCC, where she oversaw the clinic's medical services for the community, including medical, dental and behavioral health.
"I have always been interested in community health and I am committed to providing care to all regardless of their insurance status, ability to pay, their gender identity, sexual identity, language, culture, or any other box that society puts people in," Bell says. "As a pediatrician who has had the pleasure of practicing at OBCC these last 16 years, I see what community means to our younger generation, and I would like to continue to support and invest in our communities."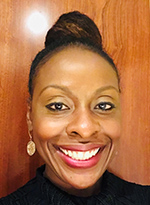 Dr. Kenisha Campbell joined OBCC last month as medical director of the clinic and will work at both locations. She most recently served as director of Outpatient Clinical Operations in the Division of Adolescent Medicine at the Children's Hospital of Philadelphia (CHOP). Fueled by her passion to dismantle racism in healthcare, Campbell founded CHOP's Division of Adolescent Medicine's Anti-racism, Diversity, Equity and Inclusion Taskforce and was instrumental in developing a curriculum on racism for CHOP's Department of Pediatrics.
"My vision is that our patients and families can be confident that they will always receive care that is compassionate, equitable and just, and they will have the joy and satisfaction of being cared for by providers that reflect who they are," says Campbell. "I strive to ensure that each interaction I have with my patients, families and colleagues demonstrates these values."
OBCC Othello Serves More Patients Closer to Home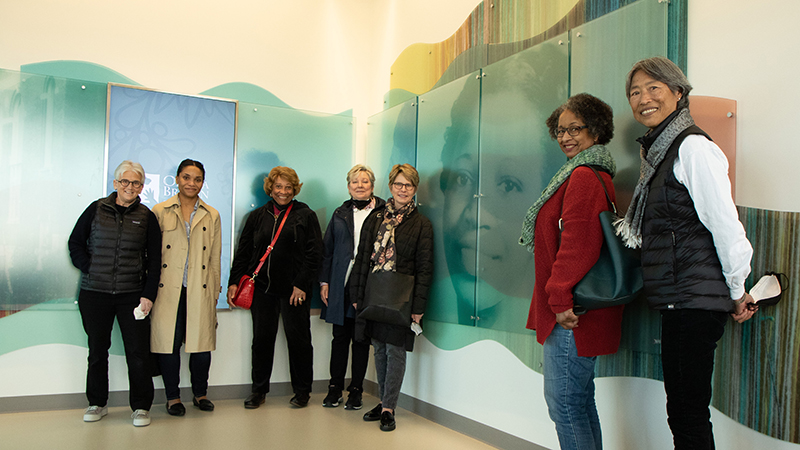 In March, Odessa Brown Children's Clinic (OBCC) Othello staff were thrilled to welcome patients to the clinic's second location, where an innovative, integrated care model offers medical, dental, behavioral health, physical therapy and rehabilitation, nutrition services and more all under one roof. Friends of Odessa Brown Children's Clinic Guild members (pictured from left) were excited to tour the Othello location before it opened: Ann Carey, Allison Pride, Sherrelle Walker, Linda Johnson, Mary Pat Iaci, Eudora Lowery Carter and Pat Char.
Lowery Carter joined Friends of Odessa Brown Children's Clinic when it launched in 2017, but her history with the clinic goes back decades to when she lived across the street from OBCC's Central location. She knows firsthand the power of bringing healthcare with dignity into the communities where patients live. The Othello location brings health services closer to the 75% of existing OBCC families who have moved south for more affordable housing.
"OBCC Othello is so bright and welcoming, and I know children will love it," she says. "It has the feeling of the community's arms figuratively wrapped around patients and their families, and it makes me smile. It is a place where I hope preventive care can reign."
The guild held a fundraiser luncheon at the clinic in April and raised more than $300,000! Lowery Carter invites you to learn more about the guild's goals by visiting friendsofobcc.org.
A Mom Finds and Delivers Hope for Those Living With Sickle Cell
Two years ago, Amna Sabir moved to Seattle from Omaha after her daughter's doctor indicated that Seattle Children's Odessa Brown Children's Clinic has one of the nation's best sickle cell clinics.
By Amna Sabir, mother of Jude, who receives care for sickle cell disease at Odessa Brown Children's Clinic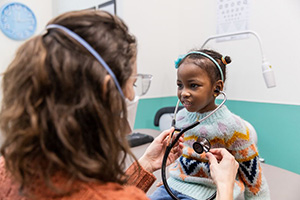 Jude and I arrived in Seattle in March 2020, just as the COVID-19 pandemic was becoming more serious. My husband Amar had gone to Seattle first to start working and find an apartment, but a few months into the pandemic, he was laid off. We worried about how we would pay for Jude's care. To make things worse, Jude was hospitalized shortly after we arrived in Seattle. She was 8 months old and already needed her third blood transfusion.
I began to feel the weight of being alone in a new city. I didn't know anyone — certainly no one who understood what it was like to have a child living with sickle cell. But things changed when we took Jude to Odessa Brown Children's Clinic (OBCC).
Alix Dassler, the sickle cell team's nurse practitioner, connected me to the Metropolitan Seattle Sickle Cell Task Force. I began meeting with families who understood what I was going through, and I could begin to see my daughter's future. At the same time, Dr. Michael Bender, director of OBCC's Sickle Cell Clinic, recommended that Jude try hydroxyurea. This magic medicine makes red blood cells bigger and rounder. It changed Jude's life. She grew significantly, had less pain and swelling and became more playful.
OBCC social worker Sarah Wandler helped us navigate financial challenges. She connected us to community resources that provided food, diapers and four months of rent. When Amar started working again, Sarah helped my mother get a visa so she could travel from Turkey and stay with me for six months. Meanwhile, Seattle Children's Uncompensated Care Program covered the cost of Jude's medical care. It was such a relief to know we were not alone; people cared about our situation.
Jude has not been hospitalized since starting the hydroxyurea treatment two years ago. As her health improved, I was able to go back to school. I'm currently pursuing a bachelor's degree in epidemiology at North Seattle Community College. My classes help me better understand Jude's disease, and I'm sharing my knowledge with a group of other Arabic-speaking families who have children with sickle cell.
When Jude was first diagnosed, I thought our lives were going to stop, but I was wrong. Today, I see how strong we are. Jude is growing, and I am growing with her.
Seattle Children's sickle cell team saved my daughter's life. They helped me to find myself. When I felt utterly alone, Alix, Dr. Bender and Sarah cared about my situation. They became my backbone, my family. I want other parents who have children with sickle cell to know there is hope. With a good care team and good medicine, their children can enjoy life just like Jude does.