About the Guild Association
How Our Guilds Support Seattle Children's
Seattle Children's Guild Association is the largest all-volunteer fundraising network for any hospital in the nation. We serve as the umbrella organization for all our guilds, and we support their efforts by providing inspiration, fundraising advice and resources.
Our Mission
We advocate for Seattle Children's through our volunteer, philanthropic and community endeavors to ensure hope, excellent care and advanced cures for children.
Guild Leadership
The Guild Association is governed by a board of trustees – dedicated volunteers who serve as advocates for Seattle Children's mission and "success coaches" for all guilds, including their own. The Seattle Children's Guild Association Board of Trustees also approves the Guild Association's budget and works with hospital leaders to determine the focus of the Funding Hope initiative.
From the Chair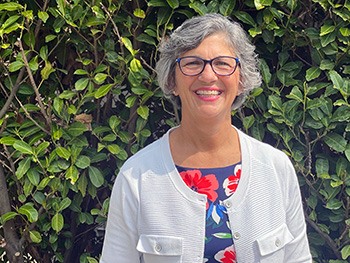 Thank you for your commitment to Seattle Children's Guild Association. As dedicated guild members, through your exemplary volunteerism and fundraising, you help Seattle Children's provide hope, care and cures so that every child can live the healthiest and most fulfilling life. As the largest volunteer organization of any hospital across the country, our Guild Association is making an impact thanks to the work of more than 300 guilds and over 4,000 members.

From the Puget Sound and Olympic Peninsula to Eastern Washington and cities in-between, your efforts to support uncompensated care, research and numerous specialty programs make a difference for our patients and their families. We are so grateful!

I recently toured the new Odessa Brown Children's Clinic – Othello, just south of downtown Seattle, and it was amazing. Inside the 42,000 square-foot space, patients have access to an innovative, integrated approach to care – where medical, dental, behavioral health, physical therapy and rehabilitation, nutrition services and more are available under the same roof, at the same appointment, if needed. And, as always, the clinic's 'Quality Care with Dignity' mission means the team cares for each patient's whole health regardless of a family's ability to pay. Take a moment to see for yourself what a special place this is by viewing a virtual tour Odessa Brown Children's Clinic.

I am so proud of what we accomplish together for our patients and families. I look forward to continuing this incredible support in the months and years ahead. Have a wonderful summer and be sure to check out our event calendar! Thank you for being part of the Guild Association family!
Patti Byers, Chair, Board of Trustees
Seattle Children's Guild Association
What Our Guilds Support
Learn about recent projects our guilds have done to support the programs below in Guild Spotlight.
Uncompensated care
Seattle Children's was founded in 1907 with a promise to our community: children in our region will receive essential healthcare regardless of a family's ability to pay. Fundraising efforts of our guilds provide of dollars each year to help us keep that promise.
Hospital programs
When a guild is passionate about a specific clinical or family support program, it can choose to dedicate its fundraising proceeds to that area.
Research
Guilds committed to finding cures for childhood illnesses choose to support the work of Seattle Children's Research Institute.
Funding Hope
For more than 20 years, the Guild Association has directed a small portion of its annual fundraising toward priority research and hospital needs selected by the Guild Association Board of Trustees. This program, called Funding Hope, enables guild members to meet the emerging needs of patients – and offer hope where it's needed most. Learn about our most recent Funding Hope gift to support pediatric mental health (PDF).