Ways to Donate
Special-Occasion Donations
Mark Your Next Event by Donating to Seattle Children's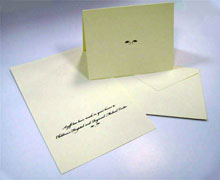 Your gift helps children receive world-class care. Use our special-occasion favors or table cards to honor your guests and show your generosity and commitment to Seattle Children's mission.
For casual events, favors such as pens or balloons are available.
On more formal occasions, choose to order our table cards. They are the perfect complement to a wedding, bridal shower, anniversary, birthday, bar/bat mitzvah, confirmation, graduation, holiday gathering, employee appreciation or retirement party, etc.
Order Table Cards for Formal Occasions
Ivory 5.5″ x 4.25″ cards (with or without envelopes)
Card inscription reads "A gift has been made in your honor to Seattle Children's."
Suggested minimum donation: $20 for 10 cards
How to order
For fast and easy service, email our commemorative giving team or call us at 206-987-4844.
Shipping time
We'll mail your table cards within a week after we receive your gift.
It really touched me when my 4-year-old son said he wanted his friends and family to give donations to Children's instead of giving him birthday gifts. As a parent, it made me think, "We must be doing something right."