Legacy Giving
Meet Our Donors
Personal Donor Stories
We thank all our legacy donors for their generous support. If you have a story you would like to share, please contact us.
Jim and Melody Carney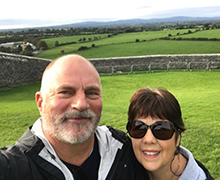 Jim Carney has been a longtime supporter of Seattle Children's and became more deeply involved in 2006, when he joined the Legacy Council, a group of estate and financial planning professionals who are also dedicated volunteers and provide advice on charitable planning and outreach efforts to further the mission of Seattle Children's.
Jim and his wife Melody were inspired to help even further when the 12-year old daughter of a colleague of Jim's got very sick with liver disease and ultimately passed away. Jim says, "I saw how the hospital allowed him to spend as much time as possible with her. I can't imagine what a parent goes through when losing a child."
Feeling grateful for two healthy kids of their own, the Carneys decided they wanted to help Seattle Children's continue its mission to provide hope, care and cures for sick kids. Jim, who is a CERTIFIED FIANCIAL PLANNER™ certificant, was familiar with Charitable Lead Trusts and thought the option made a lot of sense for them.
Jim and Melody wanted to support the hospital, but also wanted to be tax-smart about their donation. After consulting with their own advisors, they funded the gift with cash proceeds from the sale of a property. A Charitable Lead Trust ended up being a great way to offset the resulting tax burden while also maintaining long-term control over the assets in the trust. Jim said, "For families like us, who are still saving for retirement, this may be a good option".
Jim and Melody wanted to make a meaningful contribution to the current campaign for Seattle Children's and hope to pave the way for others who are contemplating making a gift using the simple Charitable Lead Trust structure that they did. "Having an overall plan gives you the sense of security in your own financial world, which, in turn, allows you to help others with more confidence and in a personally meaningful way," Jim says.
Dick and Faye Gillett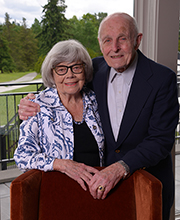 While Faye and Dick Gillett do not have any family members who have been treated at Seattle Children's, the Bellevue residents are longtime supporters of the hospital. "I started as a monthly supporter because I knew the important role Seattle Children's played in our area," Dick says. "After a couple of years of giving, I was invited to take a tour of the hospital and was motivated to give more to help in the drive for campus expansion. I created my first charitable gift annuity in 2011 to support the greatest needs of the hospital."
Dick used mutual funds to establish his charitable gift annuity so his wife, Faye, would have income after his passing. Dick grew up in Chicago and spent 33 years in the U.S. Coast Guard. Faye retired in 2000 after a career as a nurse in Southern California. The couple married in 2003, after Dick lost his first wife to a 12-year battle with cancer. The Gilletts recently set up their second charitable gift annuity with Seattle Children's.
Faye and Dick encourage others to consider what legacy they could leave at Seattle Children's. "Take a tour of the hospital, get involved and learn more about what is happening – it is a wonderful program," Dick says. "Reading stories about the kids can be heartbreaking, but it is wonderful that we can support these kids and their families."
Kathy and Richard Miyauchi
Kathy and Richard Miyauchi would prefer to inspire generosity in others rather than be recognized for their own philanthropy. They lost their son Michael to non-Hodgkin's lymphoma when he was 20 years old. Michael believed that his mission in life was to help others and to life the spirts of those he met. After his diagnosis, his compassion only grew.
Michael underwent many rounds of chemotherapy and radiation during his cancer treatment. In that time, he spent many hours talking to his family about his beliefs. Kathy and Richard remember him saying, "It's easy to write a check, but it's also important to give your time." Inspired by Michael's call to action, the Miyauchis started a charity golf tournament a few months after his passing to benefit cancer research and treatments.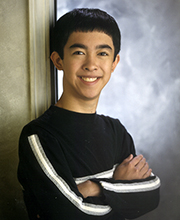 The couple made a bequest in their will to support cancer research at Seattle Children's Research Institute. They are participating in It Starts With Yes: The Campaign For Seattle Children's by letting the hospital know about their planned gift. They have also established the Michael Miyauchi Endowment for Cancer Research at Seattle Children's. "Children's combines town of our passions: fighting cancer and helping kids," they say. Establishing an endowment in Michael's memory and making Seattle Children's one of the beneficiaries in their estate plan was "a natural thing."
"It meant a lot to Michael when he saw people share their time and give with their hearts," Kathy says. "That's how you make the lives of others better. Michael put the spark into all of us to be compassionate and generous. The 20 years we had with him is and was a wonderful gift, a gift that keeps on giving to us and so many others."
Mary Breivik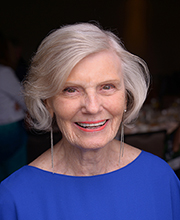 Seattle native Mary Breivik has been inspired for many years by the good work performed by Seattle Children's Hospital for patients and families. The realization was amplified when her oldest son, at age seven, needed a tonsillectomy and was taken to Seattle Children's for surgery. It was then that Mary experienced the compassionate care of Children's first hand.
Mary and her late husband, Herb, were married for sixty -three years. They spent most of their time in the Seattle area where Herb was based as a United Airlines Captain. They raised three children and were blessed with six grandchildren. Mary and Herb enjoyed many years of retirement together before Herb passed away in 2016. Giving was important to both of them and Mary recalls Herb's joy when donating to charity. That's why when Mary revised her estate plan recently she knew he would be proud of her decision to make a charitable bequest of IRA assets to Seattle Children's and several other charities. "I'm happy to be in a position to help kids. It's heartbreaking to know that so many children need the services of Seattle Children's but this is something I can do."
Mary is also pleased that she has been able to make donations in recent years through qualified charitable distributions from her IRA, which is a tax-wise way to make a charitable gift. When asked what she would say to others considering a gift to Children's, Mary says, "it's such an outstanding hospital, especially if families can't afford care because Children's will always care for them. Also, making memorial gifts in honor of friends and family is a meaningful way to make a difference."