Getting Started
Steps to Host a Fundraiser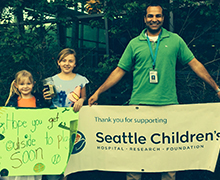 From hosting a cocktail party to selling handmade blankets, community fundraisers provide critical support for the patients we serve. Create a fundraiser that's right for you and join our family of supporters!
Every great fundraiser starts with a great idea. See how to get started! It's also important to review the legal guidelines as you start to plan. Once that's done, follow the four easy steps below and you will be on your way to hosting an amazing fundraiser!
Currently planning an event or have an idea? Reach out to us to get started.