Running from Gluten presented by The Celiac Guild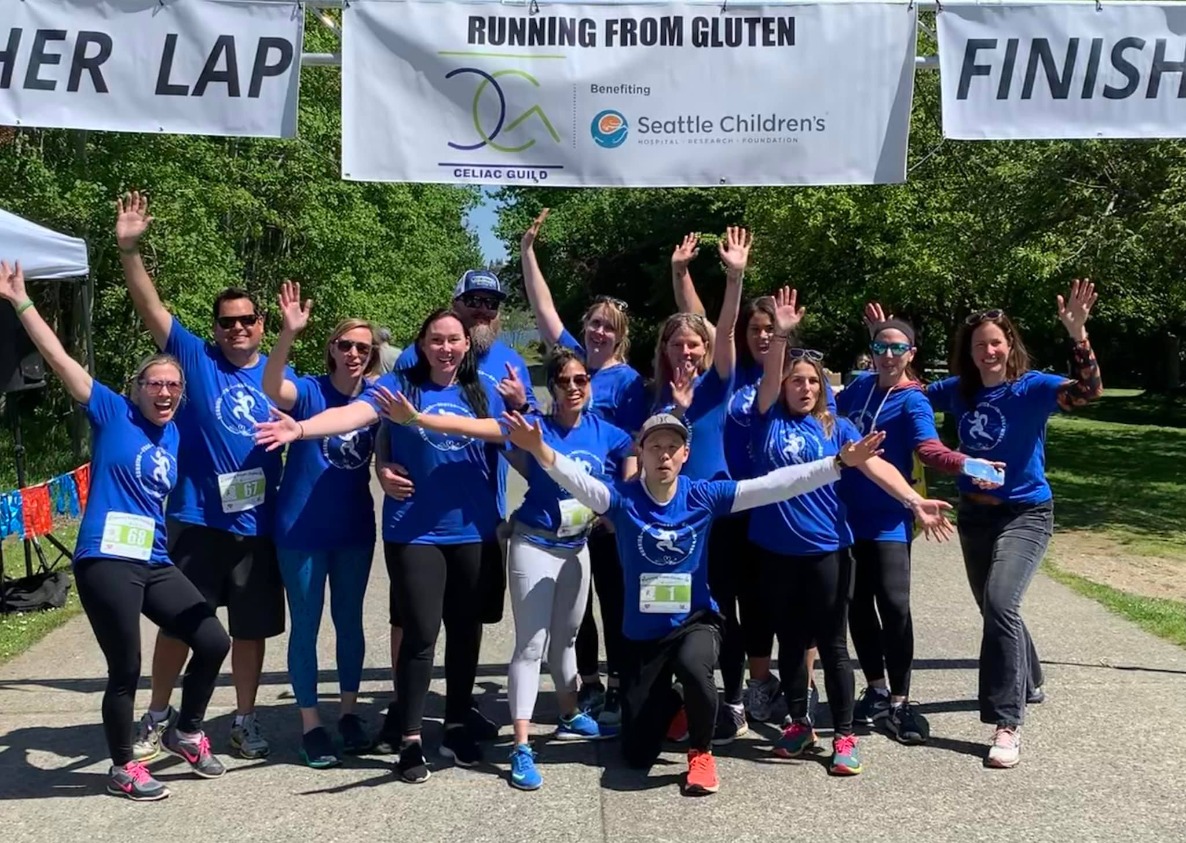 The Celiac Guild supporting Seattle Children's Hospital's Celiac Program presents the 2023 Running from Gluten!

The event will take place on Saturday May 20, 2023 at Magnuson Park.

This year we have added chip timing and a 10K – 4 Loop course for all our serious runners!

We will also host a virtual race (no chip timing) on Saturday, May 20 through Sunday, May 21. You can run anywhere and any time during that weekend! Please post your pictures! #RunningFromGluten5K
Date: Saturday, May 20, 2023 9:00 a.m. - 1:00 p.m.
Location: Magnuson Park
7400 Sand Point Way NE
Seattle, WA 98115
Instructions: Registration
In Person and Virtual: 

$20 for 5K Children 13 and Under*
$40 for 5K Everyone Over 13*
$25 for 10K Children*
$45 for 10K Adults*

Register by April 21st to be entered into our Early Bird Registration Drawing!** 

Register
https://celiac-run.square.site/

We want our whole community to be able to participate, so if you need financial assistance, please contact us at celiac@seattlechildrens.org. Subject: RFG Financial Aid

*includes registration fees. 
**No additional purchase necessary to enter, win, or claim prize.

Fundraising
https://give.seattlechildrens.org/celiacguild

Please support Seattle Children's Celiac Disease program! Donations help the program provide care to over 500 children in the Pacific Northwest: serving as an essential resource to patients, families, and medical practitioners in our region. Create a team, donate, or become a sponsor today!

Directions
The course starts near the waterfront of Magnuson Park. Follow our signs from the entrance of the park on Sand Point Way NE.

Note to participants The 5K course is 2 loops (3.1 miles) and the 10K course is 4 loops (6.2 miles). The course is open to the public, so please be courteous of other park users. Also, please leave one lane open on your left in case someone needs to pass. Thank you! 

Race Day Schedule

Day Prior to Event: We will have race packets available for early pick-up! Stay tuned for time and location.
9 a.m.: Race Registration and Race & Packet pick ups open.
10 a.m.: 10K Runners Start!
10:30 a.m.: 5K Run/Walk Starts! Please line up – with runners in front and walkers in back.
12 p.m.: Award Ceremony
1 p.m.: Event Wrap Up

Event Booths
We have Breakfast This Year! Come early to support our amazing vendors, Vupine Espresso and Zuri's Donutz!

Please check out our event booths for fun samples. We will do our best to ensure all booths are Celiac friendly, but please use your discretion to decide what is safe for you and your family.