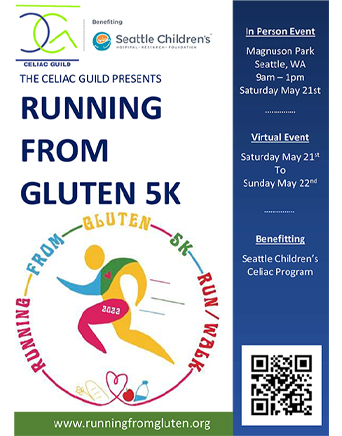 The Celiac Guild supporting Seattle Children's Hospital's Celiac Program presents the first In Person Running from Gluten 5K! The event will take place on Saturday May 21, 2022 at Magnuson Park. This is a 3.1 mile course that starts and ends near the beach house facility. Come run or walk and feel good about supporting the children and families affected by Celiac Disease.

We will also host a virtual race that will kick off on that same Saturday May 21st, concluding on Sunday May 22nd. You can run anywhere and any time during that weekend! Please post your pictures! #RunningFromGluten5K

Register at: www.runningfromgluten.org

Magnuson Park 7400 Sand Point Way NE Seattle, WA 98115
The course starts near the waterfront of Magnuson Park. Follow our signs from the entrance of the park on Sand Point Way NE.
Date: Saturday, May 21, 2022 9:00 a.m. - 2:00 p.m.
Contact: Celiac@seattlechildrens.org