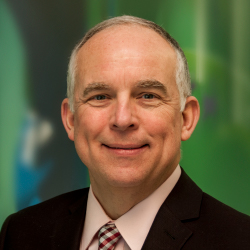 Children's Title: President, Research Institute
"Early in my career I was a research scientist, but quickly learned I was much better suited for supporting other scientists in their endeavors to grow their research programs. Every day I feel honored to support the brilliant and innovative staff and faculty members at Seattle Children's in their quest to improve the health of children around the world."
As president of Seattle Children's Research Institute, Dr. James B. Hendricks is responsible for setting the goals and strategy for the institute to foster its growth and development. He also oversees Seattle Children's Improvement and Innovation Program and is a national expert in the application of Toyota Lean (Continuous Performance Improvement). Dr. Hendricks spearheaded the establishment of the research institute in 2006, leading its growth from 40 employees and 20,000 square feet of space at its inception to 1,900 employees and over 1.1 million square feet of space in just a decade. Seattle Children's Research Institute is now ranked within the top five pediatric research organizations for National Institutes of Health funding.

Under Dr. Hendricks' leadership, the institute opened Building Cure in October 2019. Building Cure boosts Seattle Children's ability to make scientific discoveries, develop new therapies and conduct clinical trials that bring therapies to children in areas like cancer, type 1 diabetes and sickle cell disease.

Prior to Seattle Children's, Dr. Hendricks served as vice president of research and technology at Children's Hospital New Orleans. In this role, he built the organization's research program from the ground up. He also worked at the University of Florida as a research scientist in the field of pathology.  

Dr. Hendricks currently serves on the board of directors for the Cancer Research Endowment Authority Board and the Downtown Seattle Association. He earned his PhD in pathology and laboratory medicine from the University of Wisconsin, Madison.

Outside of work, you'll find him in his woodshop making furniture.

Related Pages

Research institute adopts a manufacturing mentality to reduce the administrative burden of science.