Odessa Brown Children's Clinic (OBCC)
OBCC 360-degree Pre-Health Shadowing Program
The OBCC 360-degree Pre-Health Shadowing Program is designed for underserved students interested in a holistic approach to community health among a diverse and under-resourced patient population. This cohort-based program removes barriers and creates access for students aspiring to work in the health professions. It is an educational opportunity that enables participants to gain a richer understanding of their field of interest through exposure to every level in our world-class community clinic.
What does the OBCC 360-degree Pre-Health Shadowing Program include?
In the spirit of interprofessional professionalism, participants spend thirty-five hours interacting with clinic leaders and staff members to learn about the culture and practices informing our approach to community health and trauma-informed care at OBCC. Participants receive pre-health advising, reflective assignments, and opportunities to participate in discussions with cohort members which allow our health care team to provide a substantive letter of evaluation.
The OBCC 360-degree Pre-Health Shadowing Program consists of the following elements:
Opening orientation (required)
Informational interviews (required)
Two one-on-one advising sessions with Dr. Hunter (each student must set appointments on their own)
An online conversation with a medical assistant on dress code recommendations and conduct best practices for the clinical environment
Required shadowing sessions (students cannot miss or show up late)
The option to participate in hosting community events
Write a reflective exit essay (required)
Who is the OBCC 360-degree Pre-Health Shadowing Program intended for?
This program is intended for:
Individuals who are 18 years of age or older and out of high school.
Individuals who are interested in the medical field.
Individuals who work in healthcare and are interested in different aspects of a pediatric hospital setting and not seeking or being granted medical education credit. This includes dental, medical, and other professional students.
This program is not intended for:
Those who are still in high school are not allowed to observe.
This experience is not intended to fulfill requirements for high school senior projects.
How do I apply for the OBCC 360-degree Pre-Health Shadowing Program?
The application process includes completing an online application, submitting a letter of recommendation, passing Seattle Children's Hospital screening and a meeting with the program director.
Applications are now open for the Summer 2023 Cohort and the Autum 2023 Cohort.
What are the application deadlines?
The Summer 2023 Cohort application deadline is May 12, 2023.
The Autumn 2023 Cohort application deadline is September 1, 2023.
Which cohort do you want to participate in?
Summer 2023 Cohort
Fall 2023 Cohort
Are there any other shadowing opportunities?
We also offer short-term shadowing experiences for students who are fulfilling a pipe-line program or course requirement.
Are there any volunteer opportunities?
Learn more about volunteering with Odessa Brown Children's Clinic.
Meet Members of the First Cohort
Siham Abdikadir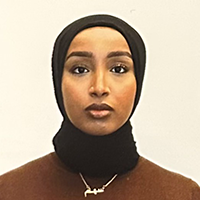 Siham Abdikadir is a University of Washington junior majoring in Health Studies with minors in Biology and Health Education and Promotion. She plans to attend medical school after finishing her undergraduate studies. Her motivation for pursuing a career in medicine was to help eliminate disparities in our healthcare system and to work toward better resources to assist underserved communities.
Hamza Abdullahi
Hamza Abdullahi is a freshman at north Seattle college and is studying forensic science to earn her BS and BA in criminal Justice. According to Hamza, she is undecided about her career and wants to uncover her purpose is for life! Because may find the medical field very intimidating and competitive and helpful, Hamza believes the 360-degree shadowing program will be the perfect opportunity for her to realize where her strengths lie when it comes to things like that. She expects to gain different skills and learn more about other opportunities that exist just like this one!
Sumia Abdullahi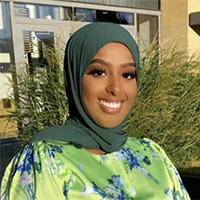 Sumia Abdullahi graduated from the University of Washington in 2020. She is passionate about alleviating health barriers among immigrant and marginalized communities. She hopes to pursue a medical career and help address those obstacles, bridge that gap, and empower patients by including them in clinical decision-making.
Sumaya Hassan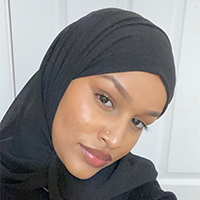 Sumaya Hassan is a senior at Seattle Pacific University majoring in Physiology and minoring in Chemistry. She became interested in medicine through personal experiences where she was able to see the direct impact physician have on their community and people. Through her skills in problem-solving solving and fascination with biology, she wants to improve the lives of those around her and help provide care to the underrepresented and marginalized communities that helped raise her.
Hekimat Mohammed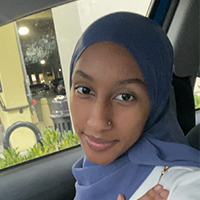 Hekimat Mohammed is a senior who studies Global Public health at the University of Washington. She became interested in medicine because she wants to provide care for marginalized communities, as she has grown up in a community that experiences marginalization. She looks forward to a career that allows her to support others in the pursuit to live healthy lives to pursue their personal goals.
Kris Oshiro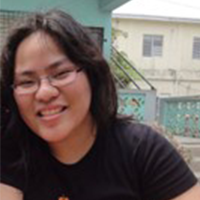 Kris Oshiro is a graduate student pursuing MS in Biotechnology while being in the biotech industry for a few years. She is currently a Senior Associate Scientist developing novel cell therapies targeting cancers. Before entering the industry, she graduated from Seattle University with a degree in Psychology. She worked at the University of Washington and Seattle Children's Research Institute in clinical research studies around children with an autism spectrum disorder diagnosis. Through this program, she hopes to solidify her medical career aspirations of becoming a medical doctor while researching and developing better therapies for neurological diseases and disorders.
Sarah Logman
Sarah Logman is a driven and passionate junior at the University of Washington majoring in Public Health (BS). As a pre-med student, she aspires to become an OBGYN and is currently gaining valuable experience through the 360-Degree Shadowing program at Seattle Children's Odessa Brown Clinic. Sarah is committed to making a positive impact on the health and well-being of others and is excited to continue pursuing her passion for medicine.
Anfel Reza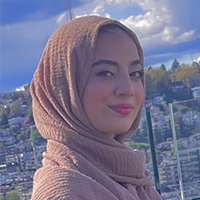 Anfel Reza is a senior at the University of Washington majoring in Public Health. She hopes to become a Physician Assistant in pediatrics. She is part of the 360-degree shadowing program to help her gain more exposure in the medical field and have a vigorous understanding of the roles and responsibilities of a medical professional. She hopes to gain important skills to use in her career path.
Mara Ramirez Vazquez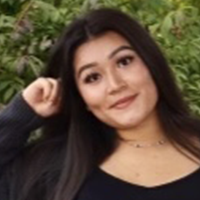 Mara Ramirez Vazquez is junior at the University of Washington majoring in Medical Anthropology and Global Health. Mara hopes learning more about the Odessa Brown Children's Clinic will help steer her in the right direction and bring more awareness to all the different fields.
Andy Xie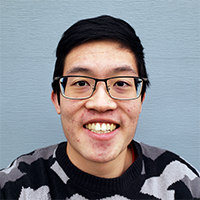 Andy Xie graduated from University of Washington in 2022. In 2011, he developed an interest in medicine due to a family health crisis. Andy's father had emergency surgery after falling from a rooftop. The accident plunged his family into fear since his father, who didn't speak English, might end up paralyzed. Andy wondered, "Who would hire someone who was not only paralyzed but also could not speak English?" Moreover, he watched his father endure tormenting pain. The crisis brought his family, church, and healthcare professionals together to support Mr. Xie's recovery, and they were not disappointed. Now he is excited to participate in the 360-degree shadowing program, because the Odessa Brown clinic is in his neighborhood, and he is familiar with the challenges many families experience.
Contact Us
If you have questions about the OBCC Shadowing Program or would like to learn more it, contact us at obccshadowing@seattlechildrens.org or 206-308-2106.