Odessa Brown Children's Clinic
Coming 2022: OBCC's Second Clinic Location - OBCC Othello
We're growing! Odessa Brown Children's Clinic is building a second location.
To help us meet the growing needs of the community, we are building a second OBCC location – a bigger, new clinic near the Othello Link light rail station in southeast Seattle's Rainier Valley called OBCC Othello. The clinic will be approximately 35,000 square feet to meet the wellness needs of the growing pediatric population in south Seattle and south King County and is projected to open in early 2022.
Services at the OBCC Othello location will include pediatric medical care, behavioral health, dental services, nutrition, sports medicine, physical therapy, occupational therapy and much more. OBCC Othello will be part of a unique urban community concept called Othello Square, a 3.2-acre site that brings together all the pieces of health and community including a charter elementary school, an early development center, affordable retail and commercial spaces, community meeting spaces and mixed-income housing.
The OBCC Central District location will remain open and will be renovated to upgrade its clinical facilities and maintain its cultural heritage in the community in the near future. The clinic will continue to serve families in the Central District and adjacent neighborhoods, as well as communities to the north and west.
You Can Transform Community Health and Wellness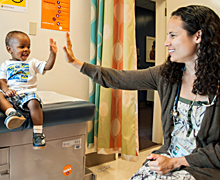 Your generous gift will help us build a second Odessa Brown Children's Clinic, support upgrades to the current clinic, create lasting partnerships and develop a community health innovation hub. Learn more.