Q&A with Dr. Bhawna Arya
Director, Fetal Diagnosis Program and Director, Fetal Cardiology at Seattle Children's

Pediatric cardiologist Dr. Bhawna Arya, director of Fetal Diagnosis, reviews a scan with a patient.
Can you briefly explain your roles?
As Director of the Fetal Diagnosis Program, I run the diagnostic side of the Fetal Care and Treatment Center, which provides the most comprehensive fetal care in the Pacific Northwest for babies with one or more prenatal conditions, including rare conditions that many doctors never see. In this role, I help coordinate each patient's diagnostic next steps which, depending on the diagnosis, can mean coordinating with the neurodevelopmental team, the urology team, nephrology, surgery, palliative care, social work, genetics and many others. The priority is ensuring our patients are supported through transitions, relocations challenges and different testing as they head towards best practice therapeutics and intervention. Through this multidisciplinary approach, we optimize patient survival and safety while also ensuring the family is getting the holistic support they need.
In my other role as Director of Fetal Cardiology, I oversee the Seattle Children's Hospital fetal cardiovascular diagnostics and coordination of care for patients from prenatal care to postnatal management. I am committed to fetal cardiovascular research locally and nationally and ensuring that we continue to make advances to improve our diagnostic capabilities and outcomes. I also support pediatric cardiologists based in Great Falls, Montana, in Anchorage and Fairbanks, Alaska, and in Yakima, the Tri-Cities, Wenatchee, Tacoma, Federal Way, Everett, Bellevue and Seattle in Washington State to make fetal cardiac diagnoses so that families do not have to travel for their evaluation. If significant fetal cardiovascular disease is identified, I work with the team to determine next steps in management.
Are you often asked for second opinions?
Yes, absolutely. We definitely get referrals from outside of the Seattle Children's system, whether it be locally from our military colleagues or from other practices in the region, all the way to people who are looking for a second opinion from California, Colorado or further east. Even if the family ends up keeping care close to home, sometimes they just want an outside perspective to make sure that their local team is on the right track.
Why did you become a fetal cardiologist?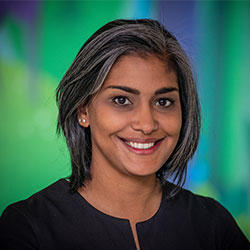 I'm a pediatric cardiologist by training, which means I was trained in pediatrics and then focused on cardiology for congenital heart diseases, childhood arrhythmias, other childhood cardiovascular diseases. Once that training is completed, we all shift into our own little worlds and, for me, that's taking care of moms with unborn babies with cardiovascular disease. While I enjoy the excitement of being the first one to evaluate the heart and solve the "puzzle," what's really gratifying about this work is being able to provide the compassionate care that I think all these moms and families deserve as they're getting perhaps some of the worst news in in their life. I connect with people in a way that feels supportive to them and allows them to grieve the loss, but then rebuild their expectations and their goals for their child's life and their families. So that's sort of the passionate side of what I do.
What would you like OBs and MFMs to know?
I'm aware that cardiac congenital anomalies are by far the most common forms of congenital anomaly, but also some of the most complex to understand. My fetal cardiology team encourages OBs and MFMs to perform complete fetal heart views during routine anatomy scans. We support you to make sure you have the information you need to make diagnoses or to recognize when something's wrong. If the heart doesn't get cleared in an anatomy scan, please don't wait a week or two to do another scan, send them to one of our fetal cardiologists in convenient locations throughout Washington state, as well as in Alaska and Montana. We look at fetal hearts all day, every day, and are able to make diagnoses as early as 14 weeks. We're happy to share good news, but if we do find a heart problem, it's essential to begin preparing the family and the medical team without delay. We've also increased our fetal cardiology team over the past year, so your patients won't have to wait to be seen.
During the past 12 months, we've performed 2449 fetal echocardiograms in the greater Pacific Northwest region. We've achieved >99% accuracy of prenatal diagnosis of heart conditions, some identified as early as 14 weeks. We've diagnosed >50 heart conditions prenatally that required newborn heart surgery. Over the past 5 years, heart conditions requiring newborn surgery had survival rates significantly higher than the national benchmark.
Are you involved in any research?
I have a background in research as well as clinical work, so I'm delighted to say that we have an ever-growing research enterprise which is part of the clinical program. My personal research interests are directed toward novel modalities in cardiac imaging, improved prenatal diagnosis of congenital heart disease and fetal physiology. I am on the board of the international Fetal Heart Society and am involved with several major national studies. I am also on the board of the American Society of Echocardiography Foundation Board, which has a focus in improving imaging research. My team and I are committed to continuous improvement and ongoing research and collaboration in future projects with interested clinical and basic research investigators.
How do you involve referring providers in their patients' care?
It's important for providers to know that one of our primary goals is to keep care as close to home as possible. We aim to keep OB care with the referring provider and to support moms in giving birth wherever they are most comfortable, unless their condition dictates otherwise. Many of the diagnoses that require surgery in the first week of life simply entail starting a medicine to support the baby and then transferring them to Seattle Children's.
Procedures that are performed after 24 weeks of gestation are often done jointly with the University of Washington, but providers should know their primary care is not automatically transferred to the University of Washington.
My team and I are strongly committed to working closely with our referring providers to ensure the best approach for each patient and we welcome your collaboration and advice.
Contact the Fetal Care and Treatment Center at 206-987-5629 for a second opinion or more information on fetal echocardiograms with cardiology consultation.