Cardiac Intensive Care Unit's Nursing Team's Quality Improvement Project Reduces VAT in CICU by 34%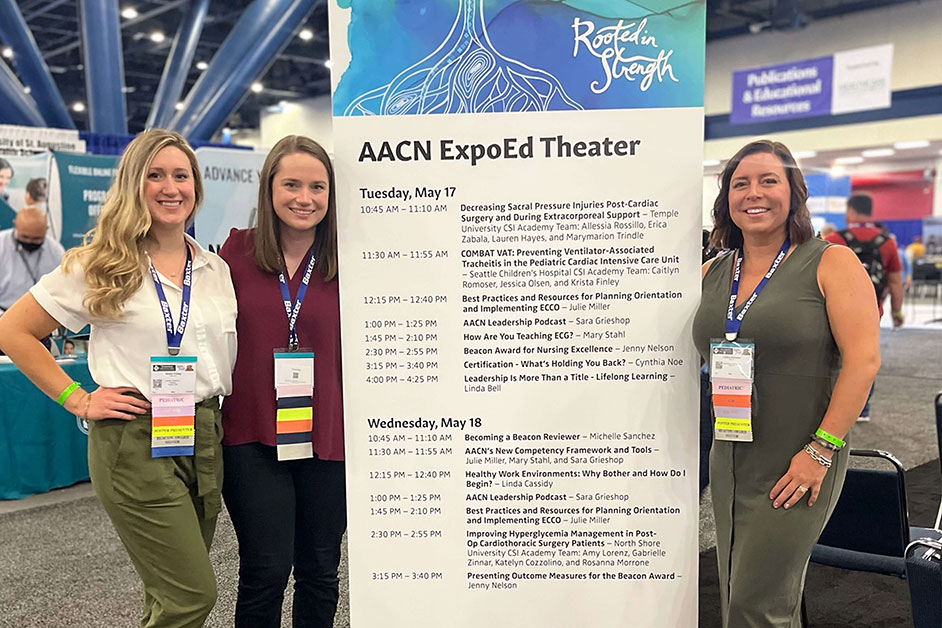 CICU nurses Krista Finley, Caitlyn Romoser and Jessica Olsen presenting the COMBAT VAT project at AACN's National Teaching Institute (NTI)
Ventilator-associated pneumonia (VAP) and ventilator-associated tracheitis (VAT) are common complications of mechanical ventilation, but VAT prevention is often overlooked to focus on VAP.
As a Clinical Scene Investigator (CSI) project of the American Association of Critical-Care Nurses (AACN), Seattle Children's Krista Finley, BSN, RN, Jessica Olsen, BSN, RN, CCRN, and Caitlyn Romoser, MSN, RN created an evidence-based VAT prevention bundle designed to reduce the ventilator-associated tracheitis (VAT) rate in the CICU by 15%.
The results of their project were presented at the AACN's National Teaching Institute in May, 2022. The CICU achieved a 34% decrease in VATs and a 14% decrease in central-line associated bloodstream infections (CLABSI).
The team also created an educational model describing the unit's VAT data and introducing the prevention bundle, which was shared with all CICU nurses, critical care float pool nurses, respiratory therapists and CICU providers, and incorporated into the unit's standard onboarding materials for nurses.
This project exemplifies the efforts of every member of the Heart Center's team to achieve the very best outcome for every patient. Seattle Children's CICU puts us in an elite class of children's hospitals in the nation. Ours is the only pediatric CICU in the Pacific Northwest – the next closest is more than 700 miles away.
Learn more about the VAT prevention study and the expert care provided by Seattle Children's CICU team.