Office for Teaching, Education and Research
Research and Training Opportunities
Current Available Research Opportunities
Opportunities in labs and research groups at the research institute come up on a rolling basis throughout the year. Please search this database for opportunities that are currently available, but new opportunities are always emerging. If no opportunities are listed, we invite you to submit an application via our website to be added to the general database of students interested in research opportunities.
We make applications available to Principal Investigators on a continual basis, so when an investigator is ready to bring on a student they can select your application from those received.
Please do not reach out to our PIs directly to inquire about opportunities.
If you choose to apply for one of our currently available opportunities, please name the study on your application, so we can direct your application to the sponsor or Principal Investigator for the opportunity.
If these opportunities do not match your interests or experience, please still submit an application. If an opportunity matching your research interests and qualifications arises, we will contact you.
Careers and Postdoctoral Fellowships
Our people are some of the greatest resources we have in our mission to provide hope, care and cures. Postdoctoral fellows are found throughout Seattle Children's Research Institute, and the research institute is a great place to continue your postdoctoral training and research.
To search for current postdoctoral fellowship openings, please visit our careers page.
For more information about careers in the biotech industry please visit our Invent at Seattle Children's Postdoctoral Scholars Program.
Graduate Student Opportunities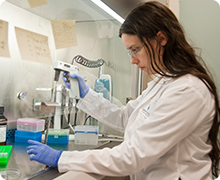 Seattle Children's Research Institute is home to many faculty members from multiple departments at the University of Washington. Graduate students in affiliated programs may wish to conduct graduate research at the research institute. Please contact individual departments for more specific details. For more information on our research centers and programs, and their faculty, please visit the research division home page. If you are a graduate student arranging a rotation with a specific principal investigator at the research institute, please submit an application.
Undergraduate Opportunities
Our labs have opportunities for college research interns throughout the year. Depending on experience, roles may include administrative support for studies, data analysis, shadowing study visits, eligibility screening, running cultures and more. To be considered, please submit an application, and be sure to include your areas of interest within the research institute.
For undergraduate students with a background that is historically underrepresented in the biomedical and health sciences, please consider applying for our SCRI Summer Scholars Program (SSSP).
High School Opportunities
Hosted by the Science Education Department
Seattle Children's Science Education Department sponsors several different high school opportunities at the research institute in downtown Seattle. For more information and to apply, visit the Science Education Department page.
Other high school research opportunities
Many of our research labs have opportunities for high school interns and students throughout the year, with some open to students under 18. Roles may include administrative support for studies, assisting with communication to families, creating outreach materials or contributing in the lab. These roles give students a strong understanding of the many critical parts that go into a research study – and the many career opportunities that exist within research. To be considered, please submit the application on our application page, including your areas of interest within the research institute. Please note, the minimum age to participate is 16 years of age. Please do not contact principal investigators directly, but submit an application instead.