Office for Teaching, Education and Research
Research and Training Opportunities
Careers and Postdoctoral Fellowships
Our people are some of the greatest resources we have in our mission to provide hope, care and cures. Postdoctoral fellows are found throughout Seattle Children's Research Institute, and the research institute is a great place to continue your postdoctoral training and research.
To search for current postdoctoral fellowship openings, please visit our careers page.
For more information about careers in the biotech industry please visit our Invent at Seattle Children's Postdoctoral Scholars Program.
Graduate Student Opportunities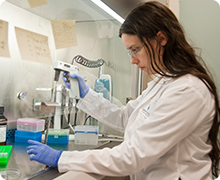 Seattle Children's Research Institute is home to many faculty members from multiple departments at the University of Washington. Graduate students in affiliated programs may wish to conduct graduate research at the research institute. Please contact individual departments for more specific details. For more information on our research centers and programs, and their faculty, please visit the research division home page.
Undergraduate Opportunities
Our labs have opportunities for college research interns throughout the year. Depending on experience, roles may include administrative support for studies, data analysis, shadowing study visits, eligibility screening, running cultures and more.
For undergraduate students with a background that is historically underrepresented in the biomedical and health sciences, please consider applying for our SCRI Summer Scholars Program (SSSP).
High School Opportunities
Hosted by the Science Education Department
Seattle Children's Science Education Department sponsors several different high school opportunities at the research institute in downtown Seattle. For more information and to apply, visit the Science Education Department page.