Office for Teaching, Education and Research
Training the Next Generation of Researchers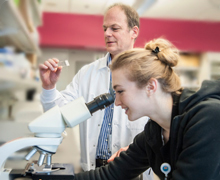 The Office for Teaching, Education and Research (OTER, pronounced "otter") supports postdoctoral fellows, graduate students, undergraduate students, high school students conducting research at Seattle Children's Research Institute. We provide programs and resources to help students and trainees advance their research interests, skills and careers. Our goal is to help train future scientific leaders as they prepare to address some of pediatric medicine's most complex problems. We aim to provide students and trainees with meaningful experience that enhances their skills and allows them to explore their interest in health sciences research.
Additionally, we connect graduate students, undergraduate students and high school students with research opportunities.
NIH Diversity Supplement Connections Program
In collaboration with OTER and the Center for Diversity and Health Equity, Seattle Children's aims to increase the use of National Institutes of Health (NIH) Diversity Supplements to diversify research faculty, trainees and staff at the research institute. Our goal is to increase the diversity of research participants across Seattle Children's and at our Institute for Translational Health Sciences institutional partners.
As such, we have developed a unique connections program that connects students and trainees with principal investigators who hold grants eligible for the diversity supplement.
Other Training Opportunities
To learn more about current opportunities, visit Research and Training Opportunities.