Nursing Annual Report
Nurses Help Create Centralized Pre-Admission Process to Support COVID-19 Needs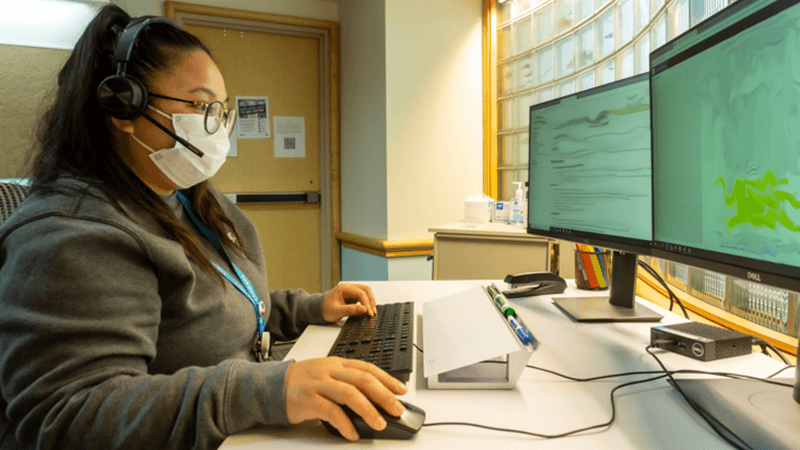 Like other health care organizations, the pandemic prompted teams across Seattle Children's to adapt and innovate to continue safely treating patients amid a new virus.
At the beginning of the pandemic, there was not a robust system to test patients and families for COVID-19 prior to them arriving for surgery — at least not until Nancy Deem and a dedicated team of nurses helped create one. In 2020, a cross-functional team came together to design a centralized testing and pre-admission process. The team leveraged human-centered design and the Pre-Admission Testing Coordination (PATC) program was created.
About PATC, a Nurse-Led Solution
The PATC team started with seven nurses who agreed to temporarily staff the program. In those first few months, the team expanded, and PATC morphed to become a coordination hub for all admissions. For the first time, families with a child who is scheduled to be admitted to the hospital or who needs to undergo surgery are screened and supported by a nurse. This helps ensure patients and families are fully prepared for admission through a centralized system.
"PATC is that first stop for families. Before arriving at Seattle Children's, they can explain to us their life barriers and it's up to us to help. We're able to get to the core of what a family needs to get here — physically and emotionally," explains Deem.
In addition to coordinating COVID-19 testing, PATC helps better prepare families for surgeries. "I'm very proud of this program," says Nic Maurice, director of Perioperative Services. "We asked ourselves at the beginning of this process, 'How can we effectively test children for COVID in a way that works for families?' Ultimately, PATC addresses some other problems we didn't know we needed to solve for. It was created to help deal with COVID testing, but quickly grew into a comprehensive and nurse-led, pre-admission service."
To the nurses who have helped lead this effort, Maurice says he's incredibly grateful: "Thank you for dropping everything and jumping into a completely unknown environment to set up a new service in the midst of a pandemic."
What Comes Next
Soon, PATC will also roll out a socioeconomic determinants of health assessment to better serve patients and families and address even more barriers to care. "Looking ahead, we are excited to explore how this service could have an impact on health inequities for our patients," says Maurice. "We see an opportunity to make sure all kids are getting the right level of preadmission care and making sure patients who need a higher level of assessment get to the right place before the 'big day' arrives."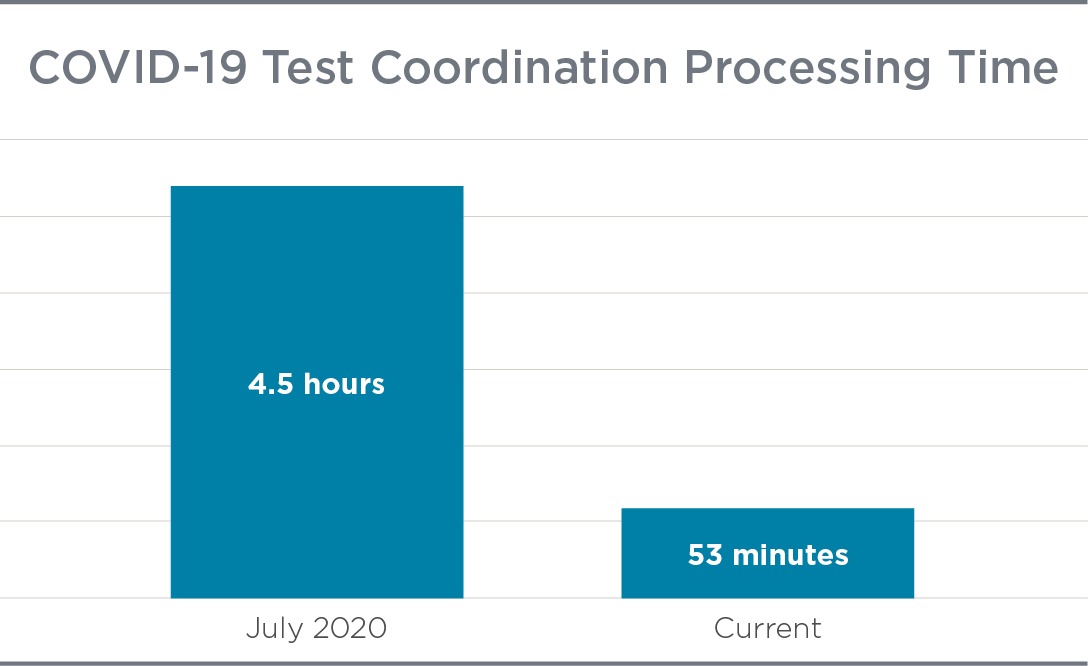 Nurses Answer the Call, Help Vaccinate the Community
In March 2020, health care workers took center stage as the COVID-19 pandemic began. Their efforts to fight the virus have been rooted in Seattle Children's values of collaboration, integrity and innovation; the nurse-led campaign to help vaccinate the community against COVID-19 is one monumental and impactful example.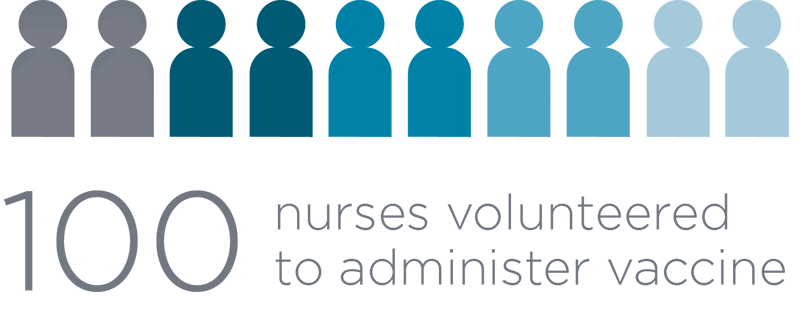 Nurses at the Center
On Dec. 14, 2020, Seattle Children's received its first doses of Pfizer's COVID-19 vaccine. Shortly after, on Dec. 16, the first dose was given to a Seattle Children's team member.
As of late 2021, Seattle Children's has provided more than 60,000 doses to the community, including health care workers, community members, and patients and families.
To help get shots in arms throughout the community, Seattle Children's relied on its incredible nursing workforce. A call was put out for nursing support to help with vaccination sites; within days, nurses from across the organization and beyond had amassed, including those who came out of retirement to help.
Working in collaboration with guidance from the Centers for Disease Control and Prevention and local public health officials, Seattle Children's vaccination sites were set up across the region to help provide vaccine to people who were eligible. Vaccine sites included Seattle Children's Odessa Brown Children's Clinic, Seattle Children's Autism Center and other King County sites. In one day, more than 600 vaccine doses were administered.
Did you know… 600 doses equal one vaccine per minute, every minute, for 10 hours?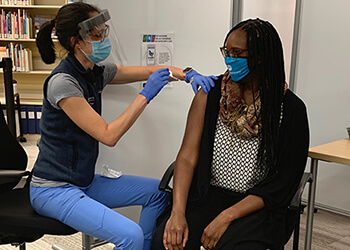 "We have relied heavily on the flexibility of our nurses to help vaccinate our community," says Chris Liss, former manager of COVID-19 clinical operations at Seattle Children's.
As pediatric patients became eligible for vaccination, nurses used a compassionate and thoughtful approach to helping kids with sensory needs receive doses. Nurses helped provide vaccine to children who have autism and did so without the use of restraints — a milestone worth celebrating. Without Seattle Children's nurses, those children may have not been able to receive the vaccine.
"The question we asked ourselves was, 'How do we best meet the needs of our community?' And at the core of that effort was nurses," says Liss. "The pandemic has taken so much away, but through these efforts, a substantial impact was made to provide hope and prevent further harm. Those efforts are largely unnoticed. Our nurses stepped up to the plate, despite having been asked to take on so much, and they continue to step up. They are the center of the wheel of health care. I'm proud of what they have accomplished and their efforts to go above and beyond to meet the needs of the community."
Learn about this work and more in the 2021 Nursing Annual Report. (PDF)