Nursing Annual Report
How Seattle Children's Nurses Are Leading the Way in Providing Mental and Behavioral Health Help
The pandemic and its effects have brought an increased awareness to the growing need for more mental health resources in the community. Sadly, many studies indicate rates of anxiety and depression among adults and children have risen over the past year. Learn about three ways Seattle Children's nurses are helping to meet this need by supporting patients and families in new ways, and ensuring they have access to the right resources and tools.
Connecting Moms to Resources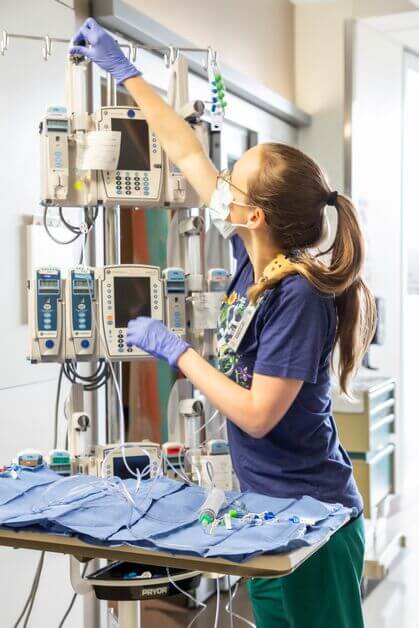 When Caitlyn Romoser, a nurse in Seattle Children's Cardiac Intensive Care Unit (CICU), returned to work after maternity leave, she noticed an opportunity in the services provided to moms who had a baby in the CICU.
Most new mothers' standard postpartum medical appointments include a process where care team members assess the mother's risk of postpartum depression — a process known as postpartum depression screening. If the mother is identified as likely experiencing postpartum depression or may be at risk for it, the care team offers mental health-related resources, like therapy contacts, phone lines or support groups.
Unfortunately, if a new mom's baby needs to spend time in the CICU, that mother is more likely to miss their postpartum appointments and, thus, the depression screening. Romoser and her nursing colleague Kate Burnett, both members of the CICU's Care Delivery Committee, were inspired to change this.
In 2020, Romoser and Burnett began exploring what it would take for Seattle Children's CICU nurses to begin screening moms for postpartum depression and offering them support resources. Romoser and Burnett partnered with their unit's Social Worker, Yessenia Cantu, to research and develop a process.
"This is an especially exciting project for us because it's been a nurse-identified and nurse-driven improvement. We're looking forward to supporting our CICU families in this new way."
After about a year of conversation and outreach to other institutions and Seattle Children's units, they came up with a way.
Burnett explains, "Four days after a child is admitted to our CICU, their nurse will provide a screening tool to the mother — it's essentially a questionnaire to help the nurse assess if the mother might be at risk for postpartum depression or perinatal mood disorder. Based on the mother's 'score' from the questionnaire, there are different pathways and next steps, like providing handouts with resources or asking our Social Work team to connect with the mother."
Romoser says providing these resources and support is especially critical to mothers whose children are in the CICU for two reasons: 1) many mothers may not be from the Seattle area, so they are physically separated from their communities and support networks; 2) while the post-birth time is stressful and exhausting for most new parents, those whose babies are in an intensive care unit often face additional stress factors, which increases mothers' risks for postpartum depression. Romoser says some studies found 50% to 60% of mothers with babies in an intensive care unit struggle with post-partum depression — a statistic that's higher than the general population.
All Seattle Children's CICU nurses have completed training to administer the screening tool and learn about the resources available to new moms. The primary resources provided by the CICU care team are from Perinatal Support Washington, a statewide non-profit committed to shining a light on perinatal mental health to support families and communities; they offer a variety of services, including groups, text lines, a resilience program and more.
To help reach as many mothers as possible, the CICU's screening tool is offered in 15 languages. Written resources for the mother are available in the languages most frequently spoken by Seattle Children's families.
Bringing Help to More Children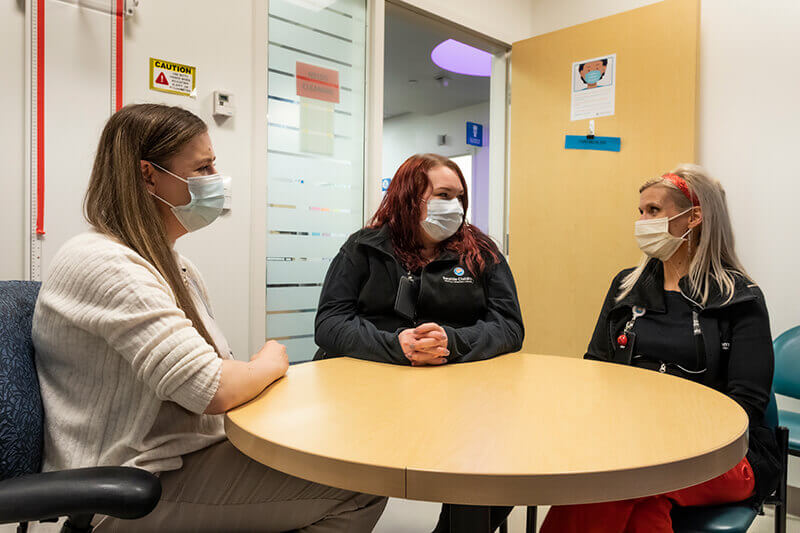 Devastatingly, one in five children experience mental health disorders in a given year, yet half of those children do not receive the care they need. Suicide is the second leading cause of death in children and adolescents.
To help support patients in need, in 2019 Seattle Children's Emergency Department and inpatient units began screening all patients 10 years of age and older for suicidal ideation.
About suicide screening

Seattle Children's uses the National Institute of Mental Health's Ask Suicide-Screening Questions tool — comprised of four brief questions presented to patients by a care team member.

If a patient's answers indicate potential suicidal ideation, then the care team works with Seattle Children's Social Work colleagues to connect the patient and family with the right resources.

The tool's questions take just 20 seconds to administer and are a powerful way to connect those who are struggling with help.
This screening process provides a way to help care teams identify patients who may be struggling and ensure those patients and their families receive resources to help. If a patient is struggling with suicidal ideation, an alert or flag is also placed on that patient's medical record to alert care team members during future patient encounters.
Providing suicidal screening in the Emergency Department and inpatient setting was a significant step, but most of Seattle Children's patients are seen in ambulatory, or outpatient, clinics. Training ambulatory care team members on the screening process and reaching patients seen in that setting would require significantly more planning and resources by Seattle Children's nurses.
Reaching ambulatory patients
Seattle Children's ambulatory clinic network is comprised of 34 different clinics in 13 different physical locations; these clinics serve over 2,000 patient encounters every day.
Jose Estela, a nurse and director of Seattle clinics and specialty care coordinator for Ambulatory Administrative Services, explains that a core work group began meeting in August 2020 to determine how to operationalize the suicide screening process. The group is comprised of nurses from various clinics, mental health, ambulatory education, ambulatory providers, Epic analysts and a program manager.
The suicide screening tool was phased into multiple clinics on a two-week time schedule starting May 2021, reaching all sites of care and completing the roll out in November.
Between May and September 2021, ambulatory care givers screened over 9,000 patients — 80% of all patients meeting the eligibility criteria for screening for suicidal ideation.
Estela states instituting the suicide screening and making it widely available to ambulatory patients in 2021 was especially important, "With the pandemic, isolation and not going to school — it's been such a tough year for many kids. Some parents have been a little surprised we're asking their child about suicide, but I think the statistics indicate that this screening is, unfortunately, really vital. I suspect we may have saved a couple of lives just by asking these questions, and then providing information and help."
About Seattle Children's Zero Suicide Initiative

Seattle Children's Zero Suicide Initiative project workgroup has created a suicide screening and assessment algorithm, training materials, documentation protocols and more to guide the screening process.

Assessing the true impact and benefit of using the suicide screening tool is difficult to quantify. Below are some figures that help show the breadth of today's mental health crisis and patient need over a five-month period (figures are from May to Sept. 30, 2021):

Over 9,000 patients screened during ambulatory appointments
Over 700 patients' responses indicated a possible struggle with suicidal ideation, prompting follow-up interventions from Seattle Children's care teams
Designing New Ways for Nurses to Provide Patient Care in the Sleep Clinic
At the beginning of the pandemic, the increase in telehealth and October 2020 launch of a new Epic electronic health record created an administrative challenge for many providers at Seattle Children's Sleep Medicine Clinic. Their time was increasingly spent writing after-visit summaries and appointment documentation, compiling education and teaching plans, and sharing those with families — ultimately leaving less time to invest in patient and family outreach.
This challenge presented an opportunity for Seattle Children's nurses to step in and grow their responsibilities to better support patient families.
Identifying where to change
Caitlin Roysden, clinical operations nurse manager, worked with Sleep Medicine leadership and providers to identify eight areas of education and patient care that providers had historically managed, but could be transitioned to the nursing team. After much discussion, the project team determined nurses would manage patient education, teaching and after-visit summaries — these activities fit well within nurses' scope of practice and skill set.
Roysden says while the transition was a big cultural and operational change for everyone at the clinic, it's been a welcome one for both the care team and the clinic's patient families.
"The feedback has been really positive. Our providers have more capacity to complete physician-specific tasks. Our nursing team can engage in a more meaningful way with families and more fully utilize their expertise and skills," shares Roysden. "We can also offer more of continuity of care with this model. One of our long-term goals is to have nurse-only appointments for some patients and provide more communication and education for patients who have medications that are more intense and challenging to manage."
To help support this new staffing model and the clinic's move to a new, larger facility in Bellevue, Washington, the Sleep Medicine team has brought on two additional nurses. Roysden says it's been exciting to watch their nursing team step into their expanded roles, deepen their knowledge base and provide additional one-on-one service to families.
"It is very exciting to be a part of this dynamic team. We've been working hard to develop parent/patient teaching tools for telemedicine clinic visits for some of our common patient concerns. This includes topics like what to expect in a sleep study, and how to work with kids who have behavioral insomnia, parasomnias and narcolepsy.

I believe our families are really benefitting as our nurses take on these opportunities for more learning."
By the end of February 2022, Sleep Medicine plans to support 100% of telehealth and in-person appointments with this new nursing staffing model.
Learn about this work and more in the 2021 Nursing Annual Report. (PDF)