Nursing Annual Report
High Patient Volumes Create an Opportunity for Seattle Children's to Enhance Processes and Predict Future Capacity Issues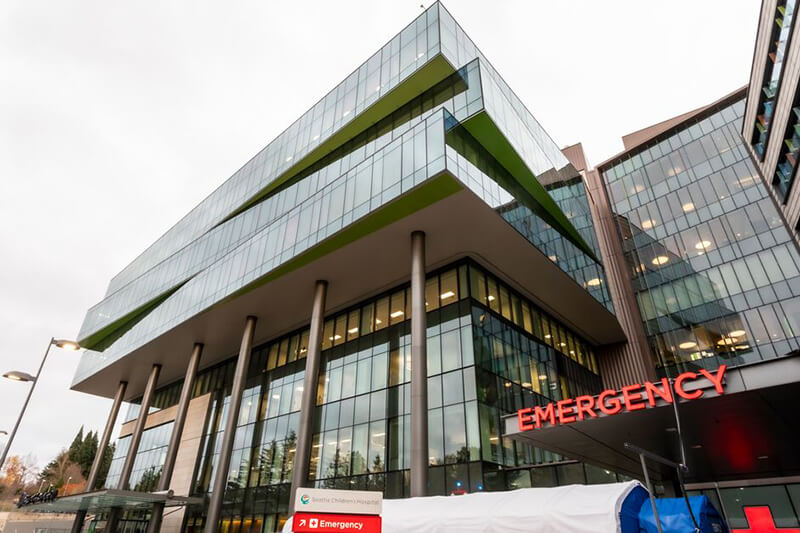 In 2021, hospitals across the state struggled with high patient volumes and capacity issues. At Seattle Children's, the influx of patients in the Emergency Department (ED) and Psychiatry and Behavioral Medicine Unit have been especially significant, leading to efforts to better predict patient flow, improve the patient discharge process and onboard new nurses to continue serving patients.
Using predictive models
Efforts to address high census and capacity constraints has helped Seattle Children's continue to provide world-class care, even during a time of unprecedent need. Much of this work has been accomplished in large part thanks to the incredible and tireless work of Seattle Children's nursing team.
Patient volumes by the numbers

The average daily census at the hospital increased from 258.9 in FY2020 to 277.9 in FY2021.
The average daily census in the hospital's Psychiatry and Behavioral Medicine Unit increased from 31.1 in FY2020 to 34.6 in FY2021.
The mean amount of time to admit a patient from the Emergency Department has been reduced by about 22 minutes from the highest mean time.
As patient volumes remain high, the need for more predictive models to understand and forecast staffing needs has taken center stage. Using analytics, teams at Seattle Children's built a forecasting model to help better understand and plan forfuture staffing issues and mitigate patient bed shortages.
"Using these models, we're looking forward and understanding what our status is and taking action on what we think it's going to be," says Andrew Mullenix, a nurse and director of patient flow and inpatient access at Seattle Children's. "It's a unique approach and not the way most hospitals approach challenges that can come with high census and patient volumes."
Improving the patient discharge process
To help free up valuable hospital bed space for those who need it most, Seattle Children's nurses collaborated with other clinical teams to enhance the discharge process; milestones from the discharge process work include:
Creating a centralized way to address discharge barriers
Onboarding new nurses in critical areas
Decreasing patient admit times in the ED
Setting up additional waiting areas outside the ED to address the increase in patient volumes
Mullenix says he's incredibly proud of how teams have worked together to utilize information to better inform decisions and help safely discharge patients. He says nursing leadership and nurses throughout every unit have been heavily involved.
"Discharge efficiency is never about working faster or discharging patients when they aren't ready to go," says Mullenix. "It's about making sure we're ready on the operational end to help reduce the wait time to discharge when the patient has met clinical criteria and is ready to go home. Everything has to be packaged at the same time so many teams are working in parallel."
Onboarding nurses to meet high patient volumes
Washington state hospitals were experiencing both a significant rise in patient volumes and nursing shortages. Mullenix says Seattle Children's quickly sprang into action to help prioritize hiring and focus on nursing retention.
In 2021, Seattle Children's onboarded 235 new nurses and oriented 248 nurses to new departments. That is a 41% increase in external hiring and a 146% increase in internal transfers.
In 2021, Seattle Children's onboarded 235 new nurses. Here's where they're serving:

Acute care: 35%

Critical care: 28%

Perioperative services: 15%

Ambulatory services: 14%
Elaina Robinson, director of nursing professional development at Seattle Children's, says she's grateful for Seattle Children's nurses who continue to step up for each other and patients and families.
"Nurses at Seattle Children's genuinely care about the patients and families they serve," says Robinson. "They have a commitment to excellence and providing compassionate, patient-centered care. As new team members join us, we've seen that commitment be imparted — it's a passing of the torch from experienced staff to new team members. Together, we're building an environment of inclusion and creating a safe place to learn and grow."
Learn about this work and more in the 2021 Nursing Annual Report.