Nursing Annual Report
A Drive for Health Equity Mobilizes Nurses
At Seattle Children's, health equity and addressing disparities in care is a priority focus for the organization and an essential step toward becoming anti-racist. As a destination center for children across the region, patients and families deserve to come to a place where they feel confident in the care they receive — where equity and inclusion are embedded into hope, care and cures.
Nurses are a critical component of Seattle Children's, and they make up the largest portion of the workforce, so it is vital to mobilize the strength in nursing to move the Action Plan forward.
Work in this area is prioritized and is one of nursing's nine strategic plan goals. To bring this goal to life, a multidisciplinary oversight group was established to develop the Nursing Anti-Racism and Equity, Diversity and Inclusion (EDI) plan. The oversight group quickly identified three key drivers, shown in the graphic below.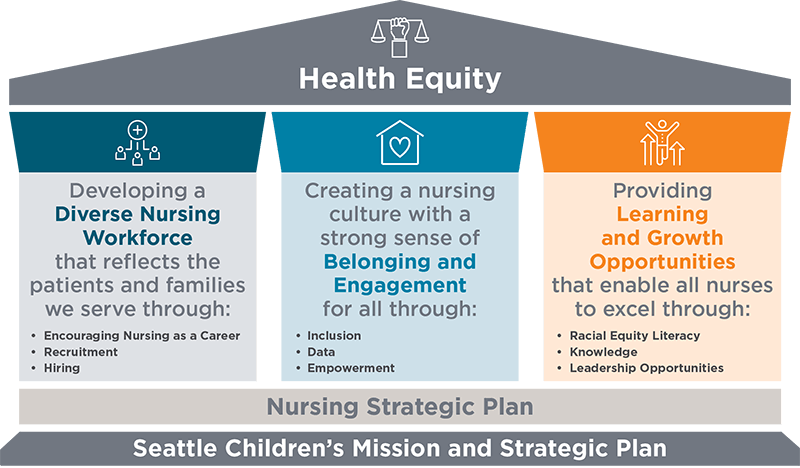 The three overarching goals of the Nursing Anti-Racism and Equity, Diversity and Inclusion plan for 2021 were:

Increasing underrepresented racial and ethnic identities for clinical nurses
Decrease turnover
Increase inclusion indicator scores
To support the work, the oversight group identified 27 different projects across the three key drivers. In addition to the formal oversight group, 150 nurses have stepped up to support this work by becoming EDI champions, participating in various initiatives across the projects and beyond.
Additionally, the oversight team has an intentional focus on inclusion and is aligning with the organization's work related to the Action Plan and ensuring nursing representation on all six Health Equity, Diversity and Inclusion (HEDI) councils.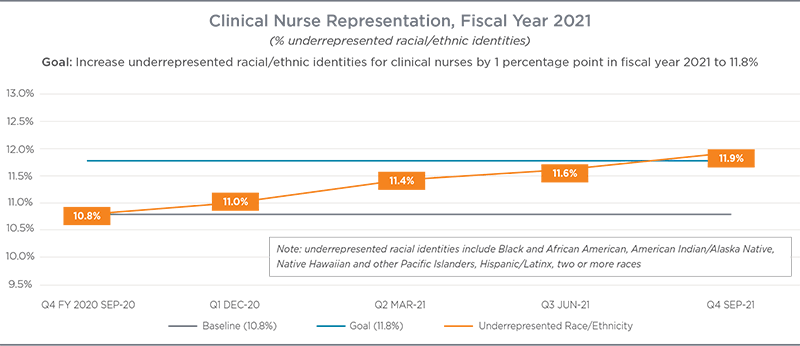 "We're beginning to see positive outcomes in increasing diversity," says Debra Ridling, senior director, associate chief nurse, practice and research at Seattle Children's. "The big picture is that we need to keep iterating and growing. We are trying to be very intentional, and I'm optimistic we're moving in the right direction."
One active project underway is EDI training for Seattle Children's nurses. The goal of the training is to set a foundation and starting point for all nurses.
Nursing EDI training fast facts:

17 EDI facilitators
Four to six trainings are held each month
90% of training sessions are virtual
30 to 35 nurses per session with three facilitators
1,800 nurses will have gone through EDI training by June 2022
Hai-Yen Tang, Outreach Education, and her team oversee the training. When she was a participant in her own EDI training a few years ago, Tang says she left with many questions and underwent a lot of self-reflection. Today, as she leads the nursing trainings, she hopes participants leave with more compassion. During the four-hour training, individuals learn about common language, historical context, implicit bias and tools to address microaggressions.
"It's not going to be just this EDI training that will get us to where we need to go," says Tang. "It will take individual work outside the training — we all have to be aware of our own implicit bias. We must be open to being vulnerable when engaging in open, honest discussions about equity, diversity and inclusion. We also have to translate words into actions."
Mari Moore, who had worked as a unit-based educator in the Neonatal Intensive Care Unit (NICU), took on a new role this year, focusing 100% of her time on anti-racism and EDI work as the educator. Moore says the intersection of her identities and lived experiences has brought her to where she is today — supporting this important work. She is involved in many of the related projects underway and believes her perspective is useful to help people learn, grow and ultimately ignite change.
Moore is also a facilitator for nursing EDI courses, and she leads work that aims to better support nurses, and increase engagement, mentorship opportunities and diversity.
"We're on a path toward healing," says Moore. "When I think about the future, I'm an optimist. We are all humans wanting to do our best — the best for the patients we serve and people around us. Our goal is to provide a safe, welcoming and inclusive environment for our workforce and patients. Not only are we striving to provide a place where families come for exceptional care, but also a place where team members can grow in their careers. No matter who you are or where you come from, we want to create a safe, affirming and welcoming environment."
Nursing programs focused on diversity
The Nurse Residency Program is one example of a project that has demonstrated great success in recruiting and hiring diverse talent. One of the goals is to hire with intention and remove bias. The leads for this program, Amanda Jensen and Tyler Popham, have made multiple improvements over time which have led to these outcomes.
"We can provide better patient care if we increase diversity among staff. Asking how we do that in a supportive environment is key."

—Mari Moore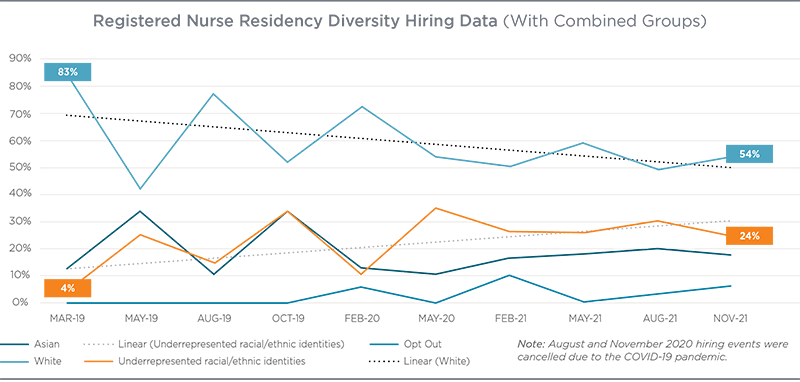 Working toward a better future
As this works continues to be a focus of the organization and projects progress, the nursing team is hopeful and committed to change.
"This is not the end of our journey," says Ridling. "Evidence shows more diverse teams have more creative solutions, better outcomes and more perspectives — this will only help us get better. This is the beginning. Health equity is a human right, and we have a long way to go, and I am optimistic about what we can accomplish together."
Learn about this work and more in the 2021 Nursing Annual Report.