Nursing at Seattle Children's
Nursing Care Delivery
As we provide nursing care at Seattle Children's, we develop family-centered relationships, where all patients are treated ethically, with respect for diversity, while advocating for health equity, without regard for ability to pay.
To ensure excellence in patient care, we base our care on the most current evidence-based practices as well as the ANA Code of Ethics for Nurses.
Models of care delivery are selected as appropriate to patient populations in a variety of care settings across the care continuum.
Commitment to Improving Care and Promoting Safety
Our first priority in care delivery is patient safety. We strive to continuously improve care and continually monitor our performance related to national patient safety and organizational safety goals. Patient safety data is made transparent for the purpose of learning and improving. As nurses, we utilize continuous performance improvement (CPI) methodology to address operational and practice issues in the interest of continually improving care delivery.
Our Professional Practice Model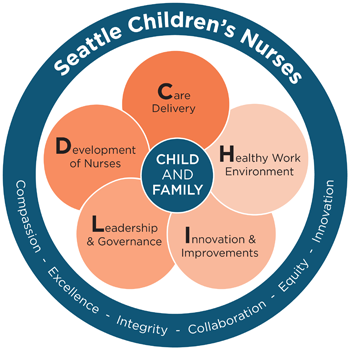 Our professional practice model, using the acronym CHILD, has five focal points: