Stories
Striving to Streamline
Research institute adopts a manufacturing mentality to reduce the administrative burden of science
A commitment to continuous process improvement (CPI) – a management philosophy modeled after the Toyota Production System – is helping Seattle Children's Research Institute reduce the administrative burden of research.

The potential gains are significant. The less time faculty and staff spend applying for grants, managing contracts and performing other administrative tasks, the more time – and money – they can devote to science.

"Our goal is to improve the lives of more children worldwide, but we need to use our resources wisely," says Dr. Jim Hendricks, research institute president. "We're bringing a manufacturing mentality to our quest to become more efficient and accelerate our research."
Continuing a journey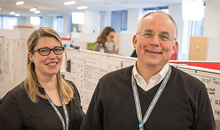 CPI helps everyone at Seattle Children's make systematic changes – small and large – that increase efficiency and improve the quality of their work. The research institute began its CPI journey several years ago with the aims of eliminating wasted effort and standardizing how work gets done.
So far, it has reduced wait times, limited rework and made improvements within a variety of services that support researchers with the administrative demands of their work. For example, the Office of Sponsored Research, which manages legal documentation, used CPI to shortened their average document turnaround time to 18 days (from 45 days) while reducing the staff by 2.5 FTEs through attrition.
Now, the research institute is taking the next step in its CPI journey.
Finding aha in Utah
Each of the institute's eight research centers has its own business office and is supported by various centralized services like finance and institutional review. Having people work in separate silos made it difficult for them to communicate, create standard work and set common goals.
To overcome those limitations, the research institute rebooted its approach to CPI. The aha moments came in 2014 and 2015 when groups of executives, faculty and staff visited Autoliv, an automotive airbag manufacturer that is a leading practitioner of CPI.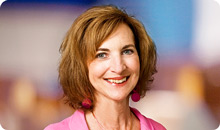 "At Autoliv we learned that we had to figure out who the research institute's primary internal customers are," says Stephanie Axelrod, who leads community and strategic initiatives for the research institute. "We realized that our principal investigators are our primary customer and we needed to work together as one organization to reduce their administrative burden and give them more time to focus on their research."
The institute created cross-functional teams – representing everyone with a stake in the outcome – to standardize work in key support services. "We don't want to make changes that simply pass work back and forth between departments. Our new approach ensures improvements made at one end of the line don't generate more work at the other," Hendricks says.
Efforts begin to pay off
The teams have already produced results. One team reduced the number of steps required to process small grant applications. "That eliminated 90% of the waste in the process and allows principal investigators more time to work on their science," says Stefanie Robinson, who leads research product and development systems.
Another team made a list of commonly used supplies, established a standard inventory and opened an on-site supply store. The result: individual business offices within the research centers no longer need to input orders every time they need to restock.
"That results in a huge time savings, and a cost savings, too, because we can buy more items in bulk," Robinson says.
Dr. Bonnie Ramsey, who leads the institute's Center for Clinical and Translational Research, says the trip to Autoliv made her a believer in the process. "People wonder whether you can standardize your work and remain innovative, but Autoliv showed the two can live happily together," Ramsey says. "It's actually easier to innovate when you can work from a standard baseline."
Ramsey is focused on improving enrollment procedures for clinical trials. "Many trials are never completed because they fail to enroll enough patients," she says. "That's an inexcusable waste of the effort that goes into launching a study."
One umbrella
The business offices and the various centralized support services are now unified under one administrative umbrella – Center Support Services (CSS) – which will make it easier to collaborate, set priorities and deliver consistent service.
The CSS formed new teams that will ease the administrative burden in three areas: information technology, post-award grant management and customer service issues (like the turnaround time for any given transaction).
"One national study estimated researchers spend as much as 42% of their time on administrative tasks," Hendricks says. "If we can reduce that by even 10%, it will give our principal investigators that much more time to think, innovate and solve difficult pediatric disease problems."
People wonder whether you can standardize your work and remain innovative. It's actually easier to innovate when you work from a standard baseline.
– Dr. Bonnie Ramsey