Stories
Redefining Mental Health
A conversation with Suzanne Petersen, vice president for External Affairs and Guest Services, about revolutionizing pediatric mental health
Published in Connection magazine, Spring 2020
You're leading Seattle Children's initiative to improve the mental and emotional well-being of young people in our region. Why is youth mental health a priority, and why now?
Suzanne Petersen: If we're going to fulfill our mission to help every child live the healthiest, most fulfilling life possible, then we've got to prioritize the most urgent issue facing our region's youth, and that's mental health.
I think many people are aware of the spike in recent years of childhood depression and anxiety but may not realize the extent to which mental illness is a pediatric disease. In Washington, suicide is now the second leading cause of death for kids as young as 10, as well as for teens and young adults. Every single day, kids come to our Emergency Department in such emotional pain that they are contemplating — or have attempted — suicide.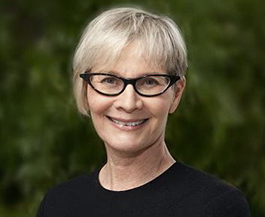 What's the big picture of pediatric mental health care?
Suzanne Petersen: Youth mental health is an urgent unmet need all over the United States. One out of every five kids has a disorder that significantly impairs their life, and only about half those kids get treatment.
Currently, the mental health system is largely reactive — it's not set up to intervene before kids get to a crisis state. But early intervention matters, just as it does with physical health. A significant portion of mental health problems faced by adults began in childhood, and untreated mental illness can mean a lifetime of struggle and lost potential. It affects a person's ability to learn, their relationships and physical health. But it doesn't have to.
The good news is that we have interventions that we know work for youth and their families. What we need are resources to build systems that give families information, support and care in their community — long before they think about coming to the emergency department with a child or teen in crisis.
What role will Seattle Children's play in bringing about change?
Suzanne Petersen: We have an opportunity — actually, let me correct that — an imperative to be a change agent.
I see our role as leading a paradigm shift from the current state of crisis response to one of prevention, stability and resilience — where the definition of child and teen health always includes mental health. Where stigma is a thing of the past.
Our vision for youth mental health doesn't stop at preventing suicide. We're developing new standards of care that will help identify and build each child and family's strengths by involving the people and places that influence a child's development — in the home, at school and those who provide their healthcare.
Imagine a future where youth have access to culturally appropriate, evidence-based mental health care when and where they need it.
We are well poised to lead, given our broad-based team of behavioral health experts led by Dr. Larry Wissow, our longstanding partnerships in the community, and the combined force of our hospital, research and philanthropic entities — all buoyed by the incredibly generous support of our community.
Of course, we can't shift the paradigm by ourselves. We're already working in partnership with parents, pediatricians, schools, communities and government agencies, and there's much more exciting work ahead.
Can you give us an example of those partnerships?
Suzanne Petersen: Sure. Families struggle to find a local mental health provider who takes their insurance and has openings. So we partnered with the Washington Healthcare Authority and created a free phone-based referral service that connects families with evidence-supported outpatient mental health care in their community. Families have given it rave reviews. In just over a year, we've matched more than 1,200 families with local mental health services before their child reached crisis stage.
In another project, we partnered with the Washington State Hospital Association and secured funding from the Washington State Legislature for a pilot program that will help bridge the gap for kids in crisis who can't wait for an outpatient clinic visit but who don't need hospitalization. Beginning in 2021, these intensive outpatient and partial hospitalization programs will provide structured, intensive mental health services without an overnight stay in the hospital.
How is the coronavirus pandemic affecting youth mental health?
Suzanne Petersen: The pandemic immediately intensified youth and family mental health needs. It also created an opening for rapid changes that are directly in line with our vision.
For example, in just 10 days, our psychiatry team converted 95% of our outpatient mental health in-person clinic visits to telehealth so we could continue safe patient care.
And our teams have been phenomenally creative about getting resources directly to families through Facebook livestreams and provider-created videos on autism, anxiety, depression and parenting during incredibly stressful times.
Just as we saw after the 2008 recession, we expect a surge of mental and psychosocial needs in the wake of the pandemic. So we need to sustain and even scale up these innovations to flatten the mental health curve.
What's philanthropy's role in bringing about change?
Suzanne Petersen: It's crucial! Current healthcare payment models reward procedures and interventions; it's much harder to get reimbursed by insurance for problems we prevent.
So the support of our community is essential to build new programs, expand existing ones, and accelerate research into root causes that will benefit kids in our region and beyond.
In fact, Guild Association support is already enabling us to integrate mental and psychosocial support into care for kids with cancer and other life-altering diseases, and to create new approaches to treating anxiety (the most prevalent youth mental health issue), just to name a few.
We have an incredible team, and we have momentum as an institution. With the help of the community, I'm confident we can save lives and set youth up for a lifetime of thriving.