Stories
Promoting Resilience; Reducing Stress
A promising intervention arms teens and young adults with coping skills to manage stress after a cancer diagnosis and boost quality of life beyond treatment.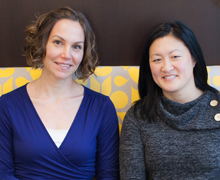 Drs. Abby Rosenberg (left) and Joyce Yi-Frazier developed PRISM to improve psychosocial outcomes for adolescents and young adults with cancer.
Historically, adolescents and young adults with cancer have not seen the same increases in survival rates as younger pediatric patients and adult patients. There is evidence that people diagnosed with cancer between the ages of 12 and 25 are also at higher risk for poor psychosocial outcomes, including anxiety, depression and post-traumatic stress, both during and after cancer treatment. In addition, research shows that this group is less likely to go to college, live independently, form close relationships or have a job post-treatment. And if they do work, they get paid less than their age-matched peers.
"We believe these inferior outcomes for those who've had cancer as teens or young adults are because their disease hits at a key developmental time. Executive function – setting goals, making decisions, deferring gratification, controlling impulses – is not fully developed," explains Dr. Abby Rosenberg, an oncologist, bioethicist and palliative care researcher. "Also, part of how people learn to be resilient is by overcoming adversities. Teens haven't had the chance to develop these skills in ways that help them navigate something as big as cancer."
Rosenberg and Dr. Joyce Yi-Frazier, a health psychologist and clinical research scientist, were separately exploring resilience and health outcomes in adolescents (with cancer and type 1 diabetes, respectively) when they learned of each other's work. They decided to join forces and develop a curriculum to build skills that improve resilience and use it to try and improve both survival outcomes and psychosocial outcomes for adolescents and young adults with cancer.
Fueled by collaboration
First the duo completed an exhaustive review of literature and research on resilience, stress and coping. They settled on a cultural anthropologist's definition of resilience: a process to harness resources needed to sustain well-being.
To identify the tangible qualities comprising resilience, the pair asked parents to recall what coping skills were important during their child's treatment. They also collected hundreds of hours of interviews with teen and young adult cancer patients about what helped or hindered their resilience at the beginning, middle and end of their treatment.
A prototype of the PRISM app shows the four key elements of the curriculum: stress management, goal setting, positive reframing and meaning making.
From there, they developed a tool called PRISM (Promoting Resilience in Stress Management). PRISM, which is taught in person at the bedside, has four evidence-based skill-building sessions: stress management, goal-setting, positive reframing and meaning-making. The one-on-one sessions are typically held every other week, and each session is taught by a trained interventionist.
Promising results
Though the content for PRISM is not disease-specific, enrollment for the randomized control trial was limited to cancer patients age 12 to 25. The trial compared the PRISM intervention to the usual psychosocial supportive care at Seattle Children's. Results from 92 subjects showed that those who received PRISM reported increased hopeful patterns of thought, higher resilience, higher quality of life and lower distress at the end of a six-month period. Those in the PRISM group were 90% less likely to meet criteria for depression after completing the intervention than those in the control group.
Rosenberg and Yi-Frazier are currently working to adapt PRISM for teens and young adults diagnosed with cystic fibrosis and chronic renal failure, and are in discussion with the craniofacial research team to bring the tool to teen patients there as well. They are also testing how PRISM works for parents of children with cancer and hoping to make the curriculum a family-based intervention. Parents on the cancer and diabetes units who participated in a small pilot study reported higher resilience and lower distress after the intervention.
The pair is also beta testing a digital app for PRISM developed in partnership with Seattle Children's Digital Health team. The app includes audio teachings; pages to type in and plan out goals; an audio feature to record negative self-talk and reframe it; and a daily diary to enter gratitude. Currently, they are collecting data about how teens in clinics throughout the hospital and a local primary care clinic use the app with an eye toward refining the next version.
Rosenberg sees PRISM as a targeted approach that helps "normalize the hard." "We are developing standardized and systematic ways to promote patient and family resilience in the setting of serious illness," she says. "Health is determined not only by biomedical processes, but also by emotions, behaviors and social relationships. If patients and families need certain resilience skills to thrive – and have better health outcomes because of those skills – we want to make sure they get that training. Our goal is to help them learn how to change their appraisal of difficult situations in real time and have greater quality of life in the future."
"PRISM is a targeted approach that helps 'normalize the hard.'"
Published in the Academic Annual Report, March 2017.