Stories
The Power of Partnerships
We're partnering with companies to turn our discoveries into real-life advances that could transform pediatric health and well-being.
One of the biggest challenges to developing better pediatric therapies is that the market for them is usually too small – and unprofitable – to attract pharmaceutical and biotechnology companies. Seattle Children's is overcoming this by partnering with companies to turn our discoveries into tests, treatments and technologies that improve children's lives.
"We're finding creative ways to make partnerships attractive to companies," says Dr. Jim Hendricks, president of Seattle Children's Research Institute. "It's a vital part of our strategy because they have the expertise – and the funds – to translate our work into real-world advances."
Applying advances to kids
One reason that companies team up with us is because our partnerships can lead to potentially lucrative products for adults. Then Seattle Children's can use those products as a springboard to pediatric applications.
For example, we recently signed a multimillion-dollar deal with Boston-based Casebia Therapeutics that could lead to groundbreaking therapies for autoimmune diseases. The deal revolves around technologies – developed at Seattle Children's by Drs. David Rawlings and Andrew Scharenberg – that use gene editing to generate specialized regulatory T cells. These cells are meant to serve as "peacekeepers" that call off immune attacks, and could eventually be used as therapies for millions of people with diseases like type 1 diabetes and lupus.
Rawlings leads Seattle Children's Program in Cell and Gene Therapy and is also a professor of pediatrics at the University of Washington School of Medicine. Scharenberg recently became Casebia's chief scientific officer after holding positions at Seattle Children's and the University of Washington.
Casebia will invest in Rawlings' research and collaborate with his lab to perfect the gene editing technology and develop potential therapies. In exchange, the company receives licensing rights to existing technologies and any new technologies.
"We can do the preclinical work that proves these therapies have potential, and Casebia has the resources to take the therapies through clinical trials and FDA approval," says Dr. Brian Phillips, who negotiated the agreement as director of our Intellectual Property Core.
Proving commercial value
Our Office of Science-Industry Partnerships (OSIP) helps our scientists find industry partners and invests funding to promote these partnerships.
Sometimes OSIP and corporate partners both contribute dollars to the research, and agree to share any intellectual property that results. Other times, OSIP funds a proof-of-concept study, with the understanding that the company will enter into a sponsored research agreement if the initial work is successful.
"We're among a small handful of academic institutions that have dedicated funding for industry partnerships," says OSIP Director Dr. Elizabeth Aylward.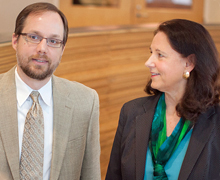 Dr. Brian Phillips (left), director of the Intellectual Property Core, and Dr. Elizabeth Aylward, director of the Office of Science-Industry Partnerships (OSIP), help our researchers connect with industry partners to improve the health of kids.
For example, OSIP funding helped Dr. Lisa Frenkel develop a test that can determine if patients have a drug-resistant strain of HIV before they start antiretroviral therapy. The test can quickly generate results while the patient is in the clinic, enabling healthcare providers to immediately prescribe the most appropriate therapy.
"It's especially valuable in developing countries, where patients might travel a long way to get to a clinic, and might not be able to come back anytime soon," Aylward says.
OSIP funding helped Frenkel create a prototype and test it at a clinic in Kenya. This proved the test could be effective, paving the way for an agreement with InBios International Inc. to manufacture the tests on a larger scale.
OSIP's seed-money approach has led to eight sponsored research agreements since 2014. Aylward aims to launch a minimum of four new partnerships each year.
"Our researchers do an amazing job of making discoveries, but we ultimately judge our success based on whether we're saving more lives," Aylward says. "Every partnership gets us closer to that goal."
"Our researchers do an amazing job of making discoveries, but we ultimately judge our success based on whether we're saving more lives."
Published in the Academic Annual Report, March 2017.