Stories
Drowning Prevention
Dynamic duo strive to stop drowning deaths through research, outreach and advocacy.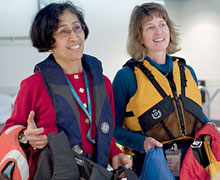 Dr. Linda Quan and Elizabeth Bennett share a mission and a passion. For nearly 20 years, they've studied what leads to children drowning and used what they've learned to prevent drowning deaths.
Drowning is second only to car crashes as a cause of injury death among children ages 1 to 14, but few were exploring the reasons and looking for answers to open-water drowning (those that don't involve pools, boats or bathtubs) – before Quan and Bennett dove in.
"We're passionate about this work because drowning deaths are so preventable," Quan says. "We see families torn apart by guilt and depression because they look back and see how simple it may have been to avoid a tragedy." Wearing a life jacket, swimming in areas with lifeguards, learning to swim and keeping a constant eye on young children could prevent many drownings, yet drowning still claims an average of 25 children under the age of 20 in Washington every year. And while the state's drowning rates have declined over the last 20 years, they remain higher than national rates.
"I hate watching the news on the first warm days of spring because someone — often a teen — will drown because they overestimated their ability or underestimated the risks such as cold water and swift currents," Bennett says.
"We see families torn apart by guilt and depression because they look back and see how simple it may have been to avoid a tragedy."
Driven by research

Quan, an emergency medicine doctor at Seattle Children's, first became interested in drowning when she was a resident at Harborview Medical Center. A 3-year-old girl who fell into an apartment pool was brought to the emergency department after being revived at the scene. Quan wondered two things: how did the girl survive; and why did she fall into the pool in the first place?
Her curiosity — and the lack of details being collected about drowning incidents — led her to create a drowning database for King County so she could investigate underlying factors such as age, location and supervision. Quan later led studies on drowning in all age groups that quantified many of the risks. These studies showed, for example, that preschool-age children were most likely to drown in swimming pools, teens were more likely to drown in lakes or rivers, and that drowning rates for Asian-Americans were double that for whites.
Insights from these studies — along with the stories of each child or teen who drowns — drive everything Quan and Bennett do. "The reasons a 4-year-old drowns are different than the reasons a 14-year-old drowns," says Bennett, director of Guest Services, Partnerships and Advocacy at Children's. "You have to tailor your message according to the developmental level as well as the knowledge, beliefs and behaviors of each group."
That's a constant challenge, but Quan and Bennett remain driven by conviction. "Why should even one child drown?" Bennett asks. "Prevention is the key."
Focus on open water

Quan's and Bennett's work has made them – and Children's – internationally recognized as leaders in drowning prevention and inspired a special focus on open water such as lakes and rivers.
Drowning as a result of playing in or on open water is a particular threat in Washington state and other places that have easy access to open water – especially among teenagers and young adults. The Centers for Disease Control recently awarded Seattle Children's a grant to partner with the state Department of Health and create open-water drowning prevention policies for the state. Quan and Bennett are also co-chairing an international task force that is developing open-water drowning prevention messages for use worldwide.
"I hate watching the news on the first warm days of spring because someone – often a teen – will drown."
"People aren't looking to get themselves into trouble when they're playing in the water," Bennett says. "They want to be safe, but they often lack the skills, the resources like life jackets, access to lifeguarded beaches or the knowledge of water risks and safety. Linda and I feel a responsibility to do something about that."
Quan and Bennett have approached drowning prevention from a variety of angles. They've studied how to promote water-safe behaviors among diverse communities and age groups such as teenagers, helped pass a state law requiring children younger than 13 to wear life jackets in small boats and are constantly assisting local, national and international organizations such as the American Red Cross, Army Corps of Engineers and National Park Service with their drowning prevention strategies.
"I know we are making a difference because people keep asking us for help," Quan says. "We put open-water drowning on the radar in the U.S. and there's really nobody else doing that."