Stories
Opening Doors to Research Success
The incredible growth of Seattle Children's Research Institute over the past 10 years has attracted new researchers, boosted funding and advanced treatments and therapies for children.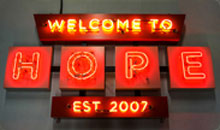 At Seattle Children's Research Institute, the dream of "If you build it, they will come" has become a reality.
Research had long been part of Seattle Children's, but lack of resources was a challenge when Dr. Jim Hendricks came on board in 2003 with the charge of expanding the organization's research enterprise. In 2003, Seattle Children's had just 40 employees dedicated to research, about 20,000 square feet of research space and $6 million in extramural research awards. In 2016, our research workforce is more than 1,500, our research space is 607,000 square feet and our extramural funding awards topped $102 million.
The big shift came in 2006 when Seattle Children's established the research institute and purchased an 11-story building in downtown Seattle that gave our research activities room to grow, making it possible to recruit new scientists and attract additional funding.
Trustees set new vision
The research institute would not have been possible without the vision of hospital trustees Resa Moore, Jane Blair, Rhoda Altom and Sherry Benaroya, who all were moms of children with chronic illnesses that eluded cures and in 2000 convinced the rest of the board that pediatric research should play a bigger part in the hospital's mission.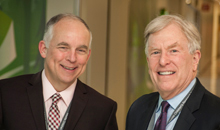 "Clinical care defined Children's first hundred years," explains Moore. "We knew that research needed to define our second hundred years if we wanted to cure kids in addition to treating them."
The board's long-term goal was for Seattle Children's to be among the top five children's hospitals in the U.S. in terms of National Institutes of Health (NIH) funding, which we achieved in 2008, notes Dr. F. Bruder Stapleton, Seattle Children's chief academic officer. "Our research has dramatically changed the national perception of Seattle Children's."
Collaboration is key
Seattle Children's affiliation with the top-ranked University of Washington helps attract leading scientists to Seattle, and principal investigators at Seattle Children's hold faculty appointments there.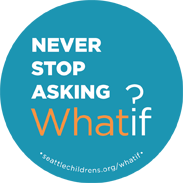 What differentiates the research institute from a traditional academic setting is its interdisciplinary approach, says Stapleton. At a university, a genetics department has its own laboratories and a neurology department has its own laboratories. At the research institute, however, faculty from different disciplines such as neurology, neurosurgery, psychiatry, anesthesiology, developmental pediatrics and genetics are all working together in the same group. Others are collaborating on ways to harness the immune system to treat diseases from cancer to diabetes to HIV.
"Research has invigorated clinical programs at the hospital," Stapleton says. "Research has provided new opportunities for philanthropy, it's grown our clinical programs and it's strengthened our relationships with our partners. Children are benefiting because of what we're doing here."
Structure and focus
The research institute provides the necessary infrastructure to conduct research with the ultimate goal of improving outcomes for patients, says Dr. Danielle Zerr, who holds the Children's Hospital Guild Association Endowed Chair in Pediatric Infectious Disease Research.
"Research is what improves clinical care over time," Zerr says. "A strong commitment to research means that our patients have the opportunity to participate in research."
Establishing the research institute brought organizational focus to Seattle Children's mission, says Erik Lausund, vice president, research operations and logistics. "You're not going to achieve big things without focus."
Perhaps the best example is T-cell immunotherapy research at Seattle Children's, which continues to take center stage as one of the most promising new cancer therapies of our time. In June 2016, Seattle Children's announced that 93% of the children with acute lymphoblastic leukemia who enrolled in Seattle Children's PLAT-02 trial had achieved complete remission. Some are still in remission now, more than two years later.
"High-quality care and high-quality research go hand in hand," says Hendricks. "Research provides hope."
Published in the Academic Annual Report, March 2014