Stories
Living His Best Life: Oliver Thrives After Life-saving Surgery
Published in Connection magazine, Fall 2019
Looking at him now, it's hard to imagine that Oliver Harrington was on death's door right after he was born. Today, this toddler's current favorite activities include wrestling with his older brother and climbing on, well, everything. But the memories of their newborn son blue and struggling to breathe are still vivid — even two and a half years later — for Brandi and Tyler Harrington.
"Oliver was given a 1% chance of survival. But the neonatal intensive care team at Seattle Children's and Dr. Bob DiGeronimo, our neonatologist, never stopped fighting," Brandi Harrington says. "They were constantly analyzing and fine-tuning every detail of his care to figure out why he struggled to breathe on his own."
Oliver's oxygen levels dropped dangerously low on his fifth day of life. He needed surgery and fast, but there wasn't time to disconnect the tiny boy from all the tubes and wires keeping him alive. So, the intensive care team turned his hospital room into an operating room.
The surgery confirmed what DiGeronimo suspected: A tumor the size of a baseball was in his right lung.
Oliver's oxygen levels shot up the minute the tumor came out; a week later, he was breathing on his own.
After Oliver's lifesaving operation, his sister Annabelle, then 2, pined for her baby brother. A team member from Child Life — a program partly funded by philanthropy — had a plan. She gave Oliver a stuffed polar bear and sent another home for Annabelle, explaining that the bears would relay messages so they could stay connected. The strategy worked like a charm!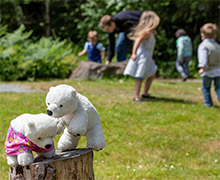 "Seattle Children's saved Oliver's life and cared for our whole family," says Brandi Harrington. "The level of personal investment and compassion we experienced will impact us for a lifetime."