Stories
Nurses Take the Lead
Nurses are finding ways to make our care even better, from improved ICU treatments to a revamped discharge process.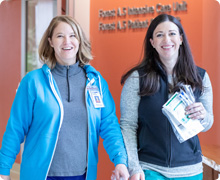 Andria Bonney and Karen Lambka, both nurses at Seattle Children's, raised an intriguing question in 2018: Is there a safer way to clear the intravenous lines that help keep critically-ill patients alive?
Blood can form clots in these lines after they're used to draw blood or infuse medication. To prevent such clots, most hospitals flush a blood-thinning medication called heparin through the lines. But heparin can get flushed into a patient's bloodstream and make it harder for blood to clot – with lifethreatening implications.
"We wondered if it would be safer, and just as effective, to flush the lines with saline instead," Bonney says. At Seattle Children's, nurses like Bonney and Lambka don't just raise key questions like this – they lead the search for answers.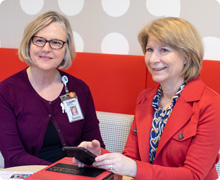 "Nurses spend a significant amount of time in direct patient care and see opportunities to improve it every day," says Debra Ridling, one of our nurse leaders who directs the Center for Pediatric Nursing Research. "We've built an infrastructure that gives them the time, training and resources to find solutions that make care better here and at pediatric hospitals throughout the nation."
Asking hard questions
The best medical practices are based on evidence that proves they're sound. But many pediatric nursing practices don't meet this standard because they were designed for adults or were never thoroughly tested. That's why our nurses interrogate everything we do – and why Seattle Children's kickstarts this process by requiring all nurses who have less than a year of experience to complete an evidence-based practice (EBP) project.
"The project asks nurses to question why we use a specific nursing practice and teaches them how to find answers," says Denise Sackinger, a nurse who oversees some of our EBP projects. "This creates a culture where nurses have the green light to ask hard questions, which is the critical first step toward improving care."
Nurses who are further along in their careers can participate in our EBP fellowship program, which gives them time away from their regular responsibilities to investigate pressing questions. Bonney and Lambka, for instance, landed an EBP fellowship to pursue their query about saline versus heparin.
Sackinger paired the two nurses with a Seattle Children's librarian who taught them how to comb through the medical literature. This helped Bonney and Lambka find studies suggesting that saline could be just as good as heparin at keeping intravenous lines clear. And it set the stage for them to launch a study that will compare the two strategies.
The study will take place in our Pediatric Clinical Research Center, where patients participating in clinical trials undergo an especially large number of blood draws and infusions. This increases their exposure to heparin and its potentially negative effects.
"A lot of these kids have cancer and are running out of treatment options," Lambka says. "We're hoping our research shows that saline could reduce complications so families will have one less thing to worry about."
Improving ICU care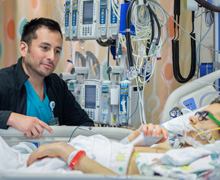 Hector Valdivia and his nursing colleagues are pursuing another important question: Is there a better way to identify and treat delirium in our intensive care units (ICUs)?
"ICU care is so nonstop that kids can't get quality sleep," Valdivia says. "This combined with severe illness can leave patients confused and agitated – which can lead to longer ICU stays and a higher risk of neurocognitive problems."
Two years ago, Valdivia started investigating a screening tool that Cornell University researchers developed to identify when kids have delirium. But Valdivia's team found that nurses using the tool could reach different conclusions about children under age 2.
"Two nurses could evaluate the same young child in the ICU and end up with different delirium scores," Valdivia says.
Valdivia made the test more accurate by making certain questions more relevant to younger children. He and Kristen Carlin, a Seattle Children's biostatistician, are getting set to publish the study's findings in a medical journal.
"Hopefully, our results will help other hospitals get better at finding – and reducing – children's risk of delirium," Valdivia says.
Valdivia also worked with ICU pharmacists, doctors and nurses to evaluate drugs used to keep patients calm in the ICU. They found that some of these drugs might actually make delirium worse.
"We removed those drugs from our protocol, which helps us improve care so that more kids will recover more quickly and return home sooner," Valdivia says.
Donors fuel progress
Several years ago, we created a part-time nursing scientist position to help make our nurses' research even stronger.
Nursing scientists have specialized expertise in formulating research questions, designing studies and publishing results. They also serve as mentors who guide nurses through the research process and teach them new research skills.
"As nurses, most of our training is in how to help patients, not in designing research or analyzing the results," Valdivia says. "We never would've been able to do our study without the nursing scientist. She helped us develop research skills that will make future studies even stronger."
Ridling is turning to donors with hopes of landing funds to make the nursing scientist position full-time.
"It would give us more capacity to help nurses with research, so we could tackle larger projects that improve care even more," Ridling says.
Helping families go home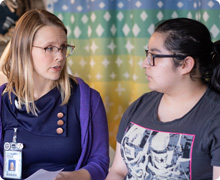 The day families go home from Seattle Children's can be the happiest day of their care journey – and one of the most arduous. Families must scramble to schedule follow-up appointments, pick up medications and get detailed instructions on caring for their child at home. It's a process that can drag on for hours.
"Everything can keep getting bumped back because nurses get busy attending to other patients with more time-sensitive medical needs," says Kathy Mullin, who helps oversee the team that coordinates patient care.
"This delays families from leaving and locks up hospital rooms needed by incoming families."
Mullin and her colleagues are studying a potential solution: creating a team of discharge nurses who focus on the exit process. To study this approach, we assigned four bedside nurses to spend half their time working as discharge nurses.
These nurses accelerate departures by taking steps like requesting medications earlier in the day, before the hospital pharmacy gets busy. They also have more time to prepare families for life at home.
"We don't have to feel rushed when we teach families about important things like how to safely feed and hold a baby who is recovering from heart surgery," says Gracie Fisher, one of the study's discharge nurses.
So far, adding the discharge nurses has moved the typical discharge time up by an hour for patients in our surgical units. Mullin hopes to create permanent discharge nurse positions if the study results stay positive.
"Families aren't just going home earlier, they're going home more prepared," Mullin says, "and that makes them less likely to end up in the hospital again."