Stories
Now Seizure-free, Lillee Continues to Shine
Published in Connection magazine, Fall 2019
Aimee and Brian Haynes were at their wits' end. Ten days after their daughter Lillee turned 1, she started having seizures during a trip to Disneyland. An MRI in California ruled out a brain tumor, and the family of six flew home to Washington where doctors at their hometown hospital diagnosed Lillee with epilepsy.
"They wrote our baby girl a prescription for phenobarbital and told us that her new normal would likely be seizures on a regular basis. That's when I called Seattle Children's," remembers Aimee Haynes.
Dr. Jonathan Lopez, a Seattle Children's expert in seizures and epilepsy, fine-tuned a cocktail of four of the latest generation medications to quell the daily seizures that disrupted Lillee's sleep and, as her dad says, "dulled her shining star." But even that powerful combination didn't stop them all.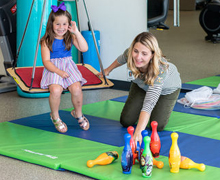 Once Lillee's care team determined that her seizures originated in the same area of her brain, Lopez suggested laser ablation to remove the patches of diseased cells that can cause epilepsy, which then enables healthy tissue to grow and develop. Seattle Children's is one of only a few hospitals in the nation that offers this procedure to kids.
Haynes called Boston Children's Hospital for a second opinion. "Their lead neurosurgeon called me back and said, 'You already have the best of the best in neurosurgeon Dr. Jeff Ojemann. If I lived in Seattle, I'd trust him to perform laser ablation on my child.'"
Two surgeries later, Lillee's seizures were gone for good.
"I can't help but wonder what our smart and beautiful daughter's life would be like if we'd accepted phenobarbital as our only option," says Haynes. "Seattle Children's gave us back our shining star."